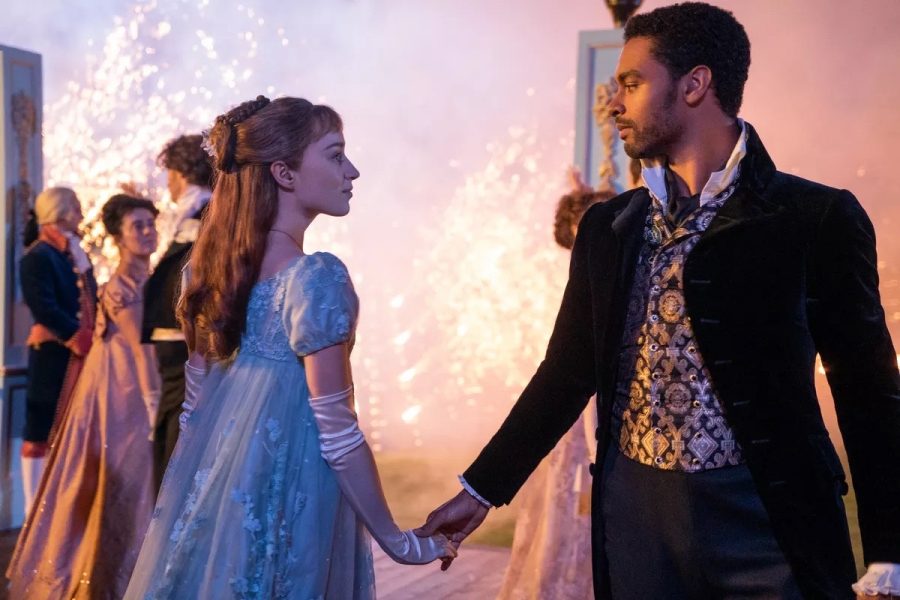 Netflix
Netflix has been continuously providing viewers with the ability to stream TV shows and movies in an accessible and convenient way. In the past couple of years, however, the service has begun producing its own shows that are only available on the platform, many of which have become extremely popular and successful. To name a few: Stranger Things, Bojack Horseman, The Crown, and The Queen's Gambit. 
One of the most recent Netflix original series to take off is Bridgerton, a period-piece drama based on a book series of the same name by Julia Quinn. The show was created by Shondaland, which is also known for creating the hit drama, Grey's Anatomy, and has become so popular that it has claimed the number one spot on Netflix. The show has risen the ranks insanely fast since it only came out about a month ago.
Bridgerton takes place during the Regency Era (1811-1820) in London and follows a young woman named Daphne Bridgerton, the daughter of the esteemed Bridgerton family, who has seven other siblings. Through a columnist known as Lady Whistledown, Daphne meets Duke Hastings, Simon Basset, a man who refuses to get married and have children because of the estranged relationship he has with his father. The two form a fake relationship to please the status quo and form a close bond because of it.
The show has a large and notable cast, including Phoebe Dynevor and Regé-Jean Page, who star as Daphne Bridgerton and her love interest Simon Basset respectively. The show also presents the award-winning actress and singer Julie Andrews who plays Lady Whistledown. Other actors and actresses include Nicola Coughlan, Jonathan Bailey, Claudia Jessie, Luke Newton, and Ruby Barker. 
Bridgerton consists of eight episodes and was recently confirmed for a new season. It reached new heights with its popularity, the series now having been watched in about 82 million households. Based on the numbers, there is no doubt that views will keep going up from here. 
"I loved it," Hills senior Christina Kim said, "It was a really fun and engaging twist on history that is not always well known. It had many plot twists and you just fell in love with some of the characters." 
The series is known and gained notoriety for its charming characters, elaborate costumes and set designs, and a love story that hooks the viewer in from the very first scene.
"I absolutely think it deserves the amount of praise that it is getting because you can see from just the set design and costume design how much time and effort was put into this," Hills senior Maeve Rossig explained. "The cast was so talented, and the entire production definitely distinguished itself as something huge that will continue to break records in the future."
Bridgerton has already reached the most viewed show on Netflix with its first season, and the Hills community as well as Netflix fanatics all over the world are eagerly anticipating the airing of its second season.