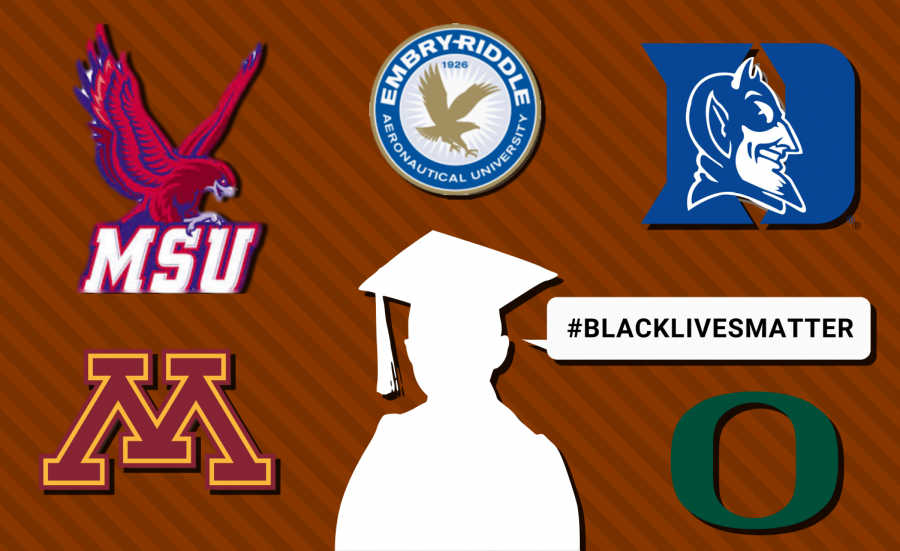 Designed by Jared Mitovich
[Click here to read more of the Trailblazer's coverage on the George Floyd protests.]
With protests going on across all 50 states against the murder of George Floyd in Minneapolis and police brutality in general, and many Hills students supporting the Black Lives Matter movement on social media, comes the important question of what schools across the country are saying about the movement and how they are responding to it. 
Last week, the Pascack Hills administration sent out an email to its students titled "Sad and Challenging Times." This email quoted Martin Luther King, Jr., saying that "Riot is the language of the unheard," but not addressing George Floyd's name or mentioning police brutality. After the Hills equity team addressed the situation, the district sent out an email responding to George Floyd's murder and the protests. 
The Hills administration responded to the current events out of obligation to their students, but a group with not just obligation to their students but to the world are colleges and universities. In response to the recent events, college students have been protesting on college campuses, and high school students have been awaiting the responses of their hopeful schools' deans, administrators, and coaches. 
Some, like the president of Embry-Riddle Aeronautical University, P. Barry Butler, encouraged students to take a time of self-reflection during these troubling times, while others, such as Duke University president Vincent Price, acknowledged the history of racism at the school and across the country.
Montclair State University urged the community to stand strong in times of grief and encouraged students to use the school's mental health services if they needed any help. 
While many say acknowledging the situation and contacting the students is good, many students have been urging their schools to take further action. 
Greyson Beato, a senior at Hills and an incoming freshman at Montclair State University, addressing his feelings as a Black student, says he wishes the more "privileged people" would care more and start "seeing what [they] can do to help."  As many current college students have echoed Beato's sentiments, multiple colleges and universities are now taking strides to combat racism and police brutality in their communities.
The University of Minnesota has announced it would cut ties with the Minneapolis Police after the gruesome events of George Floyd's death and has announced the school will no longer be using its assistance for football games, concerts, and ceremonies among other large events.
The University of Oregon is voting to rename their cultural center, now known as Deady Hall, named for a former president of their Board of Regents who was also a supporter of slavery.
Some colleges and universities are making large strides to show their support with the Black community, but students say there is still work to be done. As Beato said, "Now is the time for action."