Gabriel Broadman: 'I am not my Brother'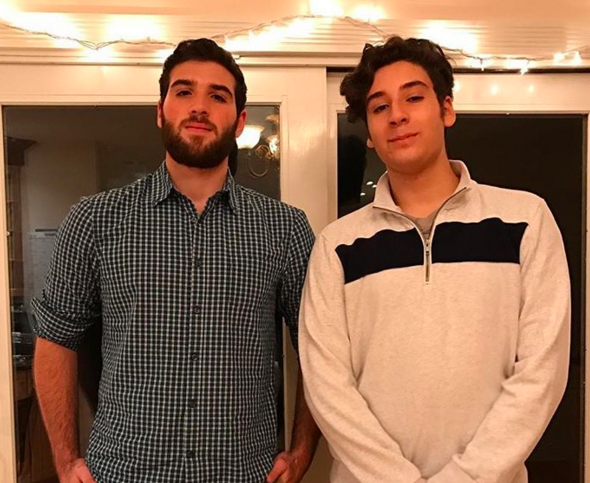 It is Gabriel Broadman's first year in high school. He walks into the building with his huge backpack, wearing his Panic! At the Disco shirt, khaki shorts and Vans. While traveling between classes, numerous students in the hallways recognized the last name, "Broadman", and immediately asked if he was the younger brother of the well-known Zachary Broadman. Of course, the 14-year-old replied with a yes, and people would start assuming that this kid would be Pascack Hills next superstar basketball player or the brainiac student.
However, that is not necessarily true.
This 6-foot-3 freshman is indeed Zachary Broadman's younger sibling, but the two brothers are not alike whatsoever. Younger Broadman's close friend and neighbor, Alyssa DiPalma, talked more about how Gabe is more of a person who is "down to earth".
DiPalma said, "He's a really creative guy. I know he likes to draw, write, and is an exceptional artist. Gabe is empathetic and easy to talk which makes him a really nice guy."
Meanwhile, Gabriel Broadman shared what he believes is a biggest difference between him and his older brother.
"I think the biggest difference is probably how we handle new social situations and how we act around other people. I've definitely noticed that I am a lot weirder, more outgoing, and totally myself when I'm in public. I'm not saying my brother isn't outgoing, but he seems to look smarter and more serious than me," Broadman said.
Even though there are differences between the two of them, that does not mean there can not be any similarities.
"It might seem as if we have many things is common, but we don't. We probably on have our height in common," the freshman said with a laugh.
"They love food. That's for sure. They both like to travel, going out to restaurants, and enjoy having privileges," Debra Broadman said," Oh, they also both have very messy rooms."
Luckily, the brothers' similarities and differences spark an interesting relationship between them.
Gabriel Broadman said, "Having an older brother tries to motivate me to compete and try harder to be my best self. Even though we are not in school together, I like to think we are competitive."
Broadman's mother said, "The boys fight much less than other siblings would. However, they do not really spend that much time together. The two might say a little 'How are you doing', but they don't do things together except beat each other up."
Now that Zachary Broadman is in college, the two brothers try to spend more time together to catch up. With the absence of his brother, Gabriel Broadman entered Pascack Hills High School as a part of the freshman class of 2020, and the other students are walking in the hallways, recognizing the little brother of Zachary Broadman.
"My brother left a good imprint and legacy at Pascack Hills. I don't mind just being called 'Zach's little brother', but it's also kind of limiting at first. I don't let people just know me as 'Zach's little brother', so I try to be myself and make my own imprint on Hills. I would like people to know me for me,"  said Broadman.
Overall, we should not assume that the brothers have the same interests just because they are siblings.
Debra Broadman said, "We're all very different. It bothers me how people assume that because people are siblings, there are going have things in common and going to do things together. But, they could always have different personalities. In the end, the way Gabriel is going to go through school is very different from the way Zachary's school life went due to the fact that they have different personalities."  
Gabriel Broadman said confidently, "I want people to see me as a person who shows their true self the second I need someone. I am not really a shy person, so I would want people to view me as goofy and funny. I want to make people laugh, make them feel safe, and make them see me as someone who is nice and easy to talk to."