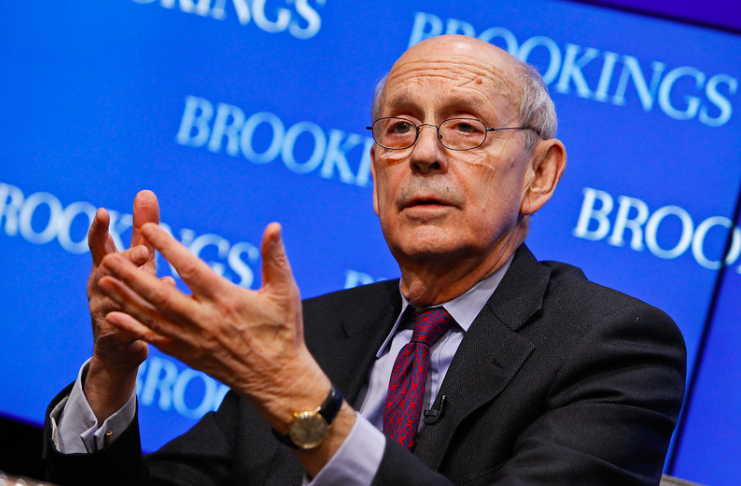 After almost 30 years serving on the Supreme Court, Justice Stephen Breyer plans on retiring at the age of 83 by the end of the current term.
Before joining the Supreme Court in 1994, Breyer worked for many people in the judicial system until he ultimately became a Harvard professor in 1967. In the following years, he held positions such as chief counsel of the Judiciary Committee and chief judge of the United States Court of Appeals that paved his way to the Supreme Court.
As a Supreme Court Justice, Breyer is known as a moderate liberal. He believes in a looser interpretation of the Constitution and the application of its values when considering a case.
His pragmatic and moderate attitude was demonstrated in the various positions he took on cases. For example, while Breyer sided with conservatives to permit a constitutional amendment banning affirmative action in Michigan, he supported abortion rights and urged his colleagues to consider the constitutionality of the death penalty.
The Supreme Court was originally intended to maintain a neutral view on the cases brought to them. At the present, the Supreme Court is more political, with its nominations based more on the ideals of the party in power rather than their skills.
"Before, if someone was pretty qualified, even if people didn't necessarily like their judicial philosophy, they would still say the person is qualified and I'll vote for them, " Pascack Hills history teacher Doug Goodman commented.
He continued, "now it seems a little more politicized . . . whoever is the party that is not in power is going to do whatever they can to resist whoever gets nominated to the Supreme Court."
Fellow Hills history teacher Deborah Horn also weighed in about the court's change over the years.
Horn stated, "I think that [the moderate] era was over before [Breyer's announcement]. In 1973, the decision of Roe v. Wade — this is the decision prohibiting restrictions on abortion — . . . has been such a force among folks who oppose that decision to change the court to overturn that decision."
Currently, the Supreme Court has a six to three conservative majority. Breyer has experienced pressure to retire after Ruth Bader Ginsburg's passing in 2020 that allowed former President Donald Trump to appoint Supreme Court Justice Amy Coney Barrett.
"There is clearly a lot of politics going on behind it," Horn expressed. "He is getting towards that age [of retirement] while Biden still has the best chance to nominate someone . . . The pressure wasn't necessarily direct pressure as much as it was . . . time . . . it's ultimately a choice [that he made]."
Goodman asserted that "it is not unusual [for Breyer to retire] since he is 83 . . . and [he thinks] people have frequently done this on the Supreme Court, trying to plan it out so a similar justice with a similar philosophy will replace them."
A Supreme Court nomination can be approved with a simple-majority vote. Currently, the Senate and House of Representatives have a Democratic majority. This allows Democrats to potentially confirm President Joseph Biden's nomination without any votes from Republican senators.
Biden has already announced Judge Ketanji Brown Jackson as Breyer's successor. Even with Jackson's nomination, Breyer's legacy will remain for years after his retirement.
Sources: 
https://supremecourthistory.org/stephen-g-breyer/
https://www.biography.com/law-figure/stephen-breyer
https://www.oyez.org/justices/stephen_g_breyer
https://www.npr.org/2022/01/26/1075781724/justice-stephen-breyer-supreme-court-retires
https://www.nbcnews.com/politics/supreme-court/justice-stephen-breyer-retire-supreme-court-paving-way-biden-appointment-n1288042
https://apnews.com/article/stephen-breyer-supreme-court-retirement-2f9c1f5da824e3b1ef25964205131fff