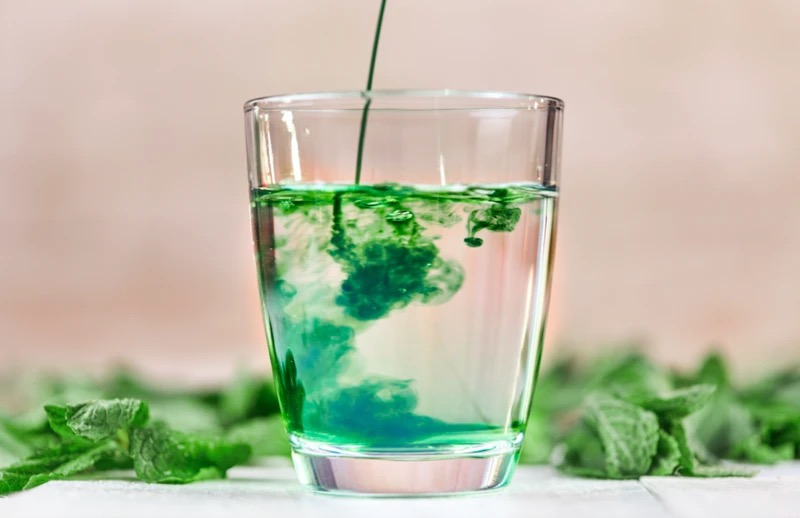 chlorophyllwater.com
As with any other TikTok trend, chlorophyll-concentrated water has spontaneously ignited worldwide infatuation, especially among teenagers. This supposed "wellness holy grail" simply requires a few drops of liquid chlorophyll-concentrate, mixed in with your water. Seems simple enough, right? Not every claim is as transparent as it may seem, so here's everything you need to know before trying this out. 
What is chlorophyll?
As you may have learned in biology, class chlorophyll is the primary photosynthetic pigment in plants, absorbing all light rays other than green, in order to give the plant its green color. Using this, chlorophylls are responsible for converting light energy into useful nutrients. Hence, it makes sense that it can apply this ability to human health as well.
Pascack Hills biology teacher Martin Shields said, "Plants are loaded with very nutritious vitamins, which are often found in the color-rich pigments. Deep green vegetables like spinach and broccoli are very nutritious for that reason." 
What are people saying, and are their claims true?
Although many TikTokers claim chlorophyll water reduces fat and encourages weight loss, there is little scientific evidence that connects the two factors. While some are viewing the trend as a 'hack' to lose weight, or even compensate for bad health habits, dieticians recommend not to rely on it. In terms of dramatic weight loss, chlorophyll water might only serve as a placebo for a healthier lifestyle.
When asked about his take on the subject, Shields asserted, "On social media, there are many, many people trying to scam money out of us by presenting things in scientific-sounding language. I do not recommend relying or spending money on a supposed health product unless it has been studied and supported with evidence by scientists."
What are the real benefits of drinking chlorophyll water?
Adding chlorophyll-concentrated drops into your water can possibly strengthen your immune system, clear your skin, reduce inflammation, neutralize odors, and improve your sleep. Given that TikTok has proved a place for just about every conversation to be held, many honest experiences testify to these benefits. 
Multiple people share how within just three days, their long-lasting acne and skin irritation vanished. Others share how they unexpectedly became a morning person, waking up naturally more well-rested than ever. 
However, there becomes a question as to whether or not the droplets have simply forced people to drink more water than they normally would. Because many people struggle with drinking adequate amounts of water, this trend has unintentionally resolved that issue. So, these results don't directly correlate to the chlorophyll. 
How does drinking chlorophyll water compare to simply eating vegetables?
Realistically, one squeeze of liquid chlorophyll amounts to a handful of spinach, except the spinach contains other vitamins, minerals, antioxidants, and fibers. If you're one to struggle with getting in your greens daily, then this may be your solution. If not, there isn't much-added benefit. As Steph Grasso, a clinical dietitian, shared to TikTok, "Yeah, I choose veggies." 
So what should I do?
The results you'll see from trying this out may not be the same as whoever you saw on TikTok. Each of us is different in terms of our health and habits, so while chlorophyll might just be a life-saver for one person, it may change nothing for you. If your skin is stubbornly struggling, chlorophyll water may just be your solution.
If you tend to forget about drinking water, this could instill immensely better habits. If you plainly don't eat enough greens, this might compensate. Also, remember not to overdose on your drops each day –– it may just cause more harm than good.
The only crucial piece of information to remember is that chlorophyll water is definitely not a shortcut to weight loss. With one misconception, you might just damage your body and throw off its balance.