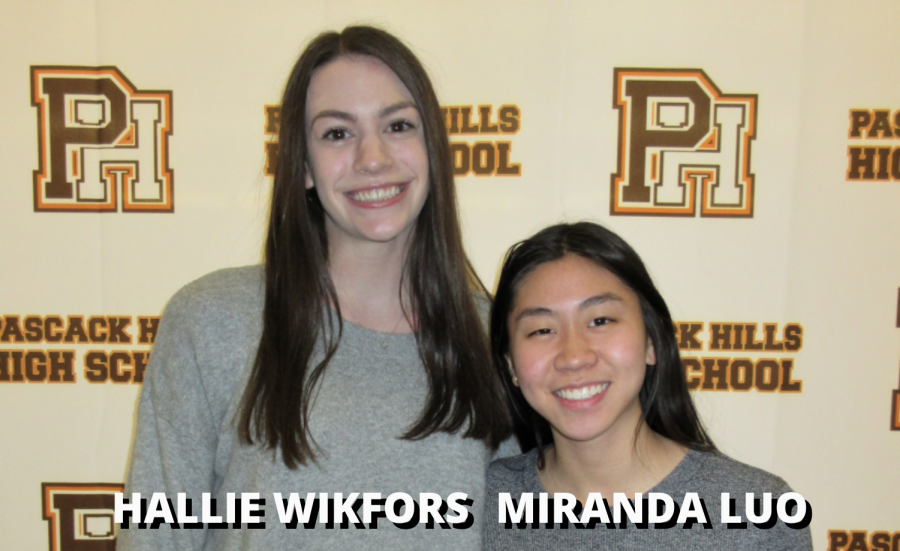 Pascack Hills High School
Getting to know the 2020 valedictorian and salutatorian
June 16, 2020
As a school year like no other comes to a close, the Class of 2020 is still preparing to graduate despite the circumstances. Students are still celebrating their accomplishments with their friends and families, even though it may be from six feet apart, or in the form of a drive-by parade. Specific students being honored, like Hallie Wikfors and Miranda Luo, have left a big mark on Hills as this year's valedictorian and salutatorian. Here's a look at how the two honorees reacted to being chosen, what their friends and teachers say about them, and how they are celebrating their accomplishment amid the Covid-19 pandemic: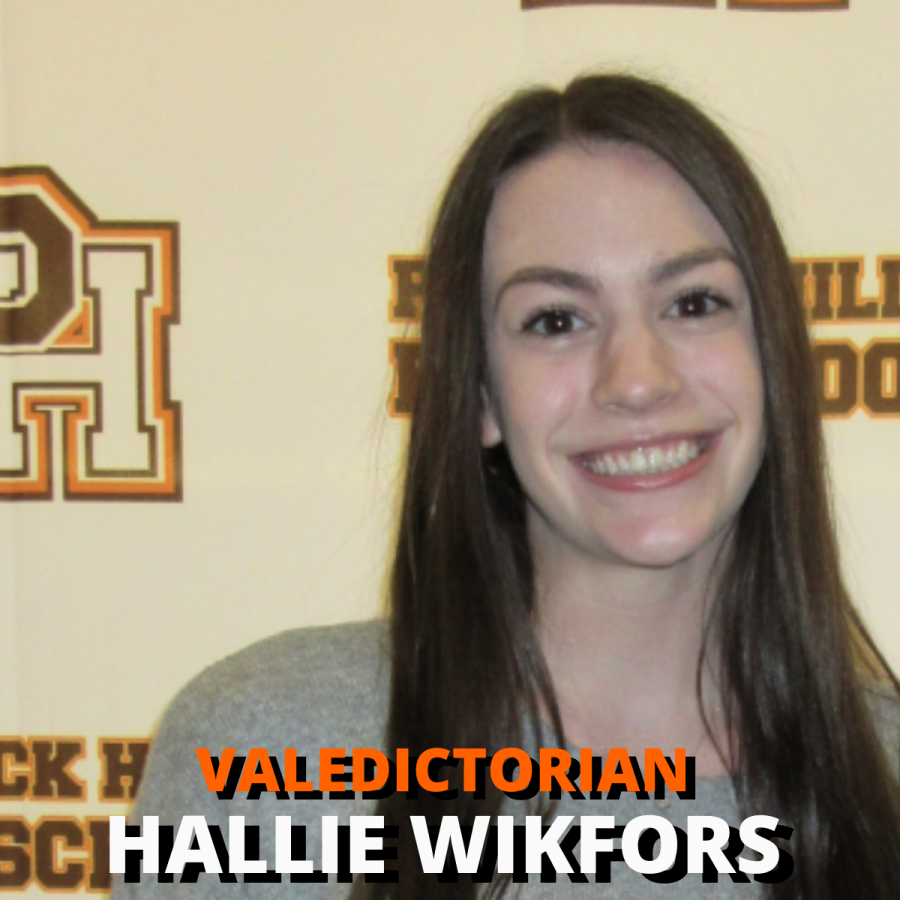 'A natural leader' and 'an incredible friend': Valedictorian Hallie Wikfors
Valedictorian Hallie Wikfors has had an impressive presence throughout Pascack Hills with her participation in the academics, athletics, and extracurriculars available at school. Not only was she a member of the district's gymnastics team for four years, but she was also a key executive member of a service club, Camp Raspberry. Hallie was an avid volunteer at Valley Hospital, a member of NHS, and a member of the Spanish National Honors Society. For Wikfors, she spent her high school years challenging herself and trying new things to find her passions, rather than aiming to be valedictorian. 
"I always worked hard and took challenging courses throughout my four years, but it wasn't to become the valedictorian. It was always a goal of mine, but it wasn't the biggest motivation. I genuinely love learning more about certain topics, especially in STEM classes, and being named the valedictorian, for me, was an added bonus to confirm that all my hard work and sacrifices paid off in the end. I am proud to be able to represent my class in this way and cannot wait to speak at graduation (hopefully in person)," spoke Hallie.
Wikfors' work ethic has not gone unnoticed. To her peers, friends, and teachers, Hallie's hardworking personality and optimistic outlook have set her apart from other students.
"I will always remember Hallie for being smiling and pleasant and genuinely happy. Behind that calm, smiling exterior, she is a ferocious worker.  You can see that by her academic and athletic accomplishments and her unwavering pursuit of mastery. She reminds me of that saying about the duck: composed and unruffled above the surface, but paddling like the dickens underneath.  Add in that she's a natural leader who really cares about people –– and you've got Hallie," commented Kevin Killian, Wikfors' Honors Precalculus teacher at Hills.
"
She reminds me of that saying about the duck: composed and unruffled above the surface, but paddling like the dickens underneath.  Add in that she's a natural leader who really cares about people –– and you've got Hallie.""
— Kevin Killian
To her friends, the news that Hallie would be valedictorian for their grade did not come as a surprise, as she had always been so determined and hardworking throughout high school. Jolie Newman, a friend of Hallie, expressed how happy she was when she received the confirmation that Hallie would be valedictorian.
"I was so glad when I received the text that she was valedictorian; while we all knew it was coming, it was so relieving that it was official. Hallie is so smart, hardworking, and an incredible friend. She always has a positive attitude, and she's so much fun to be around," Newman said.
Jadyn Sullivan, also a friend of Hallie's, shared similar thoughts as Jolie over email, stating that "I was not surprised when Hallie texted me that she was the valedictorian because she has and always will be the smartest human I have ever known. She 100% deserves it because she is one of the hardest working people. She is constantly studying and working hard, all while maintaining a social life, and putting in many many hours in a week at her gymnastics facility. Hallie is always so willing to help others, no matter how busy she is, and makes sure to take the time out of her day to check up on people. Ever since we were younger, Hallie would always be doing some type of school work (even over the summer). Her dedication, passion, and drive to achieve her goals make others strive to be better."
"
Hallie is always so willing to help others, no matter how busy she is, and makes sure to take the time out of her day to check up on people… Her dedication, passion, and drive to achieve her goals make others strive to be better."
— Jadyn Sullivan
Kaia Paulsen, who worked alongside Wikfors in Camp Raspberry, reflected on the dedication and effort she put in to make sure that things were planned accordingly and everything would run smoothly. 
"I want to emphasize how dedicated she was to each aspect of her life. In school, she always worked diligently without complaining, with her friends, she was always there for everyone, in clubs that we did together like Camp Raspberry, she was always on top of everything. I'm so proud of her! She has worked so hard for all of high school, never complaining about her workload or anything. Even though she works so hard in all of her classes, she's always there to help her friends with their classes and their personal struggles. No one deserves to be valedictorian more than her," added Paulsen.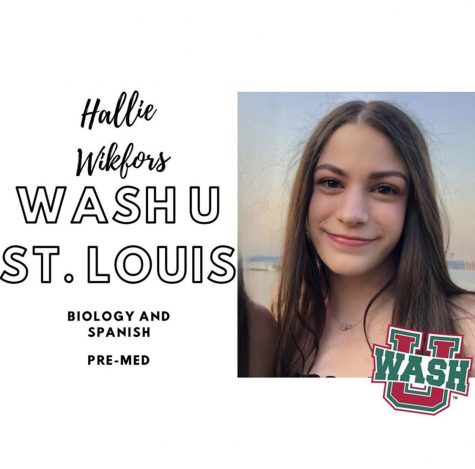 Wikfors will be continuing her education at Washington University St. Louis in the fall with a double major in Biology and Spanish on a Pre-Med track. "My dream is to become some type of pediatric surgeon in the future, so this is the next step in continuing my education," she explained.
For future or current Hills students, Wikfors' advice is simple: "Join as many clubs and activities that you are interested in freshman year to decide what you are most passionate about. For me, I love community service, so my first year I signed up for most of the service clubs Hills has to offer. I realized that the one I could make the most impact in was Camp Raspberry, so I decided to stick with that for all four years and allocate most of my time there. I met so many new people in other grades and from Valley and made some incredible memories. Overall, I would say to try out different things until you find a club, sport, class, et cetera that really makes you happy."
The Pascack Hills community is inspired by the hard work and dedication that Valedictorian Hallie Wikfors showed throughout her four years at school.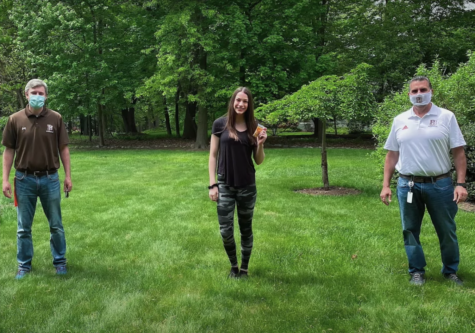 "
In my 36 years as an educator, I don't think I've ever seen a more well-rounded and humble valedictorian and salutatorian combination than these two young ladies. Their academic records speak for themselves, it's their quiet and humble approach and commitment to all that they do, that makes them wonderful role models for our entire student body."
— Glenn deMarrais, Hills Principal
More from the contributor(s):
Leave a Comment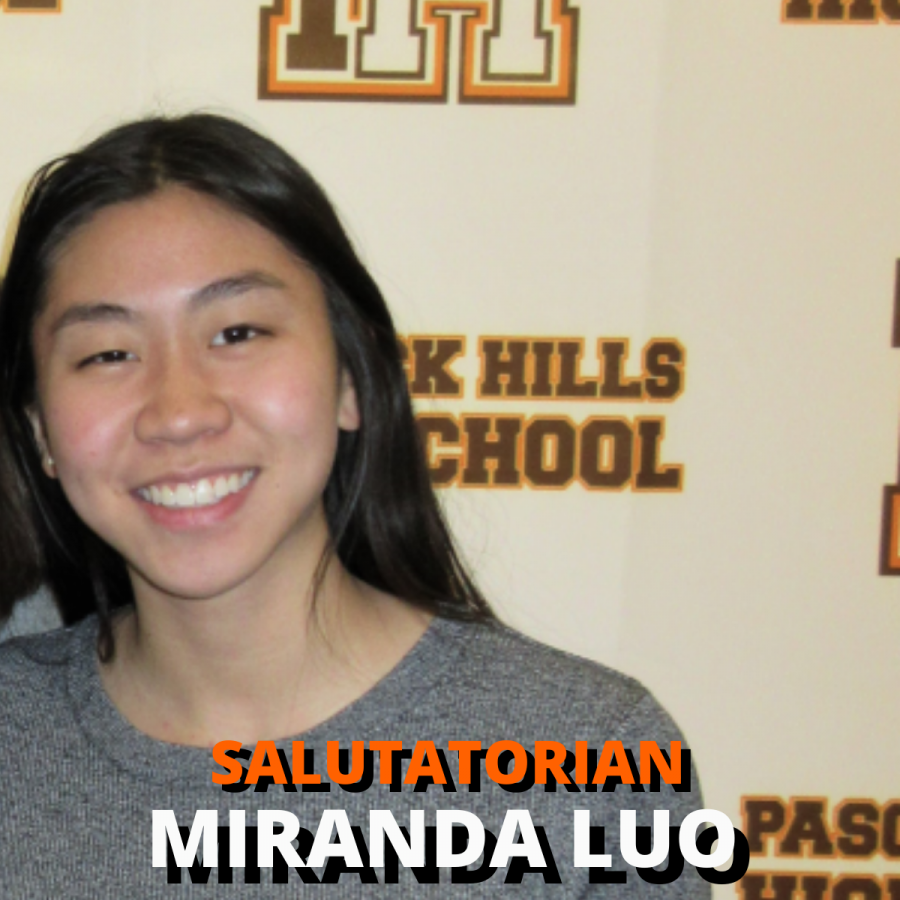 'Confident', 'well-rounded', and 'the biggest heart': Salutatorian Miranda Luo
Salutatorian Miranda Luo also has an impressive profile, one that her friends and teachers alike described as well-rounded. She is a member of Hills' renowned robotics team, the Pascack Pioneers, as well as part of the Bergen County Band and the Tri-M Music Honor Society. On top of that, she is the captain of Varsity cross country, recognized as First Team All-League Track, and a computer science student of three years. 
Despite her notable accomplishments during her time at Hills, Luo wasn't used to getting personal calls from principal Glenn deMarrais. Naturally, she was "a little nervous about it" when she was asked to meet with him one day at school.
"But I quickly realized this was a bringer of good news," Luo explained. She had already heard some speculation from people, and "given the flattering expectation, I had hoped that [being selected as salutatorian] was the case." Sure enough, it was.
Her parents had somewhat contrasting reactions. While her mom "wasn't surprised at the news," Luo's dad "was more confused and worried than anything" upon deMarrais' call before "the initial shock wore off." Despite arriving at their sentiments differently, both were very happy for their daughter.
While she was adjusting to the news of becoming salutatorian, Luo was still deep within the college application process. She said that Kevin Killian, who teaches mathematics at Hills and advises the robotics team, provided her with important advice.
"
Statistics don't make people, people make statistics."
— Kevin Killian, Luo's teacher and robotics advisor
"Statistics don't make people, people make statistics," Killian quoted to her. "That was important for me to hear," Luo explained, as she was considering multiple schools for different reasons.
"At another school I was considering, I felt like not picking it would be a missed opportunity because of the reported easy job opportunities it brings for top companies in computer science. But unless you have some interesting circumstances, it's your hard work and your demonstrated skills that really land you jobs."
Suha Niyas, a good friend of Luo's who was accepted into Carnegie Mellon University, gave further context to her admission process.
"[Luo] was accepted into many great schools, but she had to eventually choose one out of the many. She narrowed it down to Carnegie Mellon and Cornell, which were both reputable schools for computer science, and asked me for advice. As now a future student at Carnegie Mellon, I wanted to take the selfish route and say, 'come to Carnegie Mellon. It's the number one school for computer science anyway.' But, as a friend, I knew she would succeed wherever she went."
Killian's advice and Niyas' guidance helped her decide on Cornell University, which she will now be attending come fall.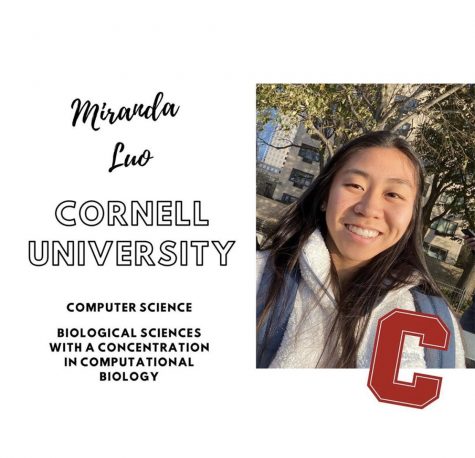 "I will likely be majoring in computer science and biological sciences with a concentration in computational biology," Luo said.
She cited her childhood interest in playing video games as helping her gain an interest in computer science. "It's always fascinated me how lines of code help construct an entirely new virtual world, and I saw it as another kind of art medium."
With biology, Luo expressed that she has "loved animals my whole life, and I used to want to be a doctor because I was fascinated with how the body is able to operate."
But what led to her double majoring in both? While they may seem unrelated, Luo synthesized these two interests as "a beautiful combination," saying that "both deal with small, relatively simple building blocks that can form complex creations."
"I realized the two could be combined when I started research projects: Computer science was more than just making games or software, and I could use it to solve problems and make calculations and predictions in terms of biological concepts."
"Miranda and I have been Chemistry Olympics partners for two events: Website Design and Information Search," said Niyas. "During our first year of the club, the topic for Website Design was the chemistry of pizza. I had very limited knowledge of coding, but Miranda was basically a computer science expert. I gave her an idea for a layout and design for the website, and she built the website from scratch through dedication and hard work. Seeing how hard she worked on this website and how much she took into consideration my idea made me really appreciate her talents in computer science and her loyalty as a friend."
Luo has taken computer science for three years with Mr. Jay Uhl. Uhl said he "think[s] the world of Miranda." He described her as "incredibly bright, funny, and talented" and admired her skills with the many programming languages he has taught her in computer science –– which he says Luo dedicated herself to learning.
Now, with high school in hindsight and looking ahead at a bright future –– albeit uncertain due to the pandemic –– Luo offered advice to underclassmen. 
"Underclassmen should find what works for them and continue to work hard. Take honors and AP classes, as challenging yourself is good, but don't bite off more than you can chew. Additionally, take what you think is interesting, even if it might not give a weighted boost to your GPA." This advice echoes Killian's in saying that quantitative assessments of students don't determine their success. In fact, Luo said that extracurriculars are just as important as challenging yourself within the school environment.
"Learning doesn't stop in the classroom either. Getting genuinely involved in clubs, sports, or outside projects and activities seriously exercises problem-solving, opens your mind to real-world situations, helps you direct your passions to something concrete, and usually builds discipline. Finally, it's always important to know when to ask for help, and that asking for help is absolutely not a weakness."
Luo's friends, whom she said helped "[keep] her going" through "laughing over stupid jokes in class or the lunch table," said her advice had helped them, too.
"For the past four years, she's been dealing with my annoying (and sometimes stupid) questions, and she never complained about it," said Mireille Joukhadarian. "As if she didn't already have enough on her plate, she's always been there to help me, whether it be with understanding the lab were doing in biology or getting through a rigorous robotics project."
While all of her friends interviewed described Luo as hard-working, dedicated, and helpful with both school and life advice, they also emphasized her sense of humor and outgoingness as a friend.
"She… is honestly one of the funniest people I know. I think my favorite memory of her is just when we hang out and she is super relaxed and being her goofy self," Olivia Izzo said.
Echoing Izzo, Luo's friend and fellow Pascack Pioneer Danielle Joukhadarian added that "she always helps her friends with any work they might have trouble on with everything she knows and has to share."
"Miranda is so deserving of being salutatorian because she worked so hard to get there. She always is willing to help people out and has the biggest heart," Izzo said.
"As we grew up, I saw her become more confident and extroverted," Niyas added. "Although we won't go to school together, I know she'll succeed wherever she goes. She's just that amazing."
"
In my 36 years as an educator, I don't think I've ever seen a more well-rounded and humble valedictorian and salutatorian combination than these two young ladies. Their academic records speak for themselves, it's their quiet and humble approach and commitment to all that they do, that makes them wonderful role models for our entire student body."
— Glenn deMarrais, Hills Principal
More from the contributor(s):
Leave a Comment