Seniors who lunch
Both Pascack Valley and Pascack Hills have the privilege to leave school for lunch; this allows the seniors, and the juniors that manage to sneak out, a break from the school lunches that @stinkyphhs on instagram has managed to expose.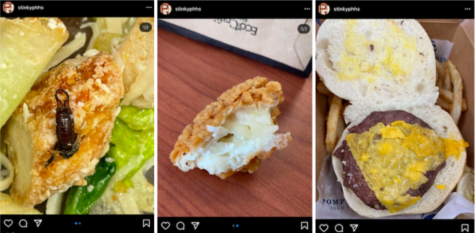 The instagram account, @stinkyphhs, is run by an anonymous source, exposing all of the lunches that Pascack Hills offers. As shown above, there are bugs in the salads, stretchy substances in the chicken, and I couldn't even begin to describe that burger. With 204 followers, the account has managed to convince many students to stop buying lunch from school, leading freshman and sophomores to walk to the Wegmans shopping center, juniors to sneak out, and seniors even more of a reason to leave. 
Depending on your mood, or if you had a physics test before lunch, there are certain restaurants that fit into the 51 minutes that are able to be spent. The three most-popular shopping centers for lunch breaks are Tices, the Wegmans shopping center, and Park Ridge shopping center. Those places combined include restaurants like Panera, Bareburger, Chipotle, Habit, Starbucks, Eons, Chopt, Beets, Ridgemont Pizza, Jersey Mikes, Dunkin, and El Azteca. I know what you're thinking: why would anyone ever choose Beets as a place to spend their lunch period? I wish I had the answer.
Here's the breakdown on where to eat and where not to eat: