Pandemic alters Hills students' social media habits
April 15, 2021
Think back to the early days of the pandemic: a year ago, we learned we would have to start wearing masks, staying indoors, and social distancing. Eventually, it became a "new normal," a normal without family get-togethers or hangouts with friends, without trips to the movies or to the mall, and without dinners in restaurants; no person-to-person connection with anyone outside your home was made. 
Now imagine that same year without some aspect of social media.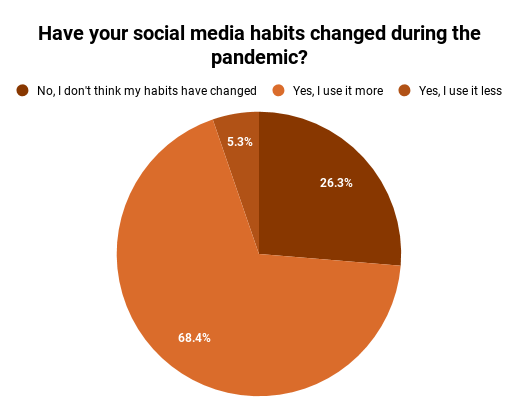 Since the start of the pandemic, apps like Snapchat, Instagram, TikTok, and Twitter have become a lifeline for people to stay connected. In a Trailblazer survey of Pascack Hills students, 68.4% of respondents acknowledged using social media more in the last year, with the majority (78.9%) noting that social media has helped them "feel more connected to people."
David Roter is the head of global agency and brand partnerships for Snap, Inc., the company that develops Snapchat. On a Feb. 12 Zoom call, Roter said the company saw corresponding user trends. 
"Back in April [2020], there was increased engagement across our platform, much of it coming from communication between close friends. During that time, we found that time spent calling [via the app] increased by 50% during late March compared to late February." 
With Snapchat messages sent between friends at an all-time high, Roter said he also saw a rise in group chat engagement and use of the site as a factual resource.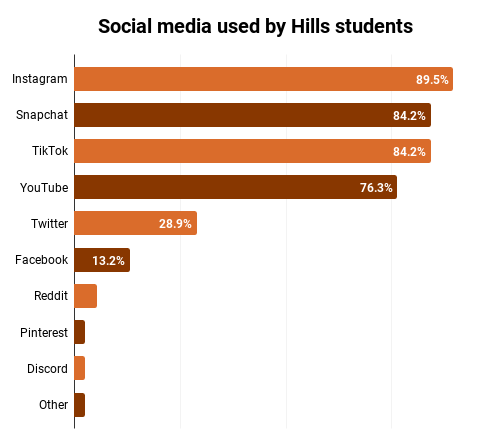 "On average, people are opening the app 30 times per day [and] there are over 5 billion snaps created per day [by] 265 million daily active users," he explained. Roter also noted that people were using Snapchat as a "go-to destination for credible and accurate news content during the pandemic, with more than half of the entire United States Gen Z population watching Covid-related news created by our partners."
Proving those points, 89.5% of the Trailblazer survey respondents admitted using social media daily for at least an hour total, with the most frequented apps including Instagram (89.5%), Snapchat and TikTok (both at 84.2%), and YouTube (76.3%). 
Michael Mashini, a sophomore at Hills, acknowledged his increased social media use: "I have so much more time on my hands, that I just spend more time on my phone. Also, since I don't see people as often, watching people do things on my phone fills the void."
The various social platforms offer users access to different types of content, which translates to longer stretches of usage and more engaging options for users. For example, 94.7% of survey respondents said they use social media "to see what friends are doing and/or to communicate with them."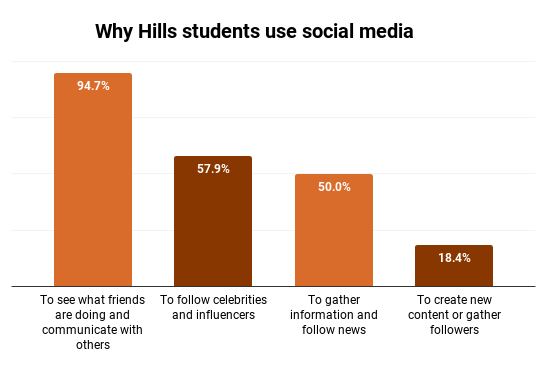 Among that same audience, 57.9% use social media to "follow celebrities and influencers," 50% use it for "information gathering and news," and 18.4% use it to "create new content or gain followers." 
With the extra time at home, some students also downloaded apps they had not used pre-pandemic. 
Lauren Eusebio, a senior at Hills, said she built a YouTube channel "because I was bored during quarantine and wanted to help people learn how to edit" videos.
Eusebio has gained over 200,000 subscribers. However, she expects to be less active on the app once she is able to "hang out with friends and family that I haven't been hanging out with" as Covid-19 restrictions are loosened.

A quick internet search can find studies that reveal both positive and negative effects of social media on mental health. Its ability to bring people together topped almost every list of positives, while the negatives included too much screen time, over-exposure to scary news, fear of missing out (FOMO), increased anxiety, and depression.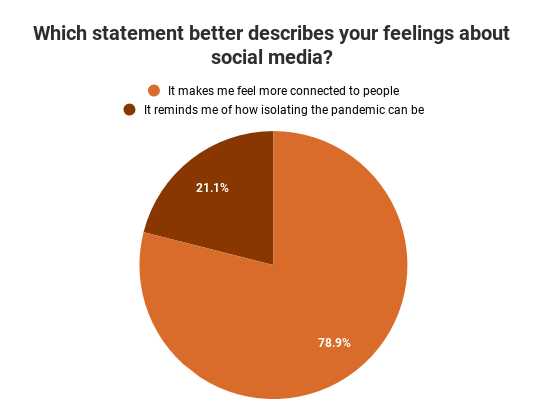 Roter is also on the board of directors of Active Minds, a non-profit organization supporting mental health awareness and education for students. A fall 2020 Active Minds survey revealed that 68.4% of high school students polled considered "virtual interaction with friends" to be the most important coping strategy they have used to support their mental wellness during Covid-19.
The Trailblazer survey found that the human connection accessed through various platforms was worth the risk for 78.9% of respondents, but 21.1% said that social media "reminds [them] how isolating the pandemic can be."
Isabella Gudin, a sophomore at Hills, commented on how she uses her phone to interact with others. 
"Being that the pandemic limited our use of being able to hang out with friends and family, social media has been a great way to keep connected with people," Gudin said. "[Before] the pandemic, I spent less time on my phone and more time with the ones that I care about; however, being that the pandemic took that ability away, I am constantly on my phone."
Jill Torrente, a local resident and licensed master social worker (LMSW), said Gudin's experience reflected a larger trend, and that there are both benefits and drawbacks of the use of social media during the pandemic.
"Without a doubt, people have become more reliant than ever before on social media and I think it cuts both ways," said Torrente. "On the positive side, social media decreased isolation by providing a portal to connect to friends and family and the outside world in general at a time when people felt extremely lonely, isolated and cut off." 
"
Social media decreased isolation by providing a portal to connect to friends and family and the outside world in general at a time when people felt extremely lonely."
— Jill Torrente, resident and social worker
However, Torrente emphasized that the effects of social media have to be examined on a case-by-case basis, because social media can also increase symptoms of anxiety and depression. While some people found the outlets a "ticket to survival," Torrente also acknowledged that social media posts can do more harm than good, mostly because they can lack authenticity.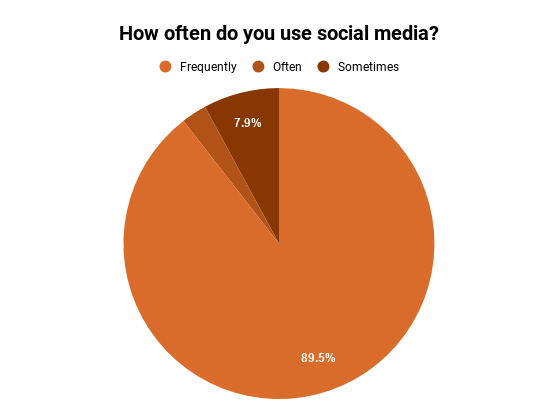 "What people really need is human connection, [but what they are getting is] just the public relations and marketing agenda that [posters] have decided they want to put out there about themselves," she explained. "That usually makes people feel even worse about their own situation. Additionally, there is a huge level of emotion that comes with [seeing] the posts and pictures of other's lives. Whether it be mask-wearing, dining in restaurants, or traveling, watching other people living in a way that you cannot or is outside of your comfort zone is very, very challenging for people."
In an almost identical result to the Active Minds survey, 68.4% of Hills students who took the Trailblazer survey said they use social media more than they did before the pandemic. In contrast, 26.3% don't think their habits have changed, and only 5.3% use social media less than they did before. 
While 63.2% of respondents think their social media habits will change post-pandemic, it is clear most people are grateful for its existence over the last year. Roter also supports this sentiment. 
"It's all about connection," Roter said. "Right now especially, as we're all apart and home, that's what's needed. That close connection, that real connection, that friendship."
Even if the increase in social media use is temporary, Torrente pointed out a result of the trend.
"Social media has shown itself to be a powerful substitute for human connection when there are limited options otherwise… [it] filled a major void for many and was an essential resource during an unprecedented time for all."
The Trailblazer survey was emailed to Hills students and collected responses from Jan. 25 to Jan. 26. The survey received 38 responses.
Leave a Comment
More from the contributor(s):