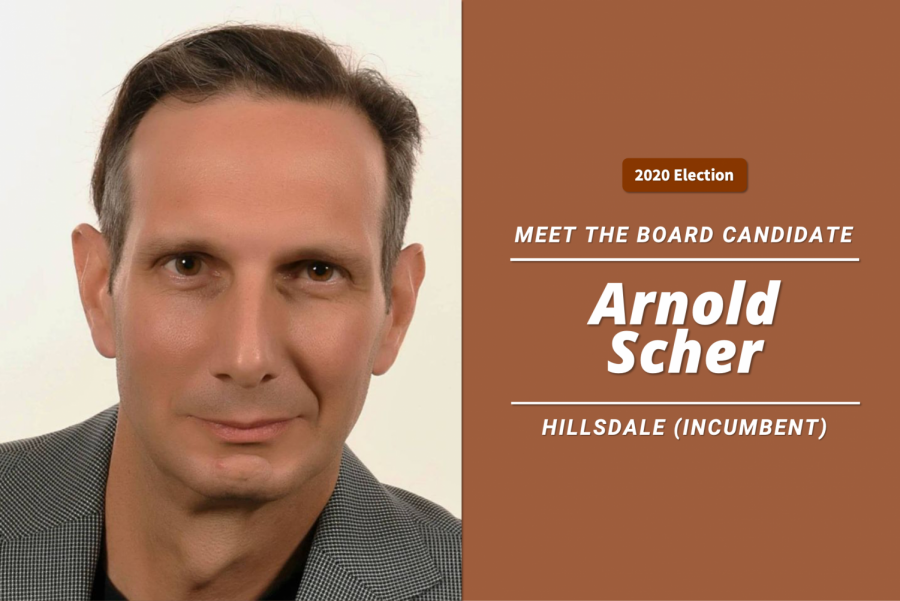 Meet the Board candidate: Arnold Scher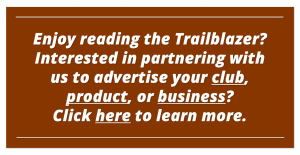 Arnold Scher, a current Board member, is running for reelection to one of two open Hillsdale seats. The other candidates running for the two open Hillsdale seats are Gini Varghese, Kristin Martin, and Pat Luisi.
Scher attended Valley in the early 1980s and has had his two stepdaughters go through the school system. He has centered his campaign around student wellness, a common theme among the candidates, as well as gender, racial, and financial equity at the two schools.
Among his more recent motions on the Board, Scher was one of the nine Board members to vote to remove the Cowboy nickname at Hills and Indian mascot at Valley. Scher has also asked questions of the district reopening committee and has questioned Superintendent Erik Gundersen about the continuation of virtual Board meetings while most students return in-person to school.

Why Scher is running
Scher, who no longer has any children in the school system, named two primary reasons for his candidacy. "There's a lot more work to be done in equity and inclusivity in all areas," he explained, emphasizing his desire to "make sure we keep moving forward" instead of backward.
"The other thing is the Wellness Center," he continued. "I just want to make sure that we continue the progress, and we expand it, and we provide whatever the administration needs to make sure that we're providing support to not only our students but also the staff and faculty, especially in this time with the pandemic hitting."
Right now, Scher said, the Wellness Center is "even safer" and "more private" since many of the sessions students have there are conducted virtually due to the pandemic. Tying this in with his priority of advancing inclusivity and equity, Scher wants the Wellness Center to be expanded and seen as stigma-free by all students. He couldn't clarify if there had been an uptick in students using the center since the pandemic started, but said it is one of the questions he will be asking at the next Board meetings.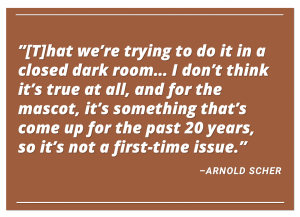 On the Board's goal to improve communication
After the Board voted in June to remove the Cowboy nickname at Hills and the Indian mascot at Valley, parents and students were critical of not just the decision, but the process that led to the decision. "This vote was held during the summer intentionally, to make sure none of us students had a say in it, because they knew we wouldn't approve," one Hills student charged in June. Parents critical of the decision echoed similar thoughts, saying that they weren't made aware of the meeting where the vote was taking place.
Scher maintained that "it's not the responsibility of the Board to make sure every student or parent knows what's going on," emphasizing that "we put out the information." The June 23 meeting to discuss the mascot was linked on the Board website and mentioned in an email from Supeirntendent Erik Gundersen. He also said that, since the Board meetings went to Zoom, viewership saw a large uptick and Board members saw it as more convenient.
"[W]e've been expanding how we get information out over the past three years," Scher said, naming the quarterly newsletter from the Board president he said is sent to everybody in the four district towns.
He did acknowledge that efforts were ongoing in improving the Board's communication with the community, a goal it has listed for the 2020-21 school year. To Scher, it is a balancing act.
"We're just looking now as the committee for what will be the most productive way to get people updated on things and know when things are," Scher explained. He wants to be proactive instead of being reactive to student's accomplishments, quickly "blast[ing] it out to the media," though he said it was up to the newspapers if they wanted to publish what is sent to them. Scher also expressed a desire not to send so many emails to parents "that they just start putting it all in junk mail."
Rebuffing past and present criticism that the Board is "trying to [make decisions] in a closed dark room," Scher said "it's not true at all, and for the mascot, it's something that's come up for the past 20 years, so it's not a first-time issue."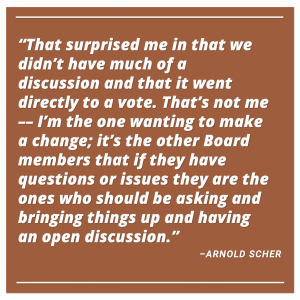 On the mascot removal 
While he said that "[t]he mascots are retired, we're done, the Board is now looking beyond and going forward," in response to a question about the mascot removal Scher sought to clarify how the decision –– or at least his –– was made. 
He initially was not convinced the Cowboy and Indian mascots should be removed –– until the One Spirit Club, an organization at Valley that fought to remove the Indian mascot, presented their case to the Board at a meeting. Scher tailored his questions towards his prior research, where he "found that the image of the Indian is not a caricature, it's actually taken from an actual person that lived in this area 200 years ago."  
"If it's not a caricature, why don't we just learn more and do more?" Scher asked.
Because it goes against the very district's goal to "advance the work of inclusivity and equity", argued the club. "They just kind of threw it in our face and said if [Board members] really want to do what [they're] saying with the goals, how can we have these mascots?"
To Scher's understanding, every Board member agreed that the club's argument allowed for a "no-brainer" decision. This was reflected in the Board's unanimous vote in June to remove the mascots per a motion that Scher proposed.
"I did the motion, someone seconded it, we had a short conversation. The vote was unanimous. It wasn't like it was on the fence, that it was 4-5, 5-5, 4-against. [The Board members] were all saying it makes sense and goes. That surprised me in that we didn't have much of a discussion and that it went directly to a vote. That's not me –– I'm the one wanting to make a change; it's the other Board members that if they have questions or issues they are the ones who should be asking and bringing things up and having an open discussion."
Scher: Reaction to mascots 'shows there has to more education'
"It got to the point where you saw it run off the rails," Scher said of the community's emotional reaction to the mascot removal. Citing the protest at Hills, Scher said he was disappointed in how parents acted. "It was kind of beyond what I thought it would have gone to," he admitted.
Scher repeated that the reaction was one of the reasons for his candidacy, arguing it showed why the fight for "equity and inclusivity" must continue. "There has to be more education," he said he learned from the backlash, "and we have to educate the community as to why in the bigger sense equity and inclusivity need to be here."
"Between the teaching and the curriculum, it goes across everything facility-wise," Scher continued, referencing gender equity in academics and athletics and his stewardship of the issue on the Board.
"Once we heard that" the girls' softball team didn't just have to play off-site but had to walk on a busy road to get to their field, Scher said the Board "bought a van, because that's wrong –– there's no sidewalks, no nothing." The softball team now has their own field on Hills' athletic campus, but Scher said in retrospect that it was an equity issue and an example of the things that "when we find out about them, we take action." 
On working with other Board members
Scher pointed out that every Board member he has worked with over the past years has "come in with one agenda: do right for the students," adding that "[t]here's no personal agenda."
In this election, he was not fully confident of each candidate's agenda but voiced concerns.
"I think now, unfortunately, if you look at some of the people that are running [for the Board], they have a very simple agenda, and the agenda is to get on the Board and to use the mascot issue to rile up people to get themselves on the Board to then try to change the decision that was made and to bring back the mascots back into the system," Scher said.
He argued this was connected to "changing the curriculum and changing teachers and some administrative levels" because the unnamed candidates "see progress as liberal or too liberal and don't see that schools have to grow and change."
"You have to continue to evolve and change and grow," Scher argued of people's perspectives, challenging that some candidates want to do the opposite and questioning, "What drove you now to [run]?"

On why he originally ran for the Board
Returning to what he described as the crux of his candidacy, Scher said he was invited to join the Board after advocating for financial equity in extracurriculars.
There was a "big difference" in how things were done between Hills and Valley for funding theater, Scher explained. "[L]ooking more at it, there was a greater disparity in how much money was given to sports and how much money was given to the theater department as related to core parts of what it does."
Because his daughter was in theater at the time, providing him a personal interest, Scher attended Board meetings and said the lack of proper support was not right. The Board agreed.
"I wouldn't have voluntarily done it and said 'Run for it,' because it wasn't on my radar at all," he confessed. "But I saw an issue, [the Board] saw, 'Hey, this person sees stuff,' and I've been moving since then."
On Board members' advocacy and responsibilities  
From the way he became a member, Scher said he is familiar with how to advocate for students and their concerns  –– something he says all members "are supposed to [do]."
"For instance, I questioned about how Hills used to get concussion testing or had concussion testing and Valley didn't," Scher explained. In response to his questions, the administration said the discrepancy was because the district received a grant to conduct testing at Hills and not at Valley.
Scher told them that "I think we have to fund it, and our biggest thing is to make sure students are protected." After the Board agreed, it tasked the administration to "put the money in, find the money, do what we need to do so that every student is tested and has a concussion test."
While this was another instance of financial inequity within the district, something Scher has focused on as a member, he said an important part of advocacy on the Board was that each member has different areas of interest.
"[T]hat's how our Board has been running or known as. Everyone has their niche area that they want to focus on: Some are finance, some are academics, others are extracurriculars, or the arts or sports. It's not all one-sided," he explained. 
According to Scher, this way of organization during his time as a member has allowed the Board to fulfill its duties: to "make policies," "provide guidance," and "push the administration."
However, it has not come without some drawbacks. Scher described the frequent, often wide-ranging changes of past years –– including the switch to a block schedule and the creation of Pascack Period –– as a "little overboard" on the Board's part.
"We realized, okay, we have to kind of pull back, and we have to do it a little slower and let things settle in and then do it. So that's where we are," Scher said. 
On the reopening of school 
Scher said that the Board and district goals for the school year, which include a focus on student wellness, are aligned with the reopening of school during the ongoing pandemic.
"[T]hey went above and beyond," Scher praised the administration on reopening. "For the Board, it wasn't a lot on us, but it was a massive amount on the administration."
Now that schools have reopened –– with no positive Covid-19 cases recorded in the district so far –– Scher circled back to his interest in supporting the Wellness Center and pursuing equity and inclusivity within the district.
"That's where we need to go, and we need to get the community on a better level," he explained, adding that "we can't sacrifice student health and wellness and their learning and growth" for the technological feat of having in-person Board meetings be streamed on Zoom.
"We have a very limited amount of discretionary funds to spend each year. We have a multimillion-dollar budget, but we only have 9 to 11% –– if you've watched the meetings and see the budget process –– to pick and choose what we want to do. The majority of the money is already put forward to contracts and other pieces, so we have to try to balance where it is," noted Scher. 
On what he likes to do in his free time
While a previous pastime of his, sailing, is no longer something he does, Scher nowadays "get[s] away by riding my motorcycles." He clarified that he doesn't use the motorcycles "as something to get to somewhere fast" but "something to get away from everything, because it's the only time you can be unplugged." 
On educating voters
Scher expressed that his social media campaigning is not him "telling people who to vote," but instead "trying to get information out so you have an educated way to understand what's at stake at this time, this is what's going on and what we have done."
"I don't think there are some people that are out there to do that," he said. "They have blinders on looking at one specific issue." 
In terms of his guiding philosophy, Scher returned to the mascot vote, an event that has developed the core of his reelection candidacy. "Just because it's popular doesn't mean it's what you should do. It's about doing what is right, not what is popular."
He wants voters to remember that "[i]t may not be the popular thing, but it was the right thing."
Read another profile: