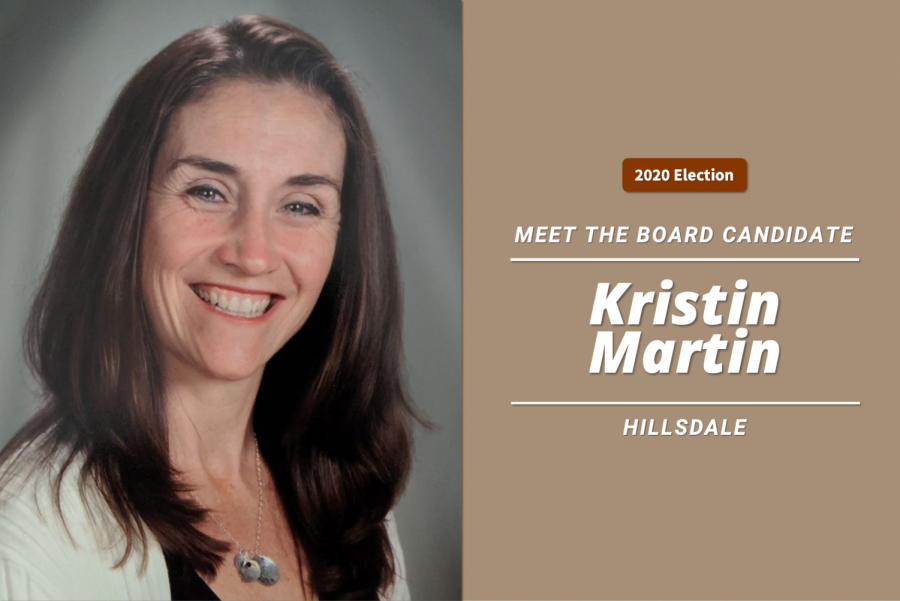 Meet the Board candidate: Kristin Martin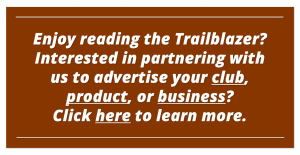 Kristin Martin is running for one of the two open Hillsdale seats. The other candidates running for the two open Hillsdale seats are Arnold Scher (incumbent), Gini Varghese, and Pat Luisi.
Martin grew up in Westwood and has lived in Hillsdale for over 21 years with her husband and two children, both of whom attend Valley. She earned her undergraduate degree from Rutgers University and her Master of Education degree from Montclair State University.
Martin has taught in the Upper Saddle River School District for 22 years. She has also served as a Board member on the Hillsdale Football Association for eight years and coached youth sports in Hillsdale.
Martin has centered her campaign around improving communication between the Board and the community, enhancing student wellness, and maintaining "positive and respectful dialogue."
Why Martin is running
Martin named two encompassing priorities of hers if elected: student wellness and a greater emphasis on post-graduation opportunities besides college.
"In this new kind of world we're living in," Martin said, "wellness has to be at the forefront."
As a middle school teacher in Upper Saddle River, Martin explained she has noticed "a lot of my students who always presented as strong starting to crumble," emphasizing the need for raising awareness about the "wonderful Wellness Centers" at Valley as well as "guidance counselors [and] social workers" available to support students.
Additionally, Martin wants to "keep promoting" what she said "drives kids to be excited about school," referring to clubs and extracurriculars. She would like to tie this in to developing a greater focus on non-college post-graduation opportunities, such as trades and the military.
"They get sort of lost in the mix when we start talking about 'college, college. everybody wants to go to college.'" Martin argued. "At this point, bringing back some of the emphasis of importance of other roles within our community would be helpful for students to see."
Asked to clarify where she developed this perspective, Martin spoke of her own experiences as a parent, where she speaks "so much about college to my own children that I do often try to stop myself and say, well, although we always think of college as the 13th grade, it's not."
On the reopening of school and student wellness
"I don't think [students are] at school enough," Martin said. At the Upper Saddle River Middle School she teaches at, kids can be kept in one class and go to school daily for instruction.
Martin pointed out that "when you start really looking at it, the kids are only seeing their teachers once a week." This is somewhat accurate; depending on the schedule for that week, a student can see their teacher in person either once or twice.
She praised teachers for the "dynamic job" they are doing and said she thinks the district is "doing a nice job trying to get these teachers [into school] and making accommodations for those who cannot" through initiatives such as in-district daycare for teachers' children and support for working from home.
"I am actually responsible for the sixth, seventh, and eighth-graders [at Upper Saddle River] who have decided by their parents, for whatever reason medical or [familial], to stay home and go remote," Martin explained "It is very difficult for these students to learn the same way they would in school, so I do think that ideally, we want everyone back in school. But at this time, we really do need to be flexible.'
Again, Martin said that "some kids are just spiraling out of control" as a result of what she called a "lockdown mentality" which "has wreaked havoc on our children's welfare as far as mental health."
While "lockdown" is now over, Martin argued that student wellness as a topic of Board discussion should remain at the forefront.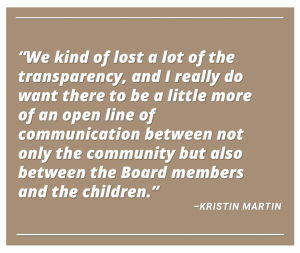 On the values she supports
Martin's Facebook campaign account is titled "Supporting values in our schools – Vote for Kristin Martin for BOE." When asked to specify which values she is referring to, Martin turned to the Board's transparency –– something she argued was "kind of lost" in the mascot removal vote.
"I really do want there to be a little more of an open line of communication between not only the community but also between the Board members and the children," Martin explained.
She praised students as "all very mature" and said they deserve to feel like "this is your school" when the Board makes impactful decisions.
On the mascot removal
'It's the most important thing ever in the whole world," Martin said sarcastically about the mascot removal, indicating that was not something she believed. She said she understands why community members who identified as a Cowboy or Indian feel "blindsided" by the Board's unanimous vote.
She reminded voters that "this has been a conversation, and it's not new," but said "the timing was taken advantage of" and that "people are really not paying as much attention and these decisions were made."
The mascots have been a topic of debate for over 20 years, and have been brought up for discussion at Board meetings numerous times before. At the June 25 Board meeting two days after the decision to remove them was made, over 500 people attended. At the original meeting, community members ranging from One Spirit Club members at Valley to parents at Hills spoke for over two hours.
More than anything else –– she would not "agree or disagree with the decision per se" –– Martin said she is disappointed in the anger in brought out. "I'll tell you it was not the children –– it was more the adults," she acknowledged, saying that if her freshman daughter was told she was now a Jaguar, "within a year or two she's going to be all excited about Jaguars and won't be looking for Indian clothing."
Summarizing what her stance on the issue would be as a Board member, Martin said, "we need a fresh start… and we need to make decisions quickly so people can identify with this new mascot and move on."

In terms of how she came to that perspective that a fresh start was the right decision, Martin referred to recently speaking "to someone who is actually a Native American[Indian]."
According to Martin, her Native American friend originally felt the Indian mascot was a "badge of honor' but after research and speaking to local tribe leaders learned "that not everybody feels the same way she does."
"If it's going to make somebody uncomfortable, it's not worth it," Martin agreed. She did argue again that the process for their removal was flawed, and said if she was on the Board she would have "brought tribe leaders in and explained it to the children" and "it would have gone differently."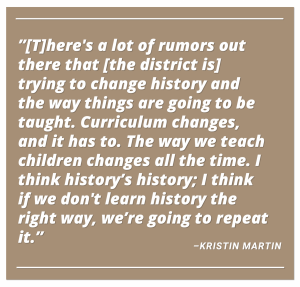 On the current district curriculum
Turning to curriculum, Martin spoke of her experience as a teacher. "Curriculum changes, and it has to," she voiced. "The way we teach children changes all the time… if we don't learn history the right way, we're going to repeat it."
Martin implied that the incorrect way to teach history is when "we don't teach them to argue both sides respectfully and intelligently."
Asked if she saw one-sided curriculum as a current issue or something to avoid, Martin said she "wants to avoid" it from being taught and that her children at Valley feel that "teachers respected both views regardless."
"That's the only way we're going to grow," she said.
On inclusivity and equity
One of the district goals for this school year, like last year, is to "advance the work of inclusivity and equity throughout the district. Incorporating data-driven research into equity education for faculty, collaborative efforts with community and regional partners, curriculum development, and leadership and goal setting."
Martin said her perspective on this goal originates from her children, who play club sports. "Not only did" the students her son played with "have different religions and spoke different languages, they definitely did not have what he had –– but they're some of his best friends in the world."
She said it helps to travel outside of the "Hillsdale bubble," which she described as not a flaw in the town's diversity, but something to be aware of since the factors that bring "[people here], they do have a common theme of being able to live a certain kind of life."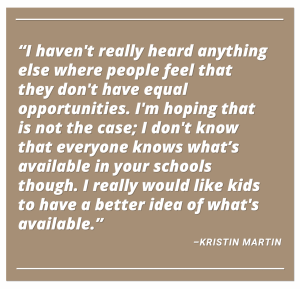 Martin said she was unsure if there are any practices in the district right now she thinks are inequitable or could be made more inclusive.
"I never heard that children do not feel welcome," Martin observed, but said she "[doesn't] think that everything is advertised the same" in terms of issues brought to the Board's attention. One recent issue she said revolved around equity was when she heard "some questions about [female Valley athletes] wearing uniforms and" being required to have "the Indian [mascot] with black tape over it."
While the mascots have been removed, there are no imminent plans to alter athletic uniforms until their purchasing cycle expires, and Superintendent Erik Gundersen recently said no student would be punished for wearing Cowboy or Indian gear.
"I haven't really heard anything else where people feel that they don't have equal opportunities. I'm hoping that is not the case," Martin emphasized, but again stated she thinks students should "have a better idea of what's available."
She also said she would join any equity committee the Board creates if she is able to.
On Board members' advocacy and responsibilities
When asked if she is interested in working with Board members she might disagree with on any issue, Martin described the role as "not a blank check where you can do whatever you want" and that members must advocate for students and hold a responsibility to the community.
"I'm finding a lot of voting is just unanimous," Martin said of Board votes, "because I feel that some of the Board members aren't comfortable talking out." Martin did not name a Board member or members in particular.
If elected, she said she would "encourage dialogue within the Board so that any sort of topic is brought up and we're going to have opportunities and be encouraged to ask questions. Just these unanimous 'we approve, we approve' meetings I think is a dangerous way to go. "
On her favorite pastime
"My most favorite thing to do is watch my kids in their sports," Martin said, but that her "most favorite thing" she has ever done "is watching my kids coach younger kids."
Watching "kids hanging on" her son, who coaches youth basketball, brings tears to Martin's eyes, she explained.
"When I see my kids giving back to their own community and me being able to watch them enjoy the school, the sports, and them growing up and being happy and looking at colleges and having all of these wonderful life experiences –– that's what I like to do." 
Read another profile: