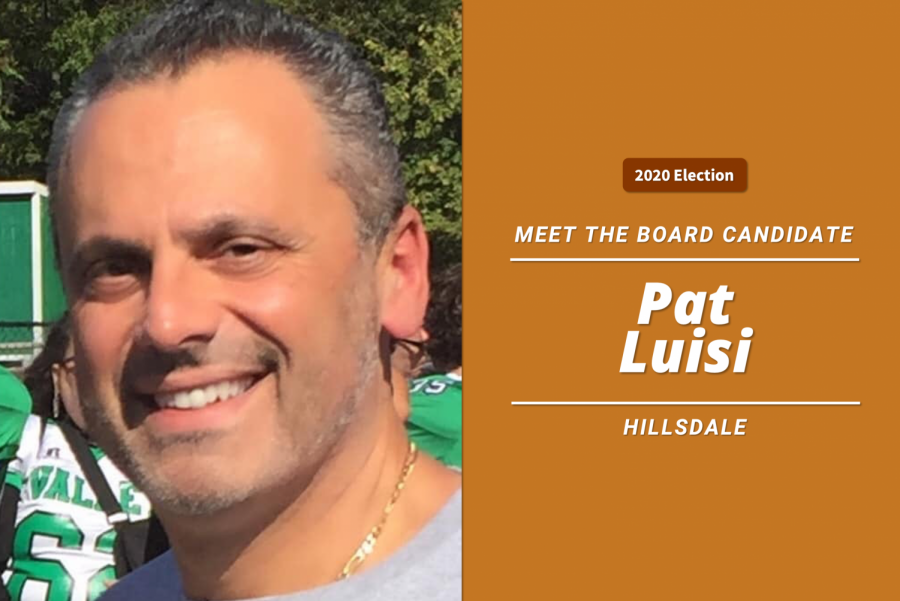 Meet the Board candidate: Pat Luisi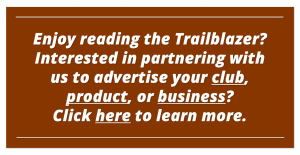 Pat Luisi is running for one of the two open Hillsdale seats. The other candidates running for the two open Hillsdale seats are Arnold Scher (incumbent), Gini Varghese, and Kristin Martin.
Luisi was born in Italy and grew up in Saddle Brook. He graduated from Rutgers University with a Bachelor's of Science in Industrial Engineerring. He later moved to Hillsdale, where he has lived since 2006 with his wife. Luisi has three children –– two Valley alumni and a son in elementary school.
Luisi has been a Regional Manager at Expeditors International for 20 years and has also coached youth sports in Hillsdale.
Why Luisi is running
Luisi stressed his vision of the role of the Board within the community as one of the motivating reasons for his candidacy.
"It's important that the directions and decisions of the Board have a positive beneficial impact on all the students," said Luisi, arguing that he was qualified to meet that goal. "I'd work hard with the other Board members to carry out responsibilities and take each issue and vote seriously. I would definitely listen with empathy to all points of view and opinions, and I would respect those."
Luisi said his work experience, which has included travel abroad meeting people "in different industries, with different roles and responsibilities and unique challenges" has allowed him to prepare for a role on the Board as it allows him to see "what the future holds for our youth as they move through the education system."
In addition, Luisi emphasized that the Board's transparency was a priority. "I feel that Board members are their community's representatives, and the community has a right to make comments, and we need to listen to all the comments, including bringing them into our decision-making process regardless of point of view."
Luisi added that "over-communication is better than under-communication." The topic of the Board's transparency is not new, but it has been brought up more in light of its recent decisions such as to remove the Cowboy and Indian mascots.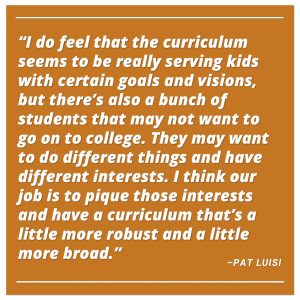 On his Facebook campaign account, Luisi stated he would seek a "change for the better" Asked to elaborate on which ways a "change for the better" would happen, Luisi returned to his initial comments.
"[It] means transparency in what we do," he said. "That means listening to the entire community of all points of view."
He also touched on the district curriculum, which he argued prioritizes children who want to go to college over those "who may not want to."
"They may want to do different things and have different interests," Luisi said. "I think our job is to pique those interests and have a curriculum that's a little more robust and a little more broad."
On the Board's communication goal
The Board's communication goal for the 2020-21 school year is to "Establish a Board of Education communications committee. Plan for more frequent communications from the board, including a board specific newsletter to the community regarding reopening and the operations of board of education."
Luisi said the current communication by the Board was not a "fault" but an "area of improvement," and he is happy the goal was listed as it appeared to recognize that they "have to do better at this."
"[C]communication is two ways," explained Luisi. "It's not just communicating; it's you listening." Luisi said this in the context of parents and students being passionate about certain subjects and argued disagreement was not a reason to "shut certain people off" but one to "listen with empathy."
If that communication and transparency does not occur, Luisi continued, "then regardless of whether your intentions are good or not, you're going to lose trust, and that is a very very difficult thing to get back."


For specific ways the Board could reach community members, Luisi said he would have to learn more "about the details of how [the Board] came to" its goal but suggested that "[b]eing out and about in town is great" and it could include "social media if handled properly –– you don't want to get into social media debates and have it escalate and go in the wrong way."
On the mascot removal
Social media was the main place where community members debated the removal of the Cowboy and Indian mascots in June and continue to do so. Returning to his emphasis on the role of the Board, Luisi maintained it is supposed to "engage with the community –– students and parents" and "provide oversight to ensure students are achieving at the highest level."
In that vein, he said, "I guess the Board felt it was necessary to offer a change and ultimately vote on [the mascots]. That [vote took place.]"
While the vote itself is in the past, there are still next steps to be taken. Asked how he would unite the community around new mascots, Luisi said the people have to be engaged to create a consensus, and the Board should "maybe get suggestions on different ways and different symbols the masses could be happy with."
He stressed the process could not be compromised and required empathy.
"You're going to be met with people that aren't happy, but you have to try to have empathy for those people that are passionately against what you've done and do a very good job explaining why you've done it. Not just for [the mascot] issue; I'm saying moving forward, it's just critical. Providing information and data on some of these decisions are important, and they are important because our community in particular in Hillsdale is passionate about our children. I actually think that is a positive thing."
On school reopening and the next steps
"Knock on wood," Luisi remarked of the zero Covid-19 cases reported at Hills or Valley so far since reopening. While he praised the Board and administration for a "good job" preparing schools for both in-school and virtual learning, Luisi contended "we still have a lot of work to do."
"The framework is laid," he emphasized, "but now, the job is on the teachers and the educators to assure we're not compromising the quality of education that this community has come to expect."
For the district's educators, Luisi said "we have to make sure [through the Board] that [they] have the support they need, because [they] are such a key to success in this new normal."
Luisi also expressed concern for all-virtual students, saying that "as much as teachers try virtual communication, it just doesn't allow for the personal interaction that students and teachers frankly thrive on." He said a personal connection like he had with his teachers, where he observed them shifting their message for each kid and their needs, must be maintained for those students. Currently, around 10% of district students are learning entirely from home according to Superintendent Erik Gundersen.
While sports at Hills and Valley have resumed to a large extent, sports seasons have been more difficult with the cases reported at some other high schools and the limits on in-person recreation. Citing his experience a youth sports coach in Hillsdale, Luisi said that athletics, especially during Covid-19, was connected to mental health.
"In some cases, I feel that children who engage in athletics are just happier, and getting that exercise is very beneficial to their mental health, so I'm all for doubling down on in-school learning and athletics. I think it's great for the kids," he emphasized, adding, "We have to be really focused on education but just as focused on safety."
On student wellness
Luisi said positive interactions were key to improving and maintaining student wellness. They need to feel "we are all in on them and getting them not only through this pandemic but setting them up for a really solid future," he explained.
While he returned to athletics as one way to accomplish this, Luisi sad that a "personal touch" for students could be accomplished in several ways. He wants children to be more engaged in building curriculum, and that "we set up the right process to get them to talk to people that can understand them and help them" if students need "someone to talk to aside from their parents."
Other candidates have emphasized initiatives at Valley such as the Wellness Center, where students can check-in (virtually right now) to receive support, and shared Luisi's view that students needed to be more aware of resources available to them during and after Covid-19.
On equity and inclusivity
Asked for his personal experience with equity and inclusivity,which the district has set a goal to advance, Luisi said he does not want anyone to feel "that because perhaps the way they look or the way they act puts them in a position to be excluded from certain things." Making sure this doesn't happen starts with building programs that "are for everyone and don't exclude anybody," he explained.
He argued that it also includes listening with empathy and an understanding that "the decisions we make are again beneficial to the entire student body." To do this, the Board has to do "deep dives and try to get as many facts and information as possible" before voting on a motion.
There have been specific efforts by the Board to advance this goal, which it cited in its decision to remove the mascots. An equity committee was created last year to include students from both schools, and incumbent Arnold Scher said it is one of two new committees being added to the Board this year.
During June, students protested police brutality by writing names of Black men and women killed by police in parking lot spaces at Hills and Valley. Valley students also requested that the phrase "BLM," standing for "Black lives matter," be added to the school's electronic sign.
At the time, Gundersen said that the school-approved "BLM" sign at Valley, which was "based on the suggestion of the student equity team at PV as they were looking at a constructive way to protest the killing of George Floyd," was up for two weeks longer than it was supposed to be.
"[S]tudents have the right to express themselves," Luisi said on the issue. He continued, "I worry that there are people that react poorly when certain people express themselves, and that's on both sides of the fence –– whichever side you're on; I don't know if there's two sides of the fence, three sides of the fence, four sides of the fence. But we can't have the type of divisiveness that I've seen and heard about, where children that have certain beliefs or thoughts are looked down upon by either our educators, our administrators, or our Board. We just can't have that."
On what voters should know
Luisi is running with Kristin Martin for the two Hillsdale seats and said the two have "similar thought processes." Speaking for his own candidacy, Luisi stressed that he is "viewed as a leader in the community."
"We'll let the people elect the best person or two people and we'll move forward like that," he added. "I think we all have to understand it's about the kids. It's not about us."
On his favorite pastimes
Outside of running for the Board, Luisi likes to travel.
"Both my wife and I are immigrants born in Italy," he explained, "so we like to take the kids back every couple of years to see family. That certainly grounds us and makes us happy, so I would say that's one of my favorite things to do is go back and see my family overseas."