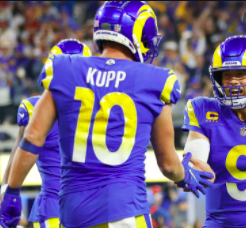 Los Angeles Rams: strengths and weaknesses
Ram Strengths 
The Los Angeles Rams have a chance to do something exciting. As the Tampa Bay Buccaneers did last season, the Rams have a chance to play the Super Bowl at home, as this year's Super Bowl is being played at SoFi Stadium. It can be argued that the Rams are the most complete team left in the playoffs. They have a veteran quarterback in Matthew Stafford that knows how to win close games.
Stafford has proven his talent and led this team in close games, including the NFC Divisional Round against the Buccaneers. They have an established rushing attack with Cam Akers, who returned just recently from a torn Achilles and is playing like he never got hurt.
To add on, they have an incredibly impressive receiving core. To start, Cooper Kupp, who was undeniably the best receiver in the league this season, leading the league in receptions and receiving yards. Following him, Odell Beckham Jr, who was acquired mid-season after being released by the Cleveland Browns, has given the Rams that second option at receiver that they need. Defensively, the Rams could be facing an offense that is missing their star left tackle, and demand top tier offensive line play in order to stop them.
Between arguably the best defensive player in the NFL in Aaron Donald, star cornerbacks Jalen Ramsey and Darious Williams, another mid-season acquisition in Von Miller who has played at an elite level, linebackers Leonard Floyd and Troy Reeder, and backup safety Nick Scott, who has stepped up as a standout player on this defense, this team is hard to stop. Head coach Sean McVay has playoff experience, even making it to a Super Bowl in his short time with the Rams so far.
Ram Weaknesses 
The Rams face their kryptonite in the NFC Championship when they take on their divisional rival in the 49ers. Sean McVay has an 0-6 record against the Niners during his tenure, and Kyle Shanahan has made the Rams look pedestrian at best when playing them.
For one reason or another, the Niners game plan gets the best of the Rams when they play. While the past is never a reason to assume the Rams will lose, it's certainly a scary matchup if you're a Rams fan. We also see some inconsistency with the Rams.
Matthew Stafford has certainly had bad games this year, along with this defense. Against the 49ers this season, Stafford has thrown 4 interceptions and lost both of the games. When the pass rush isn't getting to the quarterback, it makes the Rams' secondary susceptible to big plays. If Trent Williams is healthy, the Rams could see some of these challenges start to leak out. If there's any team that could cool off this red hot Rams team right now, it's the San Francisco 49ers.