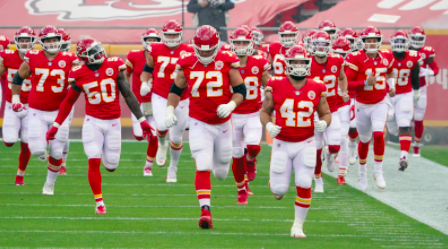 The Kansas City Chiefs: strengths and weaknesses
Kansas City strengths
The Kansas City Chiefs entered the playoffs as the second seed with a record of 12-5. The team struggled in the beginning of the season, starting 2-3, but quickly picked up the pace. Chiefs' QB Patrick Mahomes, who has been the starter in Kansas City for four years and has taken the Chiefs to the AFC Championship game all four years, was fourth in passing yards this season, tallying 4,839 total yards, along with 37 touchdowns.
In their Divisional Round game against the Buffalo Bills, Mahomes threw for 378 and three touchdowns, while rushing a touchdown, along with no interceptions in a nail biter game that went to overtime. The week before that, in the Chiefs' Wild Card game against the Steelers, Mahomes tossed for 404 yards and five touchdowns.
Needless to say, with 84 points in the last 2 games, the Chiefs have the hottest offense in football. This will be the key to the Chiefs success the rest of the season. When their offense is at their best, it will be nearly impossible to stop them. The defense also can be great. The defensive line is going up against a struggling offensive line with the Bengals, so they see a good matchup. When at their best, the Chiefs defense has stepped up and been able to stop some of the best offenses in the league.
Kansas City weaknesses 
However, the Chiefs might find themselves at a disadvantage is inconsistency. The Chiefs have been inconsistent on both offense and defense. While the offense can be unstoppable at times, we have also seen this same offense become unhinged. Riddled by drops, lack of separation, and no rushing attack, the Chiefs have been a team known to shoot themselves in the foot.
Having games where the team didn't break 20 points, we've seen the offense fall apart. The defense also shows inconsistency. They gave up 34 points to the Bengals when they played during the regular season, and 36 points to the Bills last week. Star safety Tyrann Mathieu also is questionable for this game, which wouldn't help their struggling secondary.
The Chiefs also face a tough matchup against the Bengals offense, who has 3 receivers that can tear you apart. The Chiefs did hold the Bills top receiver to 3 catches for 7 yards, but gave up over 200 yards to the Bills second option in Gabriel Davis, along with 4 touchdowns, an NFL playoff record. This has been a negative trend for the Chiefs defense. They don't have a reliable CB2, and this could definitely haunt them in a game where they go against so many weapons.
PC: KC Kingdom