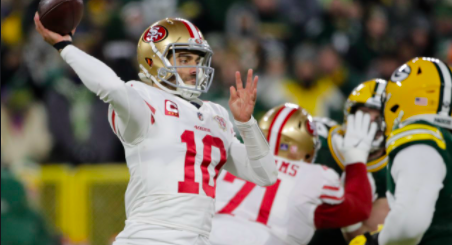 The San Francisco 49ers: strengths and weaknesses
49ers Strengths 
The San Francisco 49ers have a game plan that will make another team miserable if executed. They're going to run the ball until they can't anymore, and rush your quarterback every single play. Even if they know their plan, teams can't seem to stop them.
The 49ers defense has been dominant for the last four years, even with the amount of injuries they have sustained. Any concern of the 49ers defensive decline after losing defensive coordinator Robert Saleh to a head coaching job was quickly diminished as DeMeco Ryans stepped in and picked up right where Saleh left off. Nick Bosa returned from his season-ending injury last season and remained a star player. Sending a unit consisting of Bosa, Fred Warner, Arik Armstead, Jaquiski Tartt, among others, is a difficult one for any offense to get past.
On offense, the 49ers have proven that no matter who is in the backfield, they are going to be able to run the ball. This year, it was sixth round rookie Elijah Mitchell. The player that no team can prepare for is the wide receiver/running back hybrid Deebo Samuel. Samuel has the ability to pick your offense apart both before and after the catch.
It's also impossible to forget tight end George Kittle who makes an impact as both a blocker and a receiver for this offense. Pairing all these weapons together, headed by a respected and accomplished coach with Kyle Shanahan, makes the Niners a threat, no matter who they're playing. On top of that, Kyle Shanahan is 6-0 against Sean McVay and the Rams, beating them twice already this season. This is a team that knows how to win, and it helps that they're familiar with their next matchup.
49ers Weaknesses 
The glaring issue with the Niners is at two of the most important positions on the field. To start: standout left tackle Trent Williams may not be available for the game, which might affect their ability to run to the left side, along with protecting the quarterback.
Their NFC Championship matchup against the Rams is one they could really use Williams for. The Rams have the third most sacks in the NFL this year. Even if available, the glaring weakness for this team is at the quarterback position. Jimmy Garoppolo, when looking at statistics, is far and away the worst remaining quarterback in the playoffs.
When facing a team with a good run stop, Garoppolo hasn't proven he can consistently single-handedly win a game, unlike the other three remaining quarterbacks. Sometimes, Garoppolo will come through, but other times, fans look for the team to turn to their rookie quarterback, Trey Lance.
"I don't think the Niners can trust Jimmy G in crunch time. He's proven that he's mistake prone and it's hard to trust that in the playoffs when you need to play perfect football," said Aidan Berson.
In the playoffs, when teams are playing their best football, it's hard to win games when your quarterback is turning the ball over and not able to convert on third downs. Most of the playoff games this year have turned into shootouts, where teams are going back and forth scoring points, and it's tough to believe in a guy like Garoppolo to go toe-to-toe with any of the other three offenses left.
PC: MLive