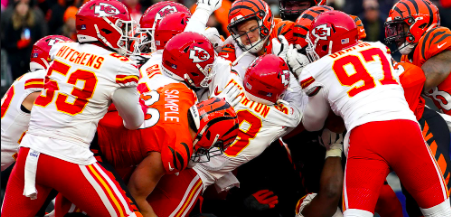 Football's Finest
Why each remaining team could potentially win the Super Bowl, and or why they can't.
As the most exciting NFL Divisional Round in recent memory concludes, four teams remain in the playoffs. Each team only has to win one more game in order to advance to the Super Bowl, but they meet their biggest competition yet.
In the AFC, the Kansas City Chiefs host the Cincinnati Bengals, as two of the most offensive powerhouses of the season clash in the loudest stadium in the NFL.
In the NFC, a divisional rivalry rises as the San Francisco 49ers travel to SoFi Stadium in Los Angeles to take on the Rams. With each of the top seeded teams out of the playoffs, the Super Bowl has become one that anybody can win. With no obvious favorite in either conference, each of the remaining teams certainly has a case at why they can win it all.
What makes the NFL so amazing is the unpredictability.There's a reason that even a regular season NFL game tallies in more viewers than championships for any other sport. The reality is this: any of these teams can win it all. We've seen teams that finish with terrible records beat teams that are still competing for a championship. The remaining teams are going to be playing their hearts out the rest of the way, and it's going to be an exciting last few game for football fans to watch.