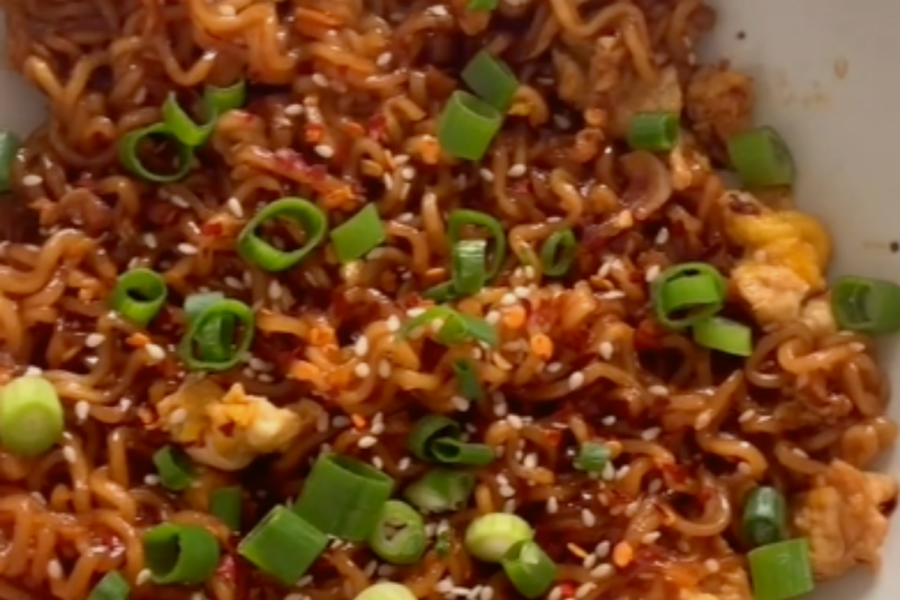 @food52 on TikTok
Ramen recipe
The TikTok Ramen recipe is to die for. I have personally cooked it several times myself, and it is easy to make and tastes delicious. All the ingredients are likely right in your pantry.
Why is it so good?
This recipe is the perfect mix of savory and sweet because of the brown sugar mixed with the butter and egg. It would not have gone viral if it tasted bad. It is also very easy to cook, taking only around 15 minutes.
Ingredients
Instant ramen
Butter (1 tablespoon)
Garlic (about 1 teaspoon)
Brown Sugar (1 tablespoon)
Soy sauce (2 tablespoon)
Egg (1 egg)
Crushed red pepper flakes
Everything But The Bagel Seasoning or sesame seeds
How to make it
1. Cook the ramen:

First, you're going to start by cooking the ramen noodles. Try not to overcook them because they will cook in the sauce as well.

2. Make the sauce:

Start heating the butter on low heat (optional: heat the butter in sesame oil), then once it is fully melted add the garlic and crushed red pepper flakes. After, add the brown sugar and soy sauce.

3. Mix:

Add the noodles to the pan with a little bit of pasta water so help it mix. Toss it and make sure the noodles are coated in sauce.

4. Cook the egg:

Push the noodles over to the side of the pan, or get another, and crack the egg directly onto the pan. Scramble it until your liking, and then mix it into the noodles.

5. You're done!:

Lastly, pour the noodles onto a plate and top it with Everything But The Bagel seasoning or sesame seeds.
Time total: 15 minutes
Link: TikTok ramen