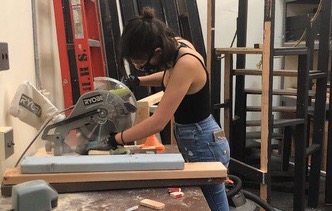 Contributed by Riley Solomon
Senior spotlight: Valentina Cannao
As the curtain closes on the spring play for this school year, assistant director and senior Valentina Cannao finished her last show as a student of Pascack Hills.
From freshman to senior year, Cannao has been involved in stage crew. She was part of productions "Bonnie and Clyde," "Rent," "Godspell," "Chicago," "Under Pressure," "Curtains," "FaceTime Continuum," and "Sister Act."
"As soon as we started I became really involved and was just always present and trying to learn which made them look to me as the future leader for the program," Cannao explained.
In her sophomore, junior, and beginning of senior year, Cannao became stage manager. She later got the position of assistant stage manager in the second part of her senior year. This led to her close involvement in the behind-the-scenes work for each play.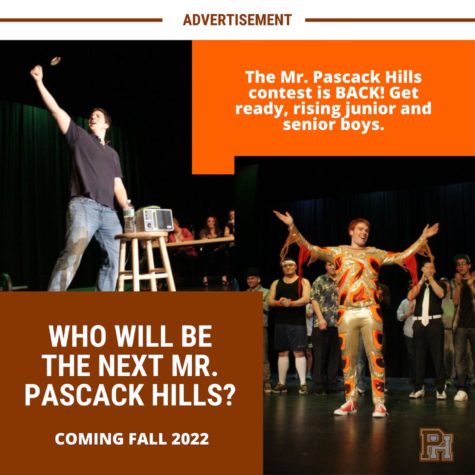 As stage manager, she took many responsibilities such as planning how to move set pieces and flats. Cannao also queued changes in lights and scene changes.
Cannao stated how it was "a lot of responsibility as the stage manager/assistant director and it is a lot of work but it is totally worth it … to see everything come together is awesome."
One of Cannao's favorite memories in theater is her time designing and building the set for "Curtains" during her junior year in high school.
"The size alone was something we had never even thought about before," she reflected. "All the moving pieces and different personal elements just made it perfect. I am incredibly proud of what we did."
Even with the challenges this year, Cannao designed and helped move the flats for "Sister Act," which was located outside in the school's amphitheater on a stage considerably smaller than the auditorium's one.
"Stage crew is getting better and better every year… The team is incredibly excited for the years to come and the program can only go further if students are active and step up!" Cannao enthusiastically expressed.
"If given the opportunity everyone should try stage crew out," she urged. "The kids who are doing it currently and want more responsibility in the program don't be afraid to ask. We have been trying to get the crew more and more involved and there are positions available to you if you just ask!"
The Trailblazer Editorial Board reserves the right to remove comments deemed inappropriate, offensive, or threatening.