2017-2018 NBA Season Predictions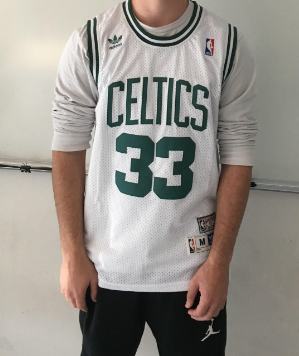 Hang on for a minute...we're trying to find some more stories you might like.
As the 2017-2018 NBA season commences, we begin to see new faces, as well as revisit old ones. Around this time last year, certain players and teams took the league by storm, making it a season to remember. To refresh, Kevin Durant played his first season (and won his first title) with the Golden State Warriors, distancing himself from the other half of the formerly dynamic duo of Oklahoma City, Russell Westbrook. Westbrook shined in his new role, leading the league in scoring, averaging a triple-double, and winning league MVP. Meanwhile, LeBron James went to the finals for his seventh year in a row.
Although last season was a great one, with tempers high and emotions soaring, the past is in the past, and we have a great season ahead. Big player trades like the swap of Kyrie Irving and Isaiah Thomas have been made, as well as others that push the unpopular "superteam" trend even further. Although certain franchises are getting bigger and some smaller, it paves the way for other players to come into the spotlight and achieve the recognition they deserve.
The Most Valuable Player award last year was given to Russell Westbrook, for giving us one of the best statistical seasons in the history of the league. Malcolm Brogdon was awarded Rookie of the Year, Draymond Green the Defensive Player of the Year, and Giannis Antetokounmpo received Most Improved.
Rookie of the Year is usually a tough award to predict, especially since the transition from college basketball to the NBA can be so drastic for some players. Others however, do not shy away from the limelight, putting on spectacular performances, and hope to one day become one of the greats. 2017 is a very interesting year in terms of rookies, Ben Simmons of the 76ers is currently leading Philadelphia's charge alongside Joel Embiid. Jayson Tatum also steps up with Kyrie Irving and Jaylen Brown after Gordon Hayward's horrific injury on opening night. Possibly most interesting than both though, is Lonzo Ball, the guard for the Los Angeles Lakers, coming out of UCLA. With a father sometimes drawing more attention than him, the league has never seen another player whose dad is interviewed more frequently than most players on the team. Except, love him or hate him, it provides a lot of attention for the Ball family, especially Lonzo. As the old saying goes, there is no such thing as bad publicity, which could either make or break Ball and his young career.
Defensive Player of the Year is very unlike most other awards, considering that one of the biggest factors is not just skill, but the work that is put in. Many factors that go into the DPOY are what's qualified as "hustle stats", numbers that don't come up in the stat sheet, but play a huge role in the game. Draymond Green showed exceptional efficiency and averaged two steals in the 2016-2017 season. Still in Golden State, Green is very likely to have another season like last year, already averaging one steal. Another possible candidate Kawhi Leonard, arguably one of the most underrated players in the league, averaged 1.8 steals. Leonard has been a driving force for the San Antonio Spurs since 2011. Rudy Gobert, center for the Utah Jazz, did not average quite as many as the other two, but his hustle and motivation during the game shows what his statistics do not: he is still in the running to be the best defensive player.
With another season comes another Lebron James MVP running. He will definitely be in the race as he is an all time great. James always finds a way to bring his team to the finals, and after making it to seven straight, there is no doubt that King James will have yet another season to place his name in the discussion. Russell Westbrook on the other hand, had a historic season last year, averaging a triple-double after his partner in crime, Kevin Durant, left the Thunder and signed a contract with the Warriors. Whether it be that he was fueled from betrayal or it was a longtime coming, Westbrook put on a show for NBA fans, regardless of what team they cheered for. Giannis Antetokounmpo showed some promise last year for the Milwaukee Bucks. The "Greek Freak" earned himself the title of Most Improved that season, so much so that he is now in the conversation of potential MVP. In fact, students at Pascack Hills feel the same way, including sophomore Max Fihma, "I think Giannis Antetokounmpo will win MVP. He recently had a family tragedy with the loss of his dad and he's out to play for him. He's freakishly athletic and dominates the game like LeBron". It is impossible to know for sure right now, but after the death of his father, it would be foolish to rule out the possibility of another breakout season, this time, from Antetokounmpo.
Obviously not everybody shares the same opinion though, take Harrison Scott, for example, a junior at Hills. He told the Trailblazer that, "John Wall is out to prove something this year. He's hungry, he's winning MVP, mark my words". That is a bold claim from Scott, as not many people around the NBA are taking Wall.
Aside from all the individual accolades, at the end of the day, basketball is a team sport. When asked who will win the championship, former hills basketball coach Kevin Kirkby told us, "Golden State. They're not playing well at the moment, but just like last year, they have too much talent not to come away with another title".
From what we've seen so far in the season, the most we can do is guess at what will happen down the line. The NBA season is a marathon, and as seen in the past, a lot can happen in eight months. If this season is as exciting as last year, NBA fans are in for a treat.