Women's Soccer Fever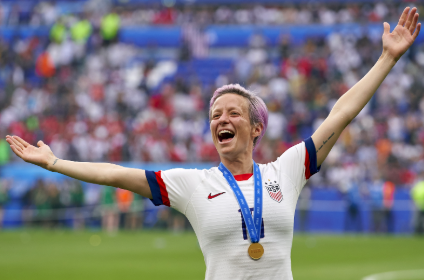 Hang on for a minute...we're trying to find some more stories you might like.
Some people don't follow sports, and a lot of people don't follow women's sports, and that's okay. But if you went all summer without hearing anything about the US Women's National Soccer Team winning the World Cup for the second time in a row, and the fourth time altogether, you live under a rock. 
Twenty-nineteen has been a historic year for women's soccer, especially in the United States. Before traveling to France to win the World Cup, 28 members of the USWNT filed a lawsuit against the United States Soccer Federation demanding equal pay. Started in 2016 by five current and former players, the lawsuit has continued to escalate, and the now four-time world champions are planning to take it to court in May of 2020.
One impetus for the lawsuit is a simple fact that the women's team has won more games and World Cups than the men, who failed to qualify for the last World Cup, yet the men are still being paid more than the women. 
"From a male standpoint, I find the USWNT's grit and perseverance inspiring," said Jake Levin, a Pascack Hills student, and USWNT fan. Speaking about the pay gap, Jake commented that it is "inappropriate," and that the USWNT "puts the US Men's Team to shame." "I personally recognize," he added, "that the USWNT has skilled and great players that strive to work hard and play well which is incredible and inspiring, no matter their gender. If being a man [such as those a part of the US Soccer Federation] inhibits your ability to recognize the skill and skews your views simply because 'men have to be better at soccer because they're men,' that is truly saddening to me."
Along with their fight for equal pay, many of the players are activists off the field, the most prominent one being the purple-haired, loud and proud forward, Megan Rapinoe, who, between her fierce LGBTQ+ advocacy and kneeling for the national anthem in 2016, has become one of the teams most well-known members, even spurring an argument with Donald Trump earlier this summer after she blatantly refused to visit the White House if the team won the World Cup. For members of the LGBTQ+ community, and women in general, she has become a symbol of hope and courage.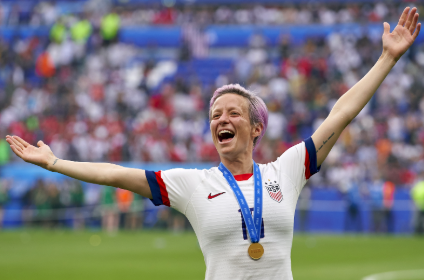 Megan Rapinoe celebrating after the World Cup with her now-famous arms-open celebration
Along with Rapinoe, the USWNT is arguably one of the most popular teams in women's sports, and sports in general, having won "Best Team" at the 2019 Espys only days after returning from France. For young female athletes, it can be life-changing to see women on such a high platform.
Hills soccer player Sarah Kelly has always been "inspired by the team's work ethic on and off the field and their passion for the sport that they have dedicated their lives to playing …They strive for greatness during every practice and game, and they inspire me to give my best efforts in school, soccer, and anything else I am doing. They continue to show young athletes around the world that if you want something bad enough, nothing will stop you from achieving it," Kelly said. 
The team's popularity is reflected on social media by their 2 million Instagram followers and hundreds of fan accounts, but it is also reflected back at home, in their victory tour of the US, as well as in the National Women's Soccer League (NWSL).
In the period after the world cup, NWSL games have seen a spike in popularity, with two games of the New Jersey team, Sky Blue FC (on which USWNT captain Carli Lloyd plays), being moved to the much larger, Red Bull Arena because of an upswing of tickets, and with The Spirit, in Washington D.C., seeing multiple sold-out matches with up to 18,000 fans in attendance, more than half the average number from 2018.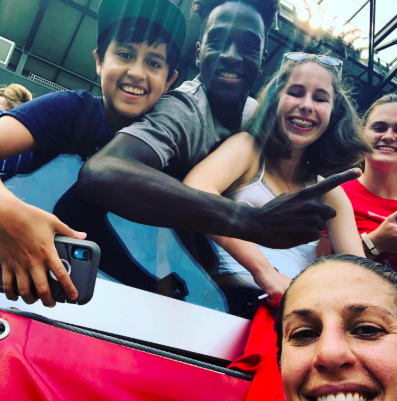 Solomon with USWNT player Carli Lloyd and other fans at a recent NWSL game at Red Bull Arena in Harrison, NJ
Yet after the World Cup excitement is over, players worry that people will stop coming to NWSL games. Accompanying their battle for equal pay, the USWNT players have been urging the fans who followed them during the World Cup to buy tickets for NWSL games. Doing so will boost the revenue for women's soccer, which is currently lower than the men's; this is one of the main arguments that the US Soccer Federation has for paying the women less.
Loyal fans like Kelly have been going to games even before the USWNT won two World Cups. "I used to love going to games and seeing my favorite players compete," Kelly recalled. "All of the players have made some sort of sacrifice to play the sport that they love, which I think is very admirable," she added.
If loyal fans like Kelly and Levin continue to have a passion for live soccer, the NWSL and the USWNT could continue to get the attention they deserve. And with the first USWNT manager recently hired; a new coach coming in to fill the shoes of two-time FIFA's Best Winner, Jill Ellis; and the 2020 Olympics fast approaching; the USWNT, and their fans, have a lot to look forward to.