Doctor Deresiewicz Helping the District Rethink Educational Choices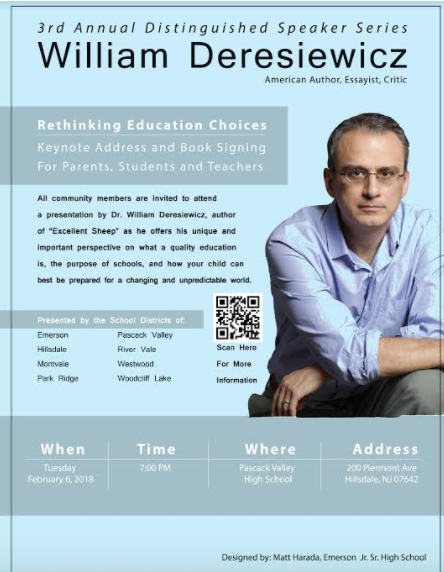 On February 6, Doctor William Deresiewicz will be speaking to the families of Park Ridge, Emerson, Westwood, Hillsdale, Woodcliff Lake, Montvale, and River Vale about his last publication "Excellent Sheep." This will take place at Pascack Valley, in the auditorium, at 7 pm.
Deresiewicz will be speaking to the extended district about the thesis within his award-winning book, Excellent Sheep. He wants community members to leave knowing that "[schooling] should be a time for self-discovery, when young people can establish their own values and measures of success in order to forge their own path."
Doctor Brian Gatens, the superintendent of Emerson High School, can be given credit for the creation of this program. It allows each small district to share the costs of a major speaker, while allowing all the communities to come together. Not only does it bring people together to be educated, but to have a well researched speaker to come in and share their ideologies.
As the annual program has been occurring for past few years, Deresiewicz has a certain flair to him that will make this special. Before beginning his writing career, Deresiewicz taught various English courses at Yale and Columbia until 2008. During these years, he began to see what exactly was wrong with how a student's scholarly mind is programmed.
He was able to see that his students didn't know how to "think critically and creatively, and how to find a sense of purpose."
Director of Curriculum for the Pascack Valley Regional District, Doctor Barry Bachenheimer said, "Being that we have so many students here and in the area's districts who will certainly go onto college, who want to do well and who want to succeed, he questions the definition of what success looks like and what inquisitiveness looks like, and that is an interesting question for [students and parents] to look at."
Although what Deresiewicz is speaking about may sound a bit like a parenting course, Gatens believes that it's anything but. He explained, "A concern that I have is that parents may not think that this has a personal connection to their lives as the [speakers] had in previous years, and I hope they see past that. I think there is a lot more to his talk then just being a good parent."
The conversations that Deresiewicz are allowing to be explored will not only open the minds of parents, but allow for students to truly see what changes need to be made and where.
Bachenheimer said, "There is not a lot of information that goes back and forth [currently, between students and their parents about school]. I think having parents getting involved is always a good thing, and we're hoping this leads to a dialogue so that students can talk to their parents, and when their parents hear these things, it may shatter a few misconceptions about what college is like or at least how it's changed since in the 30 years since they went to college."
He continued with saying, "It can start some of those conversations about the pressures the parents may feel under a little bit, the pressure parents unknowingly put into their kids, or even when parents are giving a good message, but the kids are still putting the pressure on themselves."
More from the contributor(s):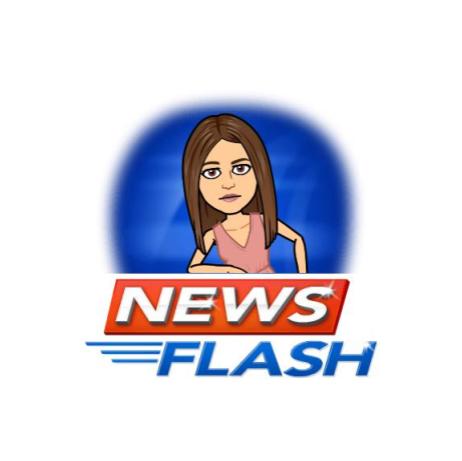 Sofia Papadopoulos, Editor-in-Chief
Sofia Papadopoulos is currently a senior at Hills and the Editor-in-Chief alongside Eric Traub. Before becoming Editor in Chief, she spent her years at the Trailblazer as School News Editor and College Corner Editor while writing away for any section she could. She is very excited to continue writing articles and training underclassmen in her final year with her favorite club (and publication, of course)!