Saying Goodbye to 2017 and Hello to Hills Teachers of the Year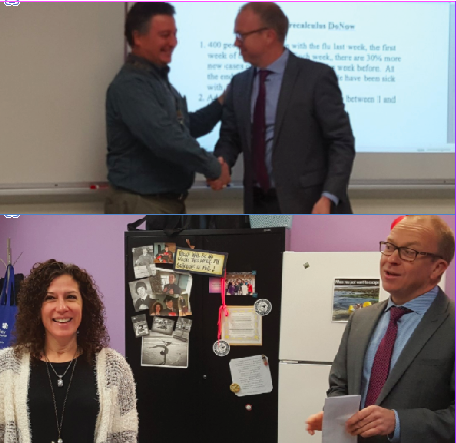 Hang on for a minute...we're trying to find some more stories you might like.
Every year, the students, teachers, and other faculty members vote on who they believed went above and beyond for providing a safe, happy, and successful environment for the people around them. This year, Kevin Killian and Nurse Rose Welyczko have been recognized as the 2017 Teacher of the Year, and Educational Service Professional of the Year.
Killian, a teacher in the Math department for the past 15 years and overseer of the Robotics club, was overjoyed when hearing about his success. When he first overheard Principal Glenn deMarrais on the loudspeaker, he claims that "it [felt] great; when I heard I felt all excited."
When asked about what Teacher of the Year meant to him, his heartfelt response was clear, "It means that people noticed how much I care about my students growing in lots of ways and it also meant that someone took the time out of their day to vote for me."
Along with Killian, dedicated Nurse Welyczko puts in 110 percent in her office, tending to sick students and 'sick' students. Welyczko laughed while saying that 'millions of people come into my office,' she then continues by commenting on how she deals with all types of students, 'especially on Monday when they are all 'sick.'"
When Welyczko's name was called during announcements, she claims that, 'it felt like a big deal when someone else got it because they did a good job and deserved it, but it's different being that person."
To the people around Killian and Welyczko, junior Alyssa Beutel claims that, 'it's exciting in the sense that they come to work and do their jobs well but they don't do it to be recognized."
For their hard efforts, not only will the two be awarded this special achievement, but they will both have their photo on the wall of pasts award-winners by the auditorium.  To both Mr. Killian and Nurse Welyczko, they believe that the most important part is that 'we really care about our students here and success is the top of our priority.'