Fly in with the Eagles to Boston College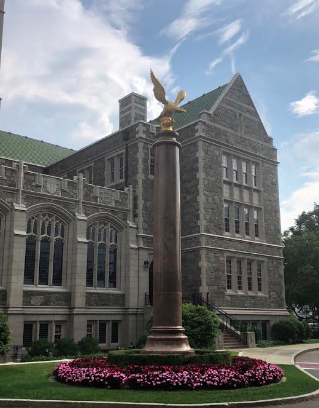 Hang on for a minute...we're trying to find some more stories you might like.
Just six miles out of downtown Boston sits the magnificent campus that is Boston College. Located in Chestnut Hill, Massachusetts, Boston College is a private research university run under the Jesuit Catholics. Not only is BC filled with history and tradition, but with students who live by the motto of "Ever to Excel."
Originally established in Boston's south end in 1863 by the Society of Jesus (better known as the Jesuits) for Boston's Catholic Irish Immigrant population. However, Boston College was moved in 1909 to today's campus; formerly known as Lawrence Farm, then-president Rev. Thomas I. Gasson, S.J., bought 31 acres of the land, which is known known as "the Heights."
Being founded with the Jesuit ideals and faith is an aspect of BC that has continued on, as they hope to "promote integration of the intellectual, social, religious, and affective dimensions." This allows the university to urge students to partake in internal reflection about their faith, who they are, and the person they want to be.
For the class of 2021, Boston College received 28,454 applicants, while only accepting 29% leading to a 2,412 student class size with an average SAT of a 1366. The student to faculty ratio is listed at 12:1, but was explained in a Eagle Eye Information center as having few classes with 100 or more student and most with 5-25 students. Due to being a Catholic university, students can expect to have some classes with clergy as professors, but BC makes sure to have professors focused on students' education and not just their own research.
When accepted to Boston College, students will find out how many years of housing they have been approved for on campus, verging from 3 to 4 years. For students who are only given 3 years, trends have shown that they choose to spend their Freshman, Sophomore, and Senior years on campus. Junior year is mostly used for study abroad and off campus living, as most Seniors want to end their time with the same communal feel that they had during their Freshman year.
The university also provides multiple student ran groups and clubs so that first year students assimilate as well as possible. Ascend is a female only group consisting of 8-10 students and two upperclassmen to develop a tight knit group of friends with guides that understand life at BC. Similarly, Freshmen League is a group of 7 first year males with two upperclassmen with the same goals as Ascend.
Additionally, Boston College has great systems in place for students to be able to obtain full year, part time and summer internships through a network of alumni and business owners who have great trust in the BC community. Students are able to access a database of all these prospective internships, which range from startup companies to positions at Morgan Stanley, often leading to later jobs post-grad.   
Not only does Boston College encompass clubs and amazing academics but unique traditions. From the Beanpot tournament, a two week hockey competition between BC, Boston University, Northeastern and Harvard, where all the BC students pack the T, well, to the t, to the annual preseason baseball game against the Red Socks at Fenway, and even to cheering on the Boston Marathon runners at their pivotal 21 mile mark, Boston College is sure to leave every student with memories that are unlike what any other university offers.
So wrap yourself up in maroon and gold, visit the Golden Eagle at the Gasson and see the relics that lie within the Jesuit research university that is Boston College.