Fun Places To Eat in NYC
The streets were busy with cars and people rushing. The air smelled of pretzels and car fumes. People weaved in and out of restaurants and shops. There is something for everyone in New York City. From fashion to wonderful restaurants, in the city there is never a dull moment.
When I venture into the city, the first place I go is a Baked By Melissa shop. This franchise has small stores located on 975 8th Ave, 525 7th Avenue, 110 Fulton Street, 111 E. 23rd Street, 109 E. 42nd street, 529 Broadway, 1585 Broadway, 7 E 14th Street, 784 Lexington Avenue, 2325 Broadway and they even have a modified location in the Garden State Plaza.
Many of these locations are small little stores on the corner, and the one in Soho is a window store. There are many different flavors that appeal to all kinds of tastes.
Flavors include tie- dye, mint chocolate, triple chocolate fudge, red velvet, peanut butter and jelly, cookie dough, cookies and cream, chocolate chip pancake, and peanut butter cup, and more.
Every month they create a new flavor that is only featured for that month. For October, the flavor is a festive candy corn! The most interesting thing about these cupcakes is not the flavors, but rather the size of them. They are only the size of a quarter. These delicious treats come in packs of three, six, twelve, twenty-five, and even one hundred.
Another interesting and widely popular attraction in New York City is the tea at the Plaza hotel. The Plaza Hotel, located on 768 5th Avenue, is one of the most famous hotels in America and has been open since 1907. Open seven days a week and starting at 6:30 am and ending at 5 pm, breakfast, lunch and afternoon tea is served.
You can order different and unique afternoon tea specialties. Fitzgerald Tea for the Ages is an option for any Gatsby fan; it includes tea, sandwiches, scones, and pastries that incorporate the cuisine of the jazz age—the era of The Great Gatsby.
For chocolate lovers, chocolate tea that includes chocolate fondue, chocolate scones, and sweets is available. For children and even for some adults, they have Eloise Tea. Eloise at the Plaza is a very famous franchise, with many different books and movies. (The character Eloise lives at the plaza and spends much of her time eating at the Palm Court and drinking tons of tea.) The Eloise tea has sandwiches, scones, and pastries that are simple but delicious.
They even have "Cold Cold Pink Lemonade" and "Peppermint Iced tea," to wash down the savory meal. Each tea ranges from sixty to eight dollars, depending on what kind of specialties meal you select and the tea to go along with it. The backdrop of the tea is the elegant tearoom, with extravagant, beautiful chandeliers. It is simply a wonderful experience that everyone should experience when they visit New York City.
Though there are thousands of places to experience in New York City, Baked By Melissa and tea at The Plaza stand out for their uniqueness, stylishness, and deliciousness.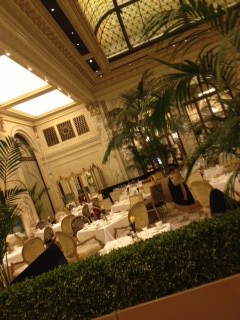 Leave a Comment