The Joyful Trio: Starbucks's Seasonal Winter Drinks
It seem many people can't get enough of Starbucks' signature drinks, like the Vanilla Bean Frappuccino, Iced Caramel Macchiato, Chai Tea Latte, and so many other drinks that taste like heaven. But what many don't know is that once a year when the weather gets chilly and you start to throw on your winter jackets, it's time for Peppermint Mochas!
Every winter (starting near the end of fall), Starbucks comes out with three specialty drinks that stay in stores for just the wintertime.
The three drinks that are loved and adored by everyone each holiday season include the previously mentioned Peppermint Mocha, the Gingerbread Latte, and the Caramel Brule Latte—together, they are known as the joyful trio.
The Peppermint Mocha is made up of espresso, steamed milk, mocha sauce, peppermint-flavored syrup, and topped with sweetened whipped cream and dark chocolate curls.
The Gingerbread Latte consists of espresso with steamed milk and gingerbread-flavored syrup that is topped with spice-infused whipped cream and real molasses drizzle!
The Caramel Brule Latte is made with espresso, steamed milk, and caramel Brule sauce. Topped with sweetened whipped cream and caramel Brule topping, it is sure to warm you up.
Every year, the Starbucks Joyful Trio captures the hearts of coffee-drinkers who are eager to savor each one.
Van Agens, an one and a half-year employee of the Woodcliff Lake A&P Starbucks and a senior here at Pascack Hills, says, "Usually, my go-to is a Hazelnut Macchiato, but currently—since we have had them in—I'm addicted to the Gingerbread Latte."
So to all coffee-lovers: take advantage of Starbucks's Joyful Trio this winter!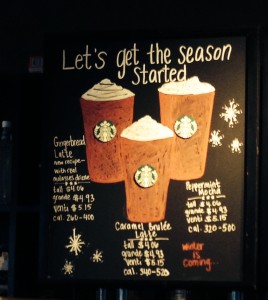 Leave a Comment