DIY: Toasty Hands For A Chilly Night
As the cool autumn nights approach and each evening seems to be chillier than the one before, it's clear that fall is here! By crafting these soft and easy-to-make hand warmers, your fingers will stay cozy whether you're cheering on your teammates at a Cross-Country meet, or sipping hot chocolate at a football game. Follow these simple steps to make this convenient device!
Materials:
Non-synthetic fabric (cotton, flannel, wool, etc.)
A pencil and paper
Scissors
A needle and thread, along with pins
A funnel
Rice
First, trace and cut two pieces of fabric at any desired size for the hand warmers. They can be any shape, such as a heart, or even a cowboy hat for school spirit! Then, place the "good sides" (the sides of the fabric you want showing at the end) of the fabric together and pin along the border of the fabric. Leave an open gap to place the rice in later. After pinning, stitch around the fabric until reaching the open gap. Then, turn the entire pouch inside out, so the "good side" of the fabric is facing outward. Using the funnel, pour rice in the pocket until the hand warmer is full. Finally, stitch up the rest of the fabric until there are no gaps. Try to get creative! In the one I made, I used an old glove and added buttons, so that my hand warmer would look like an octopus!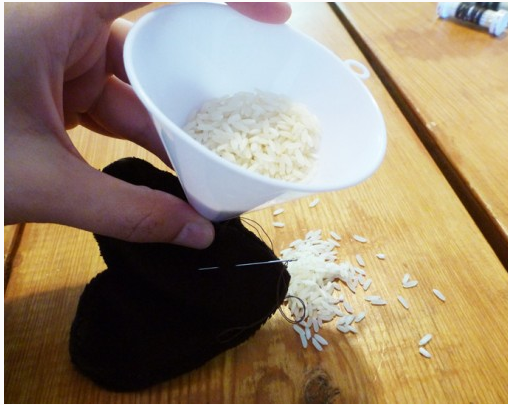 After sewing, all that is left to do is heat it up! Either heat up the hand warmer in a microwave for 2-3 minutes, or place it on a radiator for 5-10 minutes. After you've finished, go outside and enjoy fall while staying nice and cozy with your very own homemade hand warmer!
Leave a Comment