Ariana Grande at Madison Square Garden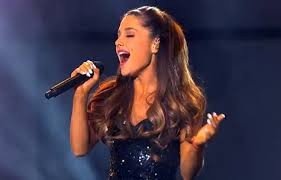 On the March 20-21, Ariana Grande performed two sold-out shows at Madison Square Garden in New York City. Ariana's Honeymoon Tour started in Missouri and will end overseas in England. She is known for frequently wearing cat ears in performances and music videos, so, of course, that was a resounding concert theme. Many of the concertgoers were sporting light-up cat ears bought at the concert. These ears were said to be particularly special because they lit up to the beat of the songs during the show.
Ariana started off her show singing "Bang Bang," and the entire room went wild. Unfortunately, Nicki Minaj, Jessie J, Iggy Azalea, and many other rappers that are usually in her songs could not be there during her concert, but during these parts of the songs, their faces were projected on a screen on stage. Although the rappers were not physically there during the concert, their onscreen performance kept up the energy, as if they were there in person.
The set-list of songs kept the crowd happy as she performed all of her popular songs including "Love Me Harder," "Break Free," "One Last Time," and "Problem." In addition to her more popular songs, she sang hits from her two albums, and even sang her old songs like "The Way" and "Pink Champagne," the latter of which is not on any albums.
Right before one song, she played an audio clip of her grandfather, who passed away last year. It gave a touching and nostalgic feel to the concert, and she followed the clip by giving an emotional performance of "My Everything." Her brother, Frankie Grande, was in the audience for support.
In between another song, Ariana brought out Mimu gloves and demonstrated how to use them to the crowd. They were gloves that affected the audio of her voice when she moved her hands. For example, moving her right hand in a certain way would provide harmonies, even if they were just her singing. Moving her left hand would give an effect like you were in a club with an ongoing beat in the background. After a quick demonstration, she continued to use the gloves as she sang "Why Try." It was an amazing experience.
The concert closed with an incredible performance of "Problem." Her dancers went all out in an elaborate dance sequence. As any good show should end, there was a burst of confetti as she ended the song and sunk down below the stage. Even minutes after she had disappeared, people were still screaming for her. This was a great concert for Ariana Grande and for her fans, as well. She knows how to make a great show by using props, dance moves, and lighting to make it seem like a dream for teenage girls seeing their idol perform live. And for those Arianators, it was a dream.
Leave a Comment