Fresh Looks on the Runway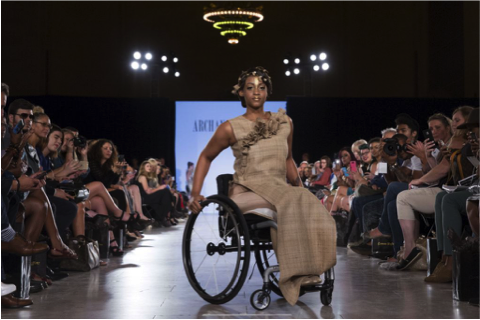 Fiona Cohen
October 15, 2015
Last week, Fashion week in New York was a much-anticipated event with all the gossip, parties, new designers, and most importantly, the new looks for Spring/Summer 2016. These are not the only "new looks" we saw in New York last week. Something that stood out to many in attendance was diversity. Not just in the clothes, but diversity in the models.
When one thinks of Fashion Week's models, one normally sees dangerously thin and extremely tall women. This year, however, much to the surprise of many, there were men and women of all different heights, races, and body types.
One design house that stood out to many was Eckhaus Latta. Their use of a group of models, made up of all different types of people made for an interesting show. It can be described as feeling like "…a New York City sidewalk…" (Quartz). This could be because the models who walked for Echhaus Latta were not actually models, but what designers Mike Eckhaus and Zoe Latta called "nodels." Their "nodels" included friends, to family, to artists, to musicians, whereby creating a diverse runway.
Another model that also fascinated audiences was Madeline Stuart, who has Down syndrome. She walked among models for FTL Moda who found their models with Global Disability Inclusion. During this same show, audiences also saw a model come down the runway in a wheelchair and another remove her prosthetic arm.
With these adaptations in the fashion world come adaptations in society, where diversity is a widely accepted thing. When models walk down the catwalk, people do not see somebody of a different race, they simply see beauty.
While some say that there was a lack of diversity, from an outsider's viewpoint, a lot of progress has been made. Recently, France has banned the use of extremely thin models broadening horizons like never before.
After a long history of only stereotypical models on the runway, a new age has begun, where diversity in body type, ethnicity, and race is accepted. The result of this change is exceptional and very welcomed. As this trend grows, and a fashion renaissance starts, one can only hope that this trend trickles down to every aspect of society.