Red Carpet Review: The Golden Globes
With the first awards show of the year, the stars wanted to put their best foot forward at the Golden Globe Awards. While some outfits shined along the red carpet, others fell short, and for the rest it would be best to turn a blind eye. Here are the winners and losers of the Golden Globe Red Carpet 2016: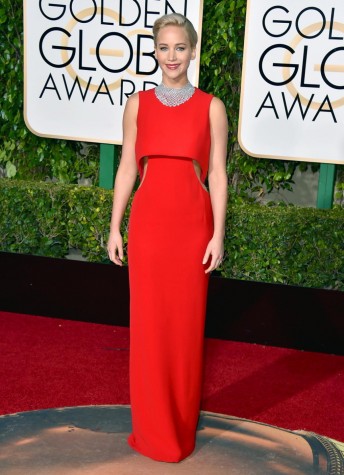 Winners (in no particular order):
Jennifer Lawrence rocked the red carpet in a stunning, subtle Dior Haute Couture dress, adorned with over 156 carats of Chopard diamonds to top off the look. Her pulled-back up-do completed this sophisticated look, making her a star both on and off the carpet.
Saiorse Ronan floated across the carpet in her Yves Saint Laurent Couture by Hedi Slimane gown. The angelic white drapery was reminiscent of a Greek goddess, and her soft pulled-back hair, paired with diamond drop earrings, made this young actress shine among the stars.
Brie Larson, star of Room, and undoubtedly one of the most talked about stars of the night, graced the carpet in a revealing yet sophisticated Calvin Klein Collection dress. The shimmering gold complemented her light-brown hair, and her natural grace and beauty really shown through with the neutral shades she selected for her look.
Jenna Dewan-Tatum took glamour to the next level with her Zuhair Murad Couture gown. The deep-V of the top was perfectly complemented by a large ball-gown skirt, and her sapphire accessories finished off this red-carpet outfit. Her upsweep was clean but not strict, completing her sophisticated look.
Taylor Schilling took a bold move with her Thakoon evening suit, but without a doubt it worked for her. Paired with an Anya Hindmarch cluth, Monique Péan jewelry, and Giuseppe Zanotti heels, Schilling stole the stage in a modern classic that was both classy and full of feminine power.
Losers (in no particular order):
Jane Fonda, although taking a risk at 78 years old, fell short in this red carpet review. The ruffles of her dress nearly swallowed the petite woman whole, and distracted the audience from her natural beauty.
Cate Blanchett's outfit from top to bottom did not work for me. All of the hair swept to one side was too harsh on her short cut, and the layers of fringe that draped her dress were not a crowd-pleaser. As a whole, the entire piece did not complement this superstar, to say the least.
Kate Hudson, although in shape and ready to show it off, revealed a little too much at the Golden Globes on Sunday evening. Her two-piece set, complete with a necklace choker, bared far too much skin, and the neutral color of the outfit made it seem even more revealing.
Although there has been much debate on this outfit, Jennifer Lopez is on the worst dressed list in my books. Her bright yellow Giambattista Valli dress was too vibrant, and the draping layers didn't complement her – not to mention, the cape over her shoulders didn't add much. And with 240 carats of Herry Winston diamonds, the outfit was over the top and too showy for this red carpet.
Fringe seemed to be a popular trend at the Golden Globes this year, and it didn't work for supermodel Heidi Klum either. The silver dress was far too frilly, and the deep-v top right above the high-waisted black belt made Klum look larger than life, but in an unfashionable way.
Leave a Comment