Oscars Top 5 – Best Dressed
The Oscars are a great time for actors to get the recognition that they deserve for work well done, but it's also a time for them to get recognized for something entirely different – fashion! One of the most important parts of award shows is the preliminary interviews, pictures, and commentating. No matter what, one of the questions that you are bound to hear the most is, "Who are you wearing?" You might be surprised to know that there are a lot of people that actually care about the answer. Because, while most of us can't afford custom designer dresses and jewelry over 24-carats, we still like to praise the celebrities with the best style and bash the ones with the worst style. In the spirit of praising, I give you the 5 best-dressed women of the Oscars.
1.Priyanka Chopra
Chopra was a "vision in white" this Sunday, but instead of walking down an aisle, she was strutting the red carpet at the Oscars. The Quantico star dressed in a sheer white dress that she accented with 50-carat diamond jewelry worth $8 million. She kept it classy with a sleek ponytail and minimal makeup, but showed enough skin through the flare of her floral pattern gown to keep everyone interested.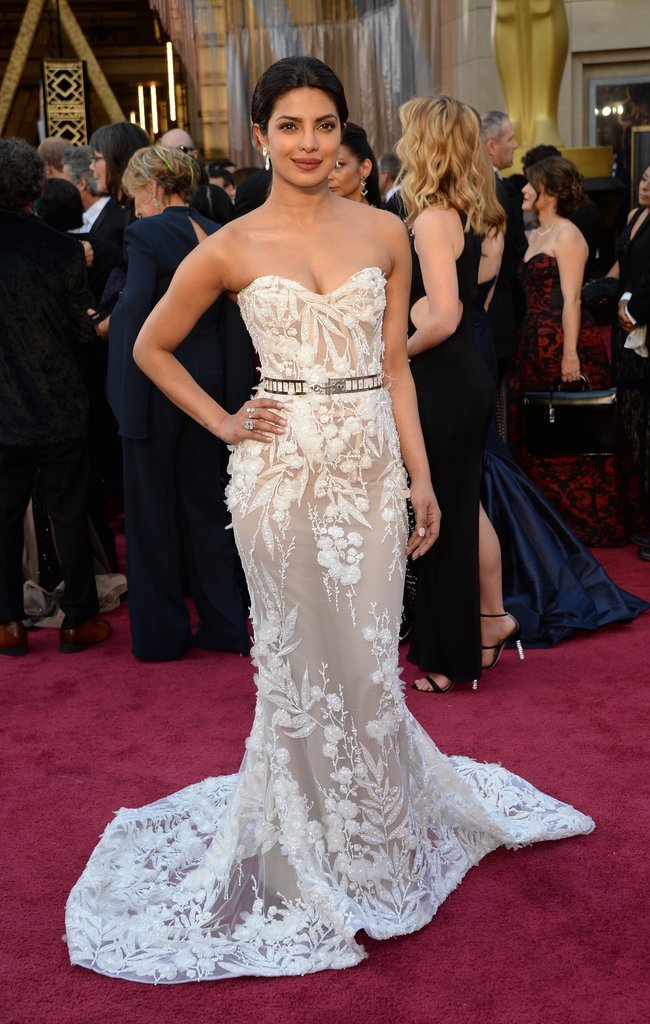 2. Olivia Munn
Olivia Munn graced the carpet with a fantastic Stella McCartney dress. The fiery color was a fun and unique choice. The otherwise simple frock was embellished with an abstract wrap-around sleeve and loaned Forevermark jewelry – including the gorgeous 12-carat bracelet that she wears on her right wrist. With the appropriate jewels and makeup, Munn proved that even a "plain" dress can be elegant.
3. Alicia Vikander
Vikander not disappoint this Oscar season with head-to-toe custom Louis Vuitton. Her "dusty yellow" dress was another colorful choice, just in time for spring. The shiny silver designs keep the dress from looking to 'flower girl-esque,' but the puffy skirt and half-up/half-down hairstyle give it the youthful vibe that any 20-something year-old actress needs when walking the famed 'red runway.'
4. Saoirse Ronan
Who says Oscar dresses can't be comfortable? According to Saoirse Ronan, star of the new movie Brooklyn, her dress was so comfortable that it felt like her sweats. Comfy or not, she looked amazing in her custom emerald-green sequin gown from Calvin Klein. She, adorably, said that she chose the color as way to pay homage to her homeland, Ireland. The open-backed gown not only a heartwarming symbol of homesickness, but a fashion statement for all who saw it. With her matching emerald jewelry, Ronan dazzled on the carpet.
5. Isla Fisher
With her auburn hair and cool-toned floral outfit, Isla Fisher looked beyond perfect. Her whole ensemble was soft and romantic with light metallic touches, such as the thin silver belt around her waist. The off-shoulder cut of the sleeves was a nice way of making the dress a bit more interesting. It wasn't exactly a statement piece, but it definitely said something.
All of these women came to the red carpet with a plan to stand out, which is exactly what they did. From Olivia Munn with a simplistic yet chic look, to Saoirse Ronan whose dress mimicked an actual disco ball (in the prettiest way possible, of course) these ladies proved there are no rules to the red carpet except "smile and be pretty."
Leave a Comment