Where Are They Now: All Time Low
All Time Low may be a headlining pop punk band that rules the alternative scene, but many forget their origins. Massive hits from the early 2000s like Dear Maria, Count Me In or Weightless aren't still gracing the top charts, but All Time Low still releases music that even their original fans can bop their head to. Don't worry, we don't mind if you sing a few lyrics… "I got your picture/I'm coming with you/Dear Maria, count me in…"
The band consists of its four original members, singer Alexander William Gaskarth, guitarist Jack Bassam Barakat, Bassist Zack Merrick, and drummer Rian Dawson. The band originates from Baltimore, Maryland. In 2003, they came to be during high school, originally covering Blink-182 songs. From there, the boys issued their very first EP release in 2004, The Three Words to Remember in Dealing with the End. As a pop-punk band, All Time Low continued to thrive. They released their second EP, Put Up Or Shut Up. The EP got into the Top Heatseekers at No. 12 and has sold over 60,000 copies. Their senior year of high school, they began to notice the popularity and began to prepare for their first tour. After a lengthy tour, they continued to work on their second album, So Wrong, It's Right.
In the summer of 2007, just before their second album release, All Time Low finished their first Warped Tour while playing on the Smartpunk Stage. On September 25th, 2005, their second finished album, So Wrong, It's Right, was released with arguably their most popular song, Dear Maria, Count Me In. Dear Maria, a song written about a girl at the band's high school, was recently certified platinum for 1,000,000 units sold. The band was surprised to hear about this as the song received little airplay on the radios but guitarist Jack Barakat was still excited. When the news broke, around April 2015, he Instagrammed a photo of him holding the certification with the caption "Came home to this…Wooo! Thanks everyone! #DearMariaPlatinum."
After the release of So Wrong, It's Right, All Time Low made their TV debut on Jimmy Kimmel Live in March of 2008. From that time, the band continued to work on their punk dreams. They continued to play at the 2008 Warped Tour and had tours with Mayday Parade, The Maine, and Cobra Starship. In December of 2008, Alternative Press Magazine named All Time Low band of the year and they were subsequently on the cover of the January 2009 cover.
2009 was a big year for All Time Low, as they started working with punk type clothing company Glamour Kills. The band did a Glamour Kills tour with Hey Monday and We The Kings, two other popular emo influences. In January, they released information about working on a new album and in July, Nothing Personal was born. All Time Low stayed strong to their punk roots and played Fall Out Boy's Believers Never Die Tour Part Deux Tour in the spring as well as Warped Tour in 2009. They also released a DVD video from a New York show called Straight To DVD which includes live music and inappropriate jokes, most of course from lead Alex Gaskarth and Jack Barakat. However, 2009-2010 was the last of their more popular eras until recently.
From 2011-13, All Time Low wasn't gaining much popularity. Although they released two full albums, Dirty Work and Don't Panic, older fans weren't biting into the new music sounds, which strayed a far too bit from their alternative backgrounds. Dr. Dave De Sylvia, a staff member at SputnikMusic.com complains, "Dirty Work offers just enough glimpses of the group's pop acumen to get by. However, by now fans should begin to ask whether just getting by is enough for a group of their stature and popularity." Pop style songs like I Feel Like Dancin confused some fans if All Time Low was going against it all.
Pascack Hills High School senior Sara Donofrio, an avid All Time Low fan, criticizes the change, "They've transformed. I mean, when their first EP came out, that was good. Like, really good. I think that after Nothing Personal they kinda let the fame get to their heads. The music is really mainstream and it's not like it use to be. I miss the old All Time Low… is it too late for them to turn back?" Sara poses a good question for this band: Is it too late to connect to your roots?
In 2015, All Time Low defied all critics with their newest album, Future Hearts. Peaking at number two on the Billboard 200, the band brought together punk influences and modern riffs/choruses together onto an album that brought back their popularity. Future Hearts sold 75,000 copies in its first week, quickly becoming the band's highest charting and biggest selling week ever. With songs featuring Mark Hoppus (lead singer of the ever popular Blink-182) and Joel Madden, (Lead vocalist for Good Charlotte, another popular alternative band) All Time Low showed even their oldest fans that punk is a part of them that they just can't let go.
Even the oldest, most dedicated fans are not sure what's next for All Time Low. Will they continue their pop punk trip or will they soon fade out and be the next The Offspring? Their future is up for grabs, but one thing is sure: fans will still be humming their songs for a long time… "Maybe it's not my weekend/but it's gonna be my year…"
Leave a Comment
More from the contributor(s):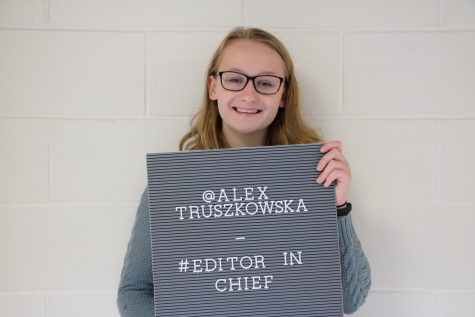 Alexandra Truszkowska, Editor in Chief
Alex is a senior and this is her fourth and final year on The Trailblazer. She was the Arts & Entertainment editor junior year and became Editor in Chief senior year. She is so excited for her last year, teaching the underclassmen, and making this the best year yet!