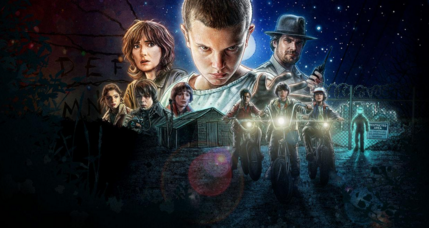 A new show has taken over social media, and rightfully so. Stranger Things is a supernatural horror-science fiction series that depicts a typical suburban town.
In this show, everything seemed perfectly fine until a young character, Will Byers mysteriously disappears. It appears like an ordinary abduction, but Joyce and Jonathan Byers, who are Will's mom and brother- along with his friends Mike, Dustin, and Lucas- are in for a nasty shock.
A star of the show, Winona Ryder, portrays Will's mother, who begins to unravel her son's disappearance, becoming convinced that her son is trying to communicate with her lights at home. Her oldest son, Jonathan Byers, represented by Charlie Heaton, teams up with Nancy Wheeler, played by Nancy Dyer, to discover where Will is being kept.
Stranger Things also stars Finn Wolfhard, Gaten Matarazzo, and Caleb McLaughlin, who play the best friends of the missing adolescent, and join forces with Millie Bobby Brown, a psychokinetic girl who may know Will's location.
The plot of the show starts immediately when Will Byers disappears on his way home from an ordinary 'Dungeons and Dragons" session with his friends Dustin, Mike, and Lucas. When Will's friends begin the search, they come across a girl in the woods named Eleven who knows where Will is being held.
Eleven has superhuman abilities that allow her to move objects with her mind. This comes in handy, as she plays a key role in helping Will escape from the monsters that lurk where he is being held.
Stranger Things is a roller-coaster of emotions, that can be binged in two days, or savored over the course of a month. Even after you finish the eight episodes of the first season, don't worry, considering season two is coming out in 2017.
*Vote for your favorite fall television show on The Trailblazer's Twitter poll*