Popular Halloween Costumes for 2016
Halloween is near and costumes are finally here! Every year people of all ages dress up as some sort of character, animal or something they love! Some people like to buy the nicest costumes for trick-or-treating or parties, while other people enjoy creating their own DIY costumes to show during the night. If you are having a hard time deciding what to be this year, here are some last-minute costume ideas to use this Halloween!
Witch
Another costume for Halloween can be made with your own two hands. A black dress, simple or lace, is an exceptional outfit choice. To go along with the dress, pair it with black, knee-high boots and a pointy witch's hat. Don't forget the broom! Purchasing dark or black makeup also amplifies the costume and portrays the perfect witch!
"This year I'm being Harley Quinn with friends, but usually I like to to be a witch for Halloween" freshman Olivia Izzo said.
Superhero
Everybody loves superheroes from D.C Comics to Marvel! The pre-made costume of various heroes, like the Hulk, are available to everyone, but it is even better to create your own costume.  If you own a t-shirt with a logo of your favorite superhero, now it is the time to show it off with a side accessories that make people understand who you are trying to be. For the full look, wear a cape and add a little face paint to finish the look.
"Since my favorite superhero is the Flash, I'm definitely dressing up as him!" Celikel excitedly said.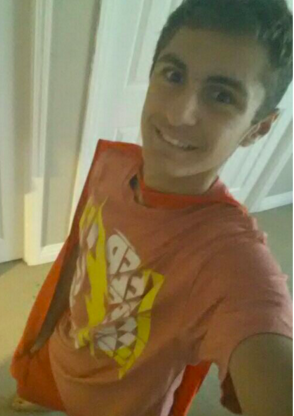 Photo by Mattheos Celikel
Couple Costumes/Group Costumes
Costumes with a friend (or friends), significant other, or sibling is always a fun idea for Halloween.  Couples can be video games characters like Mario and Peach or even be cartoon characters like Pebbles and Bamm-Bamm. If you and your friend, or sibling, are deciding to dress up as something together, you can dress as anything from the Sun and Moon or Minions!
"Yeah, Miranda, Olivia, and I decided to be the original Harley Quinn to show our friendship," freshman Jade Siegel said.
Leave a Comment