2017's Most Anticipated Books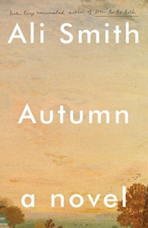 2017 is the fresh start that many have been waiting for, and there is no better way to start off the new year than with an intriguing, satisfying book. 2017 is looking bright for quality new reads that everyone can enjoy. Whether one enjoys non-fiction or sci-fi, the new year is going to bring an array of novels for all.
Autumn by Ali Smith
One of the most anticipated novels this year is Ali Smith's, Autumn. The Bailey's Prize winning author of How to be both, is continuing her literary career by beginning a quartet called Seasonal. This novel is the first installment of four. The book is said to explore time and how it impacts our daily lives.
The reader is to get a sense of how our world is growing, changing, and what really matters; as well as getting an understanding of what richness and worth truly are.  This anticipated novel will be released on Tues., Feb. 7.
Amiable with Big Teeth by Claude McKay
Claude McKay, Harlem renaissance author's novel is finally seeing publication after decades of it being written. Amiable with Big Teeth concentrates on a large, but forgotten event in American history.
The novel documents many intellectuals from Harlem coming together to support the release and freedom of fascist-controlled Ethiopia. The touching book focuses on the concerns, hopes, and dreams of African-Americans in Harlem. This novel will be released on Tues., Feb. 7. as well.

Loading ...
Six Four by Yoshinobu Mikami
Crime fiction is becoming a very popular genre and 2017 has many more crime fiction novels on the way. The most awaited crime fiction novel for the new year is called Six Four by Hideo Yokoyama.
The main character, Yoshinobu Mikami, is an investigator who 14 years prior worked on an unsolved kidnapping case and now is concerned with his own daughter's unexplained disappearance.
As time goes on, he is brought closer and closer to his unsolved case from 14 years back. Along with the other two books, this book will be available on Tues., Feb. 7.
There are many students at Pascack Hills High school who have a passion for reading and are looking forward for what 2017 has in store.
Sophomore and avid reader, Sophia Mazzei, said "I love reading and I get excited for new books to come out all the time so I'm definitely looking forward to what 2017 is going to bring to literature."