New music celebrated at Grammys, already shaping 2017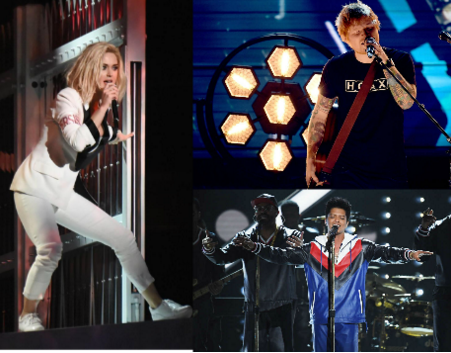 It is only six weeks into 2017, and the music industry has already impressed listeners. Every genre seems to have fresh and unique selections, all seemingly chart-topping hits. Some of these songs were both acknowledged and performed at the 59th Grammy Awards, which took place on Feb. 13 at the Staples Center in Los Angeles, Cali. If these past few weeks and the Grammys  have been any indicator, 2017 is going to be an iconic year in music.
Ed Sheeran
Strongly maintaining the spot at No.1 on the Billboard Hot 100 and Spotify Global and United States Top 50 is pop singer Ed Sheeran's "Shape of You." Sheeran took a year-long hiatus from social media and the music world in general, returning on Jan. 6 to release two new singles; "Castle on the Hill" was the second, reaching No. 5 on the Spotify Global Top 50.
Sheeran sang "Shape of You" at the Grammy Awards. This stripped-down rendition received the highest acclaim, especially since the only instruments used were his own acoustic guitar, a keyboard, and limited microphones. Sheeran was commended for this "one-man band" act, as his music was not over produced. His appearance at the Grammys, wearing a plain black T-shirt and jeans, reflects the simple ambiance that completes this artist.      
On Sheeran's performance, Rolling Stone said, "While deftly triggering these instrumentals with pedals throughout the song, Sheeran strummed an acoustic guitar and sang the slick pop gem with a soulful bite."
Bruno Mars
Bruno Mars does it all: rhythm and blues (R&B), funk, soul, and pop. Mars released his newest album, "24K Magic" on Nov. 18, 2016. The song that has the album's title, "24K Magic," was No. 2 on the Billboard Hot 100 in October 2016, and currently at No. 14. His new hit, "That's What I Like," released on Jan. 30, is climbing up the charts day by day.
Clad in a leather track suit, Mars performed "That's What I like" at the Grammys. Mars' soulful acoustics were made know from his first line, as he sang with his profound vibrato, "Can I take my time?" Spectators were in awe of the quality of Mars's voice, as well as his high energy. Yes, Bruno Mars, everyone in the Staples Center wanted this upbeat performance to last more than four minutes, so you may take your time.
Junior Caitlin McQuade said, "Bruno Mars always knows how to put on a show, especially at this year's Grammy Awards. 'That's What I Like' is such a fun song, and Mars did not disappoint with this song choice or legendary performance."
Katy Perry
Katy Perry released a new single, "Chained to the Rhythm," on Feb. 10. Featuring Jamaican singer-songwriter Skip Marley, "Chained to the Rhythm" is a disco-inspired tune that empowers listeners to unify, even during a divided time.  
Perry was yet another Grammy show-stopper, leaving viewers with this "Chained to the Rhythm" stuck in their heads. Aside from the optimistic vibe, this Grammy performance offered empowering political messages. Perry wore a white pant suit, paying tribute to her political idol, Hillary Clinton, and wore an armband that read "Persist." The backdrop being an image of the United States Constitution, Perry concluded the act by exclaiming, "No hate!"
An avid Clinton supporter, Perry used her music as a creative outlet to express her views, which is something to be admired in 2017.
Senior Jackson Cianciulli said, "Perry created this infectious pop song that serves a greater purpose: to take a political stance and advocate for rebellion against conformity. The visuals were blatantly captivating, but also conveyed the lyrics very well, so I'd say it was a very successful performance."
Although they did not grace the Grammy stage, be sure to check out new music from pop/blues singer John Mayer, country singer Sam Hunt, and electronic dance music (EDM) group "The Chainsmokers."