The Best Collections at New York Fashion Week 2017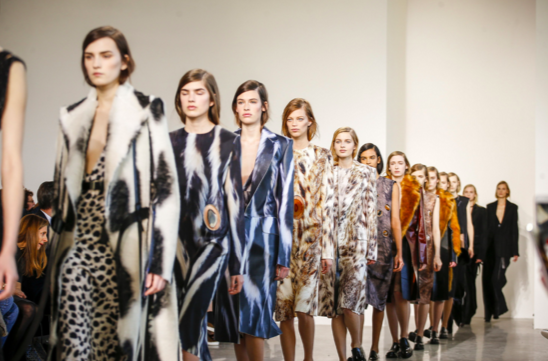 Amber Leung , Editor in Chief
February 23, 2017|678 Views
One of the most influential shows in the world of fashion, New York Fashion Week 2017, was a huge success according to editors of acclaimed magazines such as, Vogue and W Magazine.
Many designers not only introduced diversity in their choice of models, but also used political and social occurrences as inspiration for their collection, setting the 2017 show apart from ones held years before. Though many designers aroused applause from critics, there are a few collections that became the talking point of the week.
Marc Jacobs
Held on Park Avenue's sidewalk, Marc Jacobs' Fashion Show was devoid of music and electronics, setting up only a limited amount of chairs for a selected audience. Insisting that there be no dramatic entrance for the models and no social media during the show, Jacobs avoided the traditional glamour in order to focus on the clothing of his collection.
The models he chose were distinct, as well: while they were all beautiful, they all held a certain attitude as they walked down the silent runway. Jacobs managed to reach the audience through his models who were diverse in race and personality, uniting their differences with absence of cliche.
Other than Jacobs's choice of set and models, the most prominent of his collection would be the bucket hats and oversized baseball caps worn by all the women who walked his runway.
"I loved how different Marc Jacobs's show was this year. Rather than the usual drama used by most designers, I believe his silent show made the loudest sound during New York Fashion Week," said sophomore Lily Drennen. "What I loved even more, was the personality all the models had."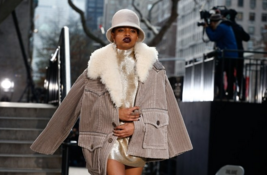 Calvin Klein
Most significantly known as Raf Simons's debut at Calvin Klein's chief creative officer, the show was just as stunning as anticipated. Rather than exercising the brand's classic minimalism in clothing, Simons's collection was anything but that, and introduced many designs like quilts, power suits, and varsity jackets.
Integrating classic pieces with modern society, Simons had models, both men and women, walk the runway with gender neutral clothing and vintage apparel. By dressing all his models in almost identical outfits and mixing colors, Simons made the statement that fashion is an equal opportunity for all, and reinvented the traditional 1970s denim and black leather jackets. Simons's collection for Calvin Klein emphasized the concept of a melting pot and the coming together of different individuals in American society.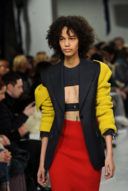 The Row
This year, The Row's collection was designed by none other than the childhood famous twins, Ashley and Mary-Kate Olsen, from the 1980s TV show "Full House."
Renowned as one of the best collections for minimalistic fashion, the Olsen's monochromatic and clear-cut designs "so perfectly synthesized the subtle yet strong way fashion insiders want to dress now," according to Vogue.
Most importantly, the quiet protest of their show was one, though not realized by the audience, that deserves a special acknowledge. As models walked down the runway, a soundtrack that included "Freedom" by Richie Havens played in the background and messages stating "hope" and "freedom" were subtle sewed onto white shirts.
Sophomore Erica Litmanov said, "Although I did not notice the nod to social issues through their collection, now thinking back, it makes sense and I applaud the Olsen twins' incorporation. Personally a fan of minimalistic clothing, their collection was one that drew me in from beginning to end."