Taking a Trip to 'La La Land'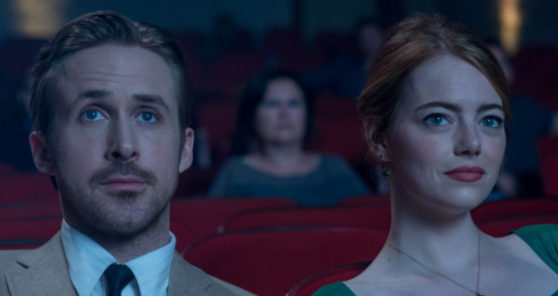 By Suha Niyas
March 6, 2017
La La Land, featuring Emma Stone and Ryan Gosling, was a popular movie of 2016-2017, with a soundtrack that was No. 1 in pure album sales, and No. 2 on the Billboard Top 200 album chart.
Justin Hurwitz, composer of most of the musical pieces, won the "Best Score" and "Best Original Song" at the 2017 Golden Globe Awards. Honoring the beautiful soundtrack of the movie, a review is provided for all fans.
Song: "Another Day of Sun"
Artist: La La Land Cast
To start off the musical film, the cast of La La Land sang the first song on the track, "Another Day of Sun." The actors sang and danced to the cheerful song, all  while being on a highway with a long line of traffic. The piano playing, joined by other instruments, supports the voices of the cast. With the sun shining bright in the movie, it is no surprise the cast would sing about "another day of sun."
Song: "Someone in the Crowd"
Artist: Emma Stone, Callie Hernandez, Sonoya Mizuno, Jessica Rothenberg
Moving along, we stop by another song featuring Stone (Mia), Hernandez (Tracy), Mizuno (Caitlin), and Rothenberg (Alexis). These four ladies sing a musical number about finding "someone in the crowd." The song is fun to sing along to until the bridge, where Stone sings softly the lyrics of the song.
Song: "Mia and Sebastian's Theme"
Composer: Justin Hurwitz
After walking into a restaurant when she heard enchanting music , Mia from La La Land would find a young man playing the piano. Gosling (Sebastian) demonstrated "Mia and Sebastian's Theme," composed by Hurwitz, to show the increasing chemistry between the two main characters. The music begins softly and beautifully, until Sebastian incorporates jazz into the piece. Too bad he was fired after the ending of the song was too strong for restaurant music.
Song: "A Lovely Night"
Artist: Ryan Gosling, Emma Stone
Gosling and Stone show their "impossible relationship" with the fourth song on the soundtrack. Along with this comical act, the two actors performed a little tap dance routine on the streets. The vocals are soft at the beginning, but a nice mix of instruments played during the dance helped make the song catchy.
Song: City of Stars
Artist: Ryan Gosling
Winning "Best Original Song," "City of Stars" was a masterpiece created by Hurwitz, along with lyricists Benj Pasek and Justin Paul. Sebastian walked down the boardwalk, whistling and singing the comforting song, with a piano playing in the background.