"Before I Fall" Movie Review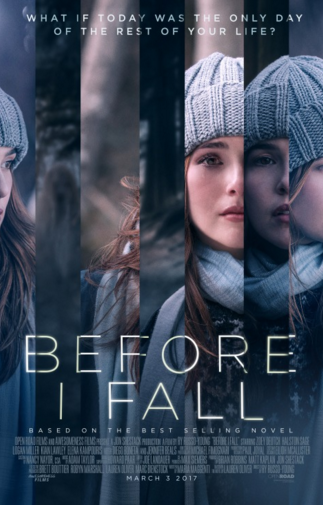 Allison Murphy
March 21, 2017
The book-to-screen adaption of the New York Times bestseller "Before I Fall" by author Lauren Oliver, was released March 3. The movie stars Zoey Deutch as Samantha Kingston, who seems to have the best of everything, which includes her friends, boyfriend, and popular reputation.  
This all suddenly changes when she dies in a car crash, then somehow wakes up to find herself reliving the same day over and over again for a total of seven days. It takes her multiple days to realize that the only way for her to to break this vicious cycle is to find out what she can change about this day that will not only help herself but help others as well. She can control each event of that day. As the days progress, Samantha understands more of what had gone wrong, and what she can finally do right.
So, according to Oliver, "How is it possible, I think, to change so much and not be able to change anything at all?"
Zoey Deutch is popularly known for her roles in the films "Why Him?" as Stephanie Fleming and "Vampire Academy" as Rose Hathaway. On the small screen, she is also commonly known as portraying Maya Bennett in "The Suite Life on Deck." Her co-star, Kian Lawley, is known for his presence on YouTube. Lawley plays her boyfriend, while Halston Sage, known for her roles in "Paper Towns" and "Neighbors," plays the leader of Samantha's friend group.
There is no doubt that the silver screen has constantly used the same plot multiple times to keep moving forward in production. One of these plots that is constantly recycled is the concept of being stuck in a time-loop, where the main character can only escape if they figure out a way to break this chain of circumstances, and that is exactly what this film does.
This does not bother me though, because I feel like the director took a new approach to this concept and made it more intriguing than the rest of the versions.
"It was a good movie; it made me cry," said freshman Mia Alberta. "I definitely recommend for others to go see it."
There were sniffling noses and tears amongst much of the viewers' faces at multiple moments of the movie. The ending had me extremely shocked, especially because I had not read the book before having gone to see this.
"I want to go see this movie. I've seen the trailer, and I really like the main character. I've seen the lead actress in other movies, and I'm a big fan of hers," sophomore Molly Balsamides said.
Sophomore Hanna Kimball said, "I want to see it because I got the book for christmas and it seems really interesting. I haven't read the book yet, so I am waiting to see the movie until I finish the book."
This movie was a lot more intense and excellently executed than I had anticipated when I had first walked in. It deals with some strong issues including suicide and bullying, but it recognizes that no matter what you think, your words and actions can affect others; therefore you must think before you act and speak.
Most importantly, this movie leaves the viewer with one of the most priceless lessons, which is most valuably said by the author in the book itself: "Maybe you can afford to wait. Maybe for you there's a tomorrow. Maybe for you there's one thousand tomorrows, or three thousand, or ten, so much time you can bathe in it, roll around it, let it slide like coins through your fingers. So much time you can waste it. But for some of us there's only today. And the truth is, you never really know."