Movie Review: 'The Boss Baby' Becomes a Boss at Box Office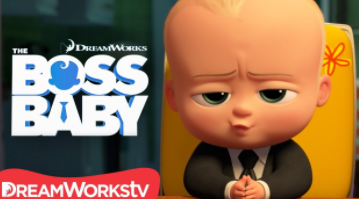 Purely accompanying my little sister, I stepped into the theater with skepticism and dread; I read the reviews on the new animated Dreamworks movie The Boss Baby and they were not especially positive, earning a 6.5 out of 10 stars on IMDb. However, an hour and a half later, I came out of the theater surprisingly content, possibly even more excited than my sister.
Perhaps it was the cute animation of the Boss Baby voiced by Alec Baldwin or the message of the film, but I thoroughly enjoyed it, despite the criticism of newspapers such as The Rappler, who named the filmed "generic goofiness."
Based on the classic children's book by Marla Frazee, the film is centered around a young boy Tim (Timmy Maguire) who has a vivid imagination and a seemingly perfect life before being interrupted by the arrival of his new baby brother, the Boss Baby with his suitcase and tie.
After brotherly rivalry, the two bond together when the Boss Baby reveals that he is from Baby Corporation, a spy sent down from "where babies are made" to expose Puppy Company, an establishment vouching to release a puppy that will fulfill families' wishes of a having a child. Filled with adventure and creativity, the two venture on a trip to save the fate of Baby Corp..
Opposite from predictions, The Boss Baby debuted the box office with much popularity, earning a $63 million the first week.
Adding on a $26.4 million during the second week, the animated film hit a total of $89.4 million, beating the ticket sale of both Beauty and the Beast and Smurfs: The Lost Village. It has taken the place of the number one show at theaters, drawing in both young and old audiences.
The bulk of the movie was carried on the back of Baldwin, who voiced the Boss Baby. Combined with childish jokes and at time, more inappropriate punch-lines, gave the movie enough laughs to satisfy all ages.
Filled with original animations and details of the characters, including the expressions of the babies and the colors of the set, it made for a well-rounded film before ending with a heartwarming finale, spreading the message of sibling love as Dreamworks production.
Although the jokes could been seen as "goofy" or "childish," the 30 Rock references made by Baldwin and the nostalgic jokes of other characters in The Boss Baby acted as factors of a heartfelt film overall.