Book Review of The Hate U Give by Angie Thomas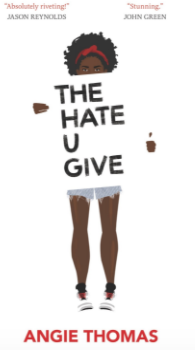 Angie Thomas's "The Hate U Give" gives an insightful look into what it is like to be an African American teenager. The novel makes the reader think and adds a different perspective to various controversies happening today.
Sixteen year-old Starr Carter's world turns upside down after she makes the decision that would impact her life: showing up to the party she was invited to.
While driving home from the party, Starr's friend, Khalil, who is also African American, gets pulled over and shot. This incident forces Starr to deal with the death of her childhood best friend, which transforms into a national tragedy; and only she knows the actual truth about what happened that night.
Khalil's death sparks controversy in her neighborhood about racism and discrimination. Her decision to speak up and tell her story, or not to, could have a serious impact on her safety.  
The author's use of modern language helps relate to all types of people reading the book. The dialect truly sets the tone for the novel and adds to the setting. She also references the "why you always lying" vine, Drake, and many other pop culture fads that help connect to the reader.
Thomas also includes what effect police brutality has on different people and those people's perspectives on it.
"The Hate U Give" also displays the role of social media and the internet in police brutality, as well. In the text, it discusses how after Khalil's death, social media erupted in tweets and posts about Khalil from people who did not know him.
"The Hate U Give" is a perfect read for teenagers and adults. Many will enjoy the suspense and drama in the novel while gaining insight on what it's like to be involved modern day racism and discrimination.