Welcome to 'Riverdale,' The CW's Latest Hit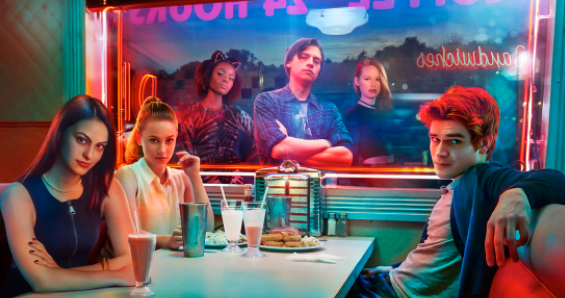 After delivering cult favorite teen TV shows like Gossip Girl and One Tree Hill, the CW hopes to regain that following with 2017's Riverdale.

Riverdale is a modern spin on the classic Archie Comics, but with a dark twist: within the idyllic small town, a killer is on the loose.
The story begins with the mysterious murder of Jason Blossom, the "golden boy" of the neighborhood – in the wake of this tragedy, the townspeople find themselves in a frenzy, wondering who killed Jason.
Stepping away from the dark subject matter, the show also centers around the lives of Archie Andrews and his friends as they maneuver high school and strive to overcome various obstacles.
Archie, portrayed by K.J Apa, grapples with whether he should choose football over music, or music over football (while other characters struggle with demons of their own, though most of them are arguably much more nuanced than Archie's).
I wasn't sure what I was expecting when I clicked on the pilot episode of the show. I had seen commercials here and there, and heard generally positive reviews on social media, so I supposed it would be worth a watch.
Truth be told, I have watched a lot of different T.V shows marketed towards a teenage audience, mostly through recommendations from friends, but often found myself unable to continue after a few episodes.
Teen T.V shows often hit or miss – some become so dragged down by cliches and unlikeable characters that are unbearable, and some are enjoyable, but lack any real substance.
While Riverdale isn't exactly groundbreaking, I was pleasantly surprised. The cinematography of the scenes frame the show's "Tumblr-worthy" aesthetic, and the characters didn't seem flat or two-dimensional at all.
Alongside K.J Apa's portrayal of Archie, loner Jughead Jones, played by Cole Sprouse, narrates the story via his true-crime novel in the works; Betty Cooper (Lili Reinhart), is the quintessential girl-next-door, with a dark streak; and Veronica Lodge, the new girl, struggles with the effects of her father's incarceration.
Additionally, the show addresses and challenges important social issues like racism and sexism, topics which are often overlooked in media.
The CW's Riverdale is worth checking out for an escape from the humdrum, everyday routine of high school. The show airs on the CW on Thursdays, and will appear on Netflix shortly after the first season ends.