Spinning and Fidgeting with the Fidget Spinner
Before, there was the slime craze, Adidas Superstar shoes and Vineyard Vines shirts; but now the craze is playing with the fidget spinner.
The fidget spinner is made from different types of materials such as brass, stainless steel, titanium, copper and plastic. There are different numbers of blades, ranging from one to six. The most popular spinner currently is the tri-spinner, with styles including LED lights.
Originally, the toy was meant for the people who have difficulty focusing or people with Attention Deficit Hyperactivity Disorder (ADHD), autism, or anxiety.
However, according to Scott Kollins, a clinical psychologist and professor at Duke University, there is no such evidence to support the claim that it "helps" these disorders.
Freshmen students l bought their spinners for other reasons. Out of 28 students surveyed, 28.6 percent said they bought it to play with, 14.3 percent said because of stress, 10.7 percent said to help with concentration, and 46.4 percent had other reasons according to a recent survey.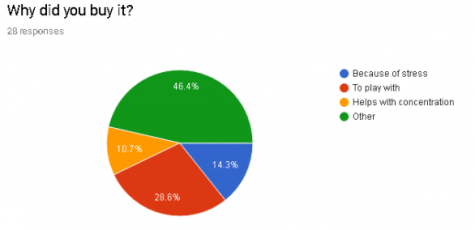 To see what hype was, I bought a fidget spinner for myself to see whether it could help me in any of the ways the students stated above. They sell these toys at the local convenience stores like 7-Eleven and online on websites like Amazon.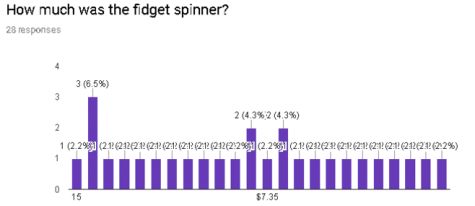 The store had different styles for the spinners, some with a solid color and others with lights. The prices were on the higher side, ranging from $9-12. Other students bought their fidget spinners for as low as $2 and as high as $20.
Freshman Fatima Medina said, "I bought my fidget spinner for  three dollars because everyone says it helps with stress."
On the other hand, freshman Griffin Robinson said he paid "two dollars" for his spinner "to help with concentration" in school.
Out of the 46 freshman students that took the survey, 50 percent said they own a fidget spinner, while the other 50 percent said they do not. Although the toy is popular, there are still numerous students who don't follow the trend. Overall, the fidget spinner is relaxing when spun, but it is overpriced at certain places, and instead, became a toy to play with for 28.6 percent of the 28 students.
Overall rating: 3.5 out of 5 stars