Fun Places to go on a Staycation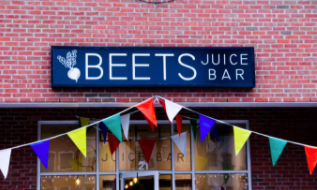 As Hills' summer vacation comes up, many people go away to different beaches, states, and countries in celebration. For the group that stays within the Montvale and Woodcliff Lake area,  activities need to be found to spend the summer break.
As seen on Diners, Drive-Ins, and Dives, Brownstone Pancake Factory is a local Edgewater, N.J. dinner that cooks up so much more than your everyday eggy in a basket. Serving up pancakes of all types, wraps with pancakes as the wrap, signature sandwiches, and the magnificent "quenchers."
For the brunch of a lifetime, one will pay anywhere $6-20.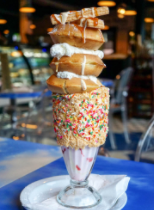 Photo by Brownstone Pancake Factory
Brownstone's famous hand-spun shake, the "Our Waffle Ice Cream Sandwich" shake.
Who doesn't love a day of pampering? At Mezzaluna Day Spa in Westwood, N.J., one can spend hours getting full body massages, superb spa treatments, waxings that will make your eyebrows perfect, and a facial bound to make your skin look amazing at any summer night party.
Prices vary from service to service. Waxing vary from $8-30, massages from $40-100, facials from $50-100, and spa treatments from $50-150.
Summer is the time to get your body in the happiest position it can be. A refreshing juice or acai bowl from Beets will cure your summertime stresses. The tasty drinks have every in season fruit you can think of paired with all natural nut butters, coconut products, and nut milks.
Freshman Jolie Newman said, "Beets is super awesome. I crave it about three times a week. It just always fresh and never disappoints."
Drinks and smoothies with fair prices for the high quality come at no surprise for the high rating it received in this article.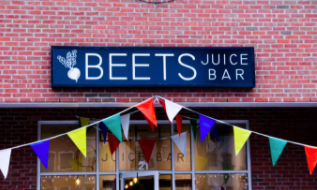 Photo By Sam Zuckerberg
The restaurant that fills the theme of everyone's Instagram feed with mirrors perfect to take selfies in. Not only is the ambiance amazing, but so is the homemade dishes and treats, such as their amazing cookies and marshmallows.  
Freshman Rachel Newman said, "They had really good options when I went there during Passover. I really like location and feel of the restaurant."
Plates vary from $5-20 with the addition of their homemade sodas.
Who doesn't love going to get true diner food at low prices? The Ridge Diner has never let us down for a quick homey bite of eggs and pancakes all day long. Consistent food with a taste never to fail leaves people coming back for more every time.
Freshman Annika Patel said, "The macaroni wedges are amazing and The Ridge Diner is an overall great place to go with friends and have a good, cheap meal. And the best part is that you don't have to dress nicely!"