Did 'Baywatch' Sink or Float?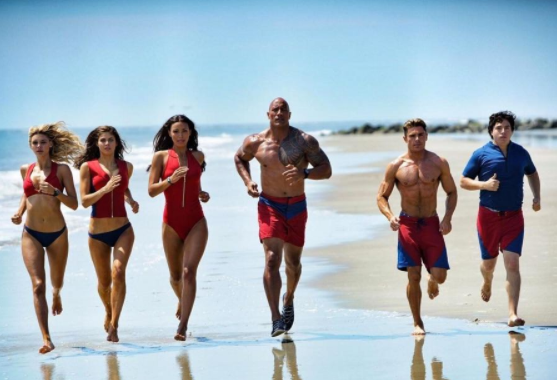 Sydney Schair
June 9, 2017
For many people, there are few things more exhilarating than being surrounded by chatter and the scent of popcorn on a Saturday or Friday night, watching the lights dim and the screen begin to glow.
'Baywatch' is a perfect example of a movie that elicits this type of reaction.
Directed by Seth Gordon and written by Damian Shannon and Mark Swift, 'Baywatch' is an adaptation of the hit soap opera that aired from 1989-2001.
Famous for featuring attractive lifeguards running in slow motion, this franchise tells the story of an elite group of lifeguards that are determined to protect their beach and end the crime surrounding it, overstepping the boundaries of their duties at time.
The comedy stars Dwayne 'The Rock' Johnson, Zac Efron, Kelly Rohrbach, Alexandra Daddario, Jon Bass, and Ilfenesh Hadera.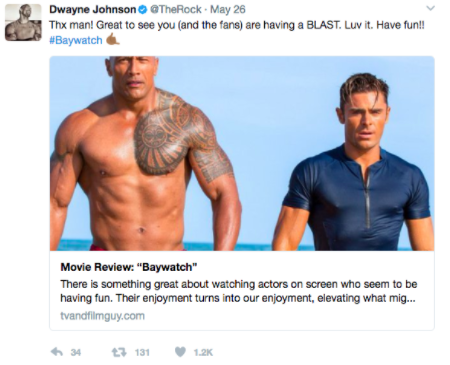 Photo Credit to Twitter
Due to its involvement with the earlier show, the movie was certainly not expected to drown, yet it did; it earned only earned $23.6 million.
Critics were extremely scathing, and some viewers were not impressed.
Freshman Irina Frangos commented, "It was funny, but it was also way too long and got boring pretty quickly."
For most of those that had not seen the original show and were simply watching for a laugh, the movie did not let them down.
Freshman Meg Delange stated, "It was amazing! It was very funny and entertaining, but it was a quality movie at the same time. The actors were all incredible, and their looks were perfect for this movie."
Freshman Kaylie Haber added, "Although I enjoyed the comedy aspect of the movie, I was impressed by the themes of teamwork and friendship that were evident in the film. I thought that the crew did an excellent job of combining humor with with a more serious tone."
Tickets are reasonably priced, locations are plentiful, and show times are frequent.
Overall, this film is a wonderful option for individuals who have not watched the earlier version, but for those who have, it may not live up to expectations.