"Alex, Approximately" Book Review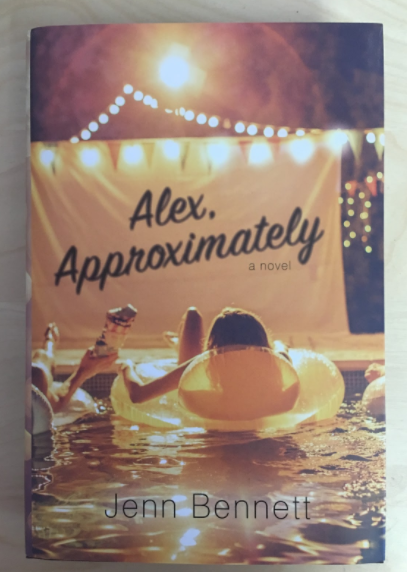 Warning: Some spoilers ahead.
Old film buffs, museum enthusiasts, and surfing lovers will be lining up to buy author Jenn Bennett's latest book, "Alex, Approximately," which was released in April 2017. This novel follows the life of protagonist Bailey "Mink" Rydell, as she moves to Coronado Cove, California to her dad's home, her journey being the new girl, as well as trying to find a boy she connected with online through classic movies.
Although Bailey may never have met Alex in real life, they've got a connection- more than just wifi. They talk about their daily lives, personal drama, and, of course, the best Audrey Hepburn movies- all behind computer screens and (semi) fake usernames. When Bailey has the chance to move to her father's home in California from Washington D.C., right into Alex's hometown, it seems hard to believe.
She spends her days walking up and down the boardwalk, trying to narrow down her possible internet soulmate, all while getting a job and meeting new people; some including new bestie Grace Achebe who seems to be friends with everyone and new archnemesis Porter Roth whose surfing past may come back to haunt him. While finding Alex may seem impossible, the answer may be right under Bailey's nose.
With every chapter starting with a quote from famous movies ranging from 1940 to 2015, with themes of friendship, love, and loss. Sometimes sweet, sometimes hilarious, but always fantastic, this summer hit will leave you in a trail of your emotions, waiting for the next chapter.
Although a bit cliche and therefore the reason to lose a star, this book had an ultimate hate-to-love relationship, which is the reason many rom-coms are popular. Some scenes were predictable while others twisted the plot and left me on the edge of my seat. In book form, the teenaged mess called love is split between two boys- at least one in real life.

With quirky characters and an even quirkier setting of a mansion turned tourist trap museum, it was hard not to fall in love with the book; it was even harder to put down the book. The book was a written with a perfect balance of love and action, great for anyone to read and be enthralled.
While some scenes were a bit steamy, the book mostly focused on the emotional aspect of love and respect through all characters whether it was young lust or a tight family bond.
Extremely well written, this modern love story features undeniably loveable main and minor characters. If witty jokes, cute moments, and an intense ending sit in your cup of tea, pick up a copy of "Alex, Approximately" this summer and a tin of Mr. Zog's Sex Wax while you're at it- the coconut scent will bring you right to the beach and into the middle of this YA novel.
Rated: ⅘ Stars