The Confusing Return of "Riverdale"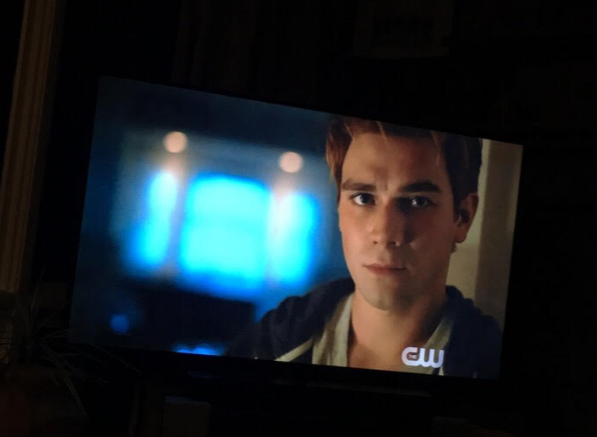 **SPOILER ALERTS AHEAD**
"Riverdale" is back and ready to take on another mystery. The CW television network premiered season two of the Archie Comics spinoff on October 11, at eight o'clock p.m. Whether you're on "Team Archie" or "Team Reggie," episode one of the second season of "Riverdale" will blow your mind.
The episode starts off with an unlicensed Archie Andrews, played by K.J. Apa, driving his father, Fred Andrews, played by Luke Perry, to the closest hospital after he had been shot by a masked man with green eyes. Once at the hospital, Fred is rushed onto a stretcher and rushed into surgery to remove the bullet from his stomach.
Throughout the episode, there are a few imaginary flash forward moments through Fred's perspective. The first shows Archie, Veronica Lodge, played by Camila Mendes, Betty Cooper, played by Lili Reinhart, and Jughead Jones, played by Cole Sprouse, dressed head to toe in blue caps and gowns at their high school graduation. After taking a few pictures of the crew, Fred admits, "I never thought I was going to make it to this day" (The CW). Veronica immediately responds with, "…you didn't, don't you remember," and the flash forward ends. At this moment, Veronica, Hermione Lodge, Betty, Mr. and Mrs. Cooper, and Jughead have all made their way to the hospital to support Archie and find out what has happened.
Now that Fred is in surgery and Archie has gotten love and support from his friends, Sheriff Keller, played by Casey Cott, asks him if he is ready to talk about what has happened. He brings along Jughead for support and completes the interrogation.
Afterwards, Jughead confronts Archie and questions if he had left anything out of the story he just told Sheriff Keller. Archie tells Jughead what he had resisted telling Sheriff Keller; the masked shooter may have been a Southside Serpent. This could somehow affect Jughead because his father, who is now imprisoned, is also a Serpent.
From season one, we know Cheryl Blossom, played by Madelaine Petsch, has a deep, twisted family backstory, and she set her house on fire to get rid of everything bad that has happened there in the last episode. Cheryl lies when she sees Archie, Veronica, Betty, and Jughead in the hospital, telling them that she was sleeping when a curtain caught flames from a candle in the house. Her mother had gone into the burning house to save her, and that is why she was in the hospital.
Sophomore Sofia Papadopoulos' favorite part of the episode was when "Cheryl went to see her mom in the hospital and later told her that she would be the reason that [her mother] would die. I literally couldn't believe this part and it was really confusing but really good."
Although everyone living in Riverdale has a story, the Blossom family's history towers over everyone else's. Cheryl's twin brother was killed by his own toupé wearing father, Clifford Blossom, after disagreeing to carry on the family business, maple syrup. Maple Syrup was actually a front for a drug business. When the police finally put together who had murdered Jason and threw him into Sweetwater River, Clifford had already hung himself in their backyard warehouse to get out of a life sentence. Also last season, Cheryl had tried to "join Jason" and attempt to drown herself in Sweetwater River. Archie gives her CPR and saves her life before she had the chance to be reconnected with her brother.
Once a doctor announces that Fred is out of surgery and is most likely to wake up in one-to-two hours, Archie and Veronica go back to the Andrews' house to change out of his blood-stained clothes. They also were on the search for Fred's wallet which had gone missing at some point after he had been shot. Fred's wallet missing is an issue because he brought it everywhere with him, keeping anything important he had in his jacket pocket at all times.
Sheriff Keller calls Archie down to the station for identification of potential suspects of the shooting that went down at Pop's. Archie did not recognize any of the non-green-eyed men and reports back to Jughead at the hospital. Jughead thinks the shooter couldn't be a random person and very easily was a crime of passion. As the audience has learned, Riverdale is no ordinary town. Fathers are murdering their sons, daughters are setting houses on fire, and accidental incest is being performed.
Since she has suspected it for a long time, Veronica finally shares her thoughts with her mother that Hermione, played by Marisol Nichols, and Hiram Lodge, played by Mark Consuelos, are somehow involved in the shooting. Hermione has known Fred since high school, and Hiram and Fred have done unsuccessful business together in the past. Hermione is speechless and leaves Veronica alone to pray in the hospital church.
Once Fred is out of surgery, Betty and Jughead go to Pop's to look for Fred's wallet, see how Pop is doing, and check out the crime scene. Pop told the teens, "as soon as that gun turned off me…I dove…I don't even remember calling an ambulance…this man is…darker, like the angel of death had come to Riverdale". Jughead's theory of the shooter having a deeper purpose than just being a thief is proven when Pop tells him that he didn't even take a penny from the cash register.
After Pop cooks up some burgers and fries for Betty and Jughead, they discuss Jughead's father's Serpent jacket fitting him like a glove. Jughead also mentions that he will be living in his father's trailer instead of with a foster family' "Archie almost lost his dad, he may still…my dad is going away for a long time…I'm hoping it means I will be close to him no matter what".  
When Betty and Jughead return to Archie and Veronica at the hospital, Archie admits there is something he hasn't told his friends, which he probably should. Archie tells them that he didn't open his eyes or say anything from the moment his dad was shot, until he heard the bell ring assuring that whoever had shot his dad had left Pop's. Betty, Veronica, and Jughead don't understand why Archie is telling them this. Archie continues to ramble and says the masked man who did this easily could have taken Fred's wallet in these few seconds Archie's eyes were shot. This would also support Jughead's theory.
Next, Archie walks in on Cheryl in his father's room, leaving a red lipstick mark on Fred's forehead. Cheryl tells Archie, "you gave me the kiss of life, now it's my turn to pass it on". Cheryl is acting like a greater being, as if she could play God in the small, wicked town of Riverdale.
Another flash forward that goes through Fred's mind is Archie and Veronica's wedding. It is a beautiful ceremony officiated by Pop, until the masked shooter walks down the aisle with a gun pointed at Archie. Fred dives in front of his son and wakes up at the sound of the gunshot. Fred tells Archie, "that's why I came back, to protect you."
Veronica returns home after a long, stressful day to find her father home, sitting at the dining room table. Hiram claims he had come home early to "support her" in Fred's death. Since she knows neither Hermione nor Hiram really cares about how Fred is doing, she tells her parents in an obnoxious voice, "by the way, in case either one of you were wondering, Mr. Andrews woke up. He's going to make it, I know were all really happy about that".
Another character the audience should remember from season one was Miss Grundy, Archie's music teacher who turned him more into a teacher's pet. The last scene shows Grundy in her home in Greendale, kissing another underage boy after his music lesson. Immediately after she double locks her front door, the same masked man who shot Fred Andrews comes up behind her and strangles her to death.
Senior Liv Lein's "favorite part of the Riverdale premiere was definitely the ending. I am interested as to who the masked shooter is, and why he's targeting, what seems to be, the whole town".   
So, is it a coincidence that the same green-eyed, masked man attacked both Fred Andrews and Miss Grundy? Or is Jughead's theory of an alternative motive part of the reason the mystery man had striked again? If you missed season one, it it highly recommended that you binge-watch "Riverdale" on Netflix, ASAP. You can also kick back, while picking up an old "Archie Comics" book, to eventually catch up to current events going on in the town of Riverdale in season two.
Leave a Comment
More from the contributor(s):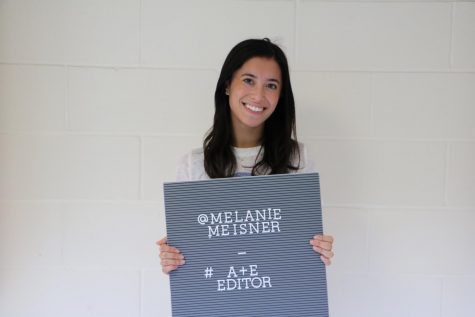 Melanie Meisner, Arts and Entertainment Editor
Senior Melanie was the Life and Style editor last year but upgraded to Arts and Entertainment her fourth year. Melanie loves to help The Trailblazer and is a very proactive journalism student, always offering a helping hand. She's excited for her final year and working on new articles.