Do Fashion Trends Repeat Themselves?
Can what once was considered original now be bland, old, or worn out due to constant innovation in the fashion industry or one's desire to simply fit in? While some may argue yes, some trends have actually made a booming comeback in stores and websites across the globe.
The '90s were a time of high-top sneakers, velvet chokers, denim, leather, and various other statements that were sure to turn heads. While fashion experts have joked about the return of these fashion fads, 2017 has proven to be the time for people everywhere to be expressive with their style, allowing them the opportunity to be potential "trendsetters".
Respected celebrities across different social media platforms, such as Instagram and Twitter, have inspired the return of popular '90s styles.
Model Bella Hadid was seen rocking a leather mini skirt in London back in May. This look, inspired by other celebrities' outfits, like Mariah Carey's back in 1998, proved to be a hit amongst both Carey's and Hadid's fanbases, now holding a permanent spot in many people's closets today.
Sophomore Sophia Bucello states "I'm a fan of leather skirts because they are a stylish and interesting trend derived from the '90s. I have noticed recently that they are very common amongst teens and adults alike."
Image: redbookmag.com       Image: redbookmag.com
Mariah Carey-1998                  Bella Hadid-2017
Turtlenecks, according to E! News, appear to have been a fall trend since 2015. Not only are they popular amongst women, but surprisingly, men as well. In the 90s, celebrities like Dwayne Johnson and James Franco could be seen sporting these sweaters.
At the 2015 American Music Awards, artist Nick Jonas posed for the cameras in a white turtleneck under a gray suit. Model Gigi Hadid was also seen walking the streets of New York City in a white turtleneck, which appeared to have gotten positive reviews all around.
Pascack Hills Sophomore Brendan Morchian shares his view on the return of turtlenecks: "Anyone can wear a turtleneck. They make a great addition to any wardrobe while still managing to keep you warm. They are definitely a useful and stylish comeback."  

Image: slate.com             Image: redbookmag.com     Image: eonline.com          Image: Google
(From left): Dwayne "The Rock" Johnson, Reese Witherspoon, Nick Jonas, and Gigi Hadid
The fanny pack made a comeback in the fashion world as well. Although they were considered unpopular and ugly in the '90s, this trend is now currently popular amongst teenagers, who use the convenient portable pouches to hold anything from cell phones to car keys.
Again, it is very possible that they could be inspired by widespread celebrities they come across from the use of everyday social media platforms, such as Kendall Jenner, who was actually seen repping a vintage Louis Vuitton fanny pack back in June.
Back in the '90s, the fanny pack was not only popular amongst women, but men as well. Mainstream television shows such as "Seinfeld" had advertised the fanny pack fad in an episode from the first season.
Kendall definitely shows that the fanny pack does nothing less than up a person's wardrobe with the right styling and accessorizing. As pictured, she pairs her fanny pack with a rainbow trim bodysuit from her very own Kendall and Kylie Collection.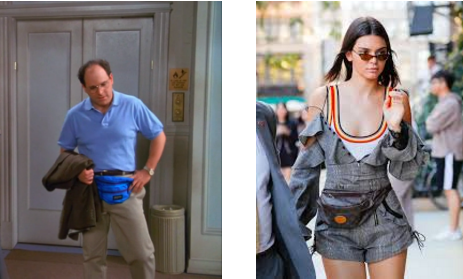 Image: Google                                        Image: popsugar.com
George from "Seinfeld" wearing
a blue fanny pack                 
Sophomore Kelly McCarty shares her opinion on the returning hit trend: "I think that celebrities on social media have a huge influence on fans when it comes to encouraging them to try new trends. Kendall Jenner inspired me to try the fanny pack, and I've been getting various compliments on it. It also served me some use when I went to the Governor's Ball Music Festival in New York City. I felt better having everything valuable I needed right at my waist for the entirety of the day."
While these are only three of the various trends that have "risen from the dead", fashion experts look forward to seeing what other iconic statements are made by celebrities, and how people put their own spin and uniqueness on '90s fashion fads.
View Comments (1)
More from the contributor(s):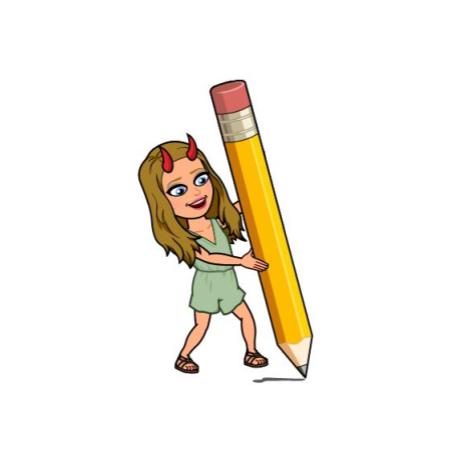 Avery Paulen, Life & Style Editor
Avery Paulen is a senior and co-editor of the Life and Style section. Her favorite activities include writing, traveling, and playing tennis. She loves to go to New York City to try some of the newest trends in food, as well as go down the shore over the summer. She is very excited to kick off this year!