Season Two of Stranger Things: Rated 11/10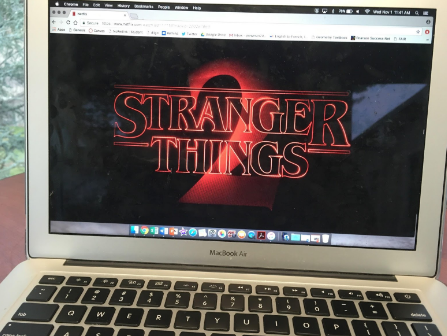 The morning of Friday, October 27, people everywhere woke up with the same excitement found on Christmas morning; after over 365 days of pure waiting (469, to be exact), Stranger Things season two was released on Netflix.
That morning, plenty of Netflix watchers, including plenty of Pascack Hills High School Students, downloaded all nine episodes and strived to get a head start on binge-watching the anticipated season.
"I was so excited for season two of Stranger Things. I freaked out after I saw the advertisements for the season," said sophomore Alexa Tarabocchia. "I downloaded all nine episodes and watched anywhere I could. Bus ride to school, lunch, and the bus ride home."
Season one of Stranger Things was released on July 15, 2016 and it seemed people immediately went into binge-watching mode. The knowledge of how the show was more outstanding than any other show on Netflix seemed to spread like wildfire – the cast, the writers, the directors, the producers, and the rest of the staff proved how truly great a Netflix original could be.
The first season was basically about a boy named Will Byers who was stuck in the upside down, a parallel universe to the real world that's filled with monsters and inhumane organisms. Unable to return back to the real world, his friends, family, and a girl with supernatural gifts named Eleven, attempt to both communicate and rescue him. While there are supernatural elements to the show, the plot plays on the struggle of a mother whose child is kidnapped and the friendship between the group of Will's friends.
Season two, on the other hand, is just as great. To be honest, I have never seen a show that transitions from season one to season two so nicely, or a show where season two meets the same standards as season one. For once, it seems as though all plotlines are remembered, there are enough answers to satisfy the audience, and the new storyline introduced unfolds at a beautiful rate. The writers did a fantastic job, and they deserve just as much credit as the incredibly talented cast, who gave the show true dimension (no pun intended) and added immense personality to the overall value. Not to throw shade, but certain other shows (aka. Riverdale) should take notes on how to build such a cinematographic achievement.
"I think that it (Stranger Things) is an amazing show, and has great characters with dynamic personalities that don't relate to everyday life," stated Hills student Alaunna Thompson. "This makes it more interesting since it's so different from my life."
Filled with tears of both laughter, sadness, and perhaps frustration, the show brings a plethora of emotions to its audience. Overall, the show is absolutely amazing and many members of Hills would agree with that statement.
"I think the actors did a very good job of staying serious in this season," said another Hills student Maya Schwartz. "There were times in the season where I was laughing hysterically, but they were able to go along with the scene. Overall, the second season was incredible, and I hope another season is going to be made."
Another great "thing" about this show, along with the other "things" is that there's something for everyone. Watchers can choose to focus on sci-fi, romance, adventure, thriller, or more plotlines and/or genres in order for the show to seem more interesting to them. Furthermore, age groups don't matter (though there is a TV-14 rating on the show). In my family, my sister, my mother, and my grandparents watch it; therefore, I can assure you that an extremely wide variety of age groups watch this show.
While watchers must wait a rather long time for season three, it is confirmed that there will be one. Therefore, if you haven't watched yet, then I highly recommend rethinking certain life choices; when you watch this show, be prepared for your own television show expectations to be completely altered upside down.