The Last Jedi Movie Review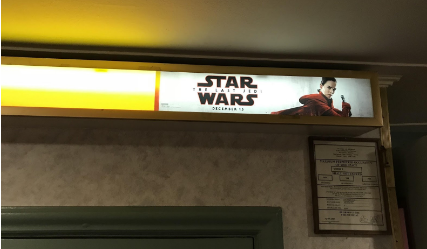 Some Spoilers Ahead
In the recent years, we have seen nothing but impeccable CGI, amazing actors, and jaw-dropping storylines from the Star Wars franchise. Friday December 15th, the newest installment was released, and it has definitely lived up to the reputation. The Last Jedi (Episode VIII) depicts the story of returning characters Rey (Daisy Ridley), Finn (John Boyega), Poe (Oscar Isaac), and BB8, as well as new characters, in an attempt to keep hope, the light side, and ultimately the entire resistance alive. Of course, it wouldn't be Star Wars without the legends Luke Skywalker (Mark Hamill), Leia (the late Carrie Fisher), Chewbacca, C3PO, with heartwarming returns from beloved characters like R2D2.
The First Order, more specifically President Snoke (Andy Serkis), has cornered the Rebel army and plots total extermination. The rebellion is forced to initiate every safety procedure and last resort plan they have. Leia, the leader of The Rebellion, will stop at nothing to save her fleet, as well as fighter pilot Poe, rebel hero Finn, and Jedi-trainee Rey. The characters must constantly doge bullets and avoid certain death at every turn. Betrayal, power, faith, and above all, hope, are all apart of the twists and turns that are observed in the movie.
Junior Marc Hernandez, who eagerly attended the late night showing before the actual release date says, "This was definitely the best Star Wars movie I have ever seen…by far. Every single part of the movie was so good and the fight scenes were epic." Junior Rachel Paulsen agrees and says, "It was insane."
As a whole, some concepts in the movie could be confusing or lost in translation, but the execution of the film is so flawlessly done that every point being made is clear cut. Someone watching this movie may not be able to follow certain parts (if done incorrectly), an example being how the force is able to connect Rey and Ben Solo, also known as Kylo Ren, telepathically, but these flaws are not found in The Last Jedi. Viewers also get to see the conflict of dark and light inside Kylo and Rey, and are able to join them on their collision of loyalty.
From start to finish, the film kept you at the edge of your seat. It had everything a movie should have, including scenes that make you laugh out loud, push you to the brink of tears, and hold your breath in anticipation. Every single scene was perfectly executed, with not only an amazing plot but truly beautiful special effects and breathtaking scenery in battle. It is everything a Star Wars fan could want out of a movie, and then some.