The Women in Black Take Over the Golden Globes
In a world full of catalysts for change, many women feel a dire need to stand up for what they believe in as an attempt to promote gender equality and empower other women to use their voices to do the same. Celebrities, especially, have a powerful influence in the community, as they have a presence on social media that reaches a broad fanbase. Recently, many celebrities have stepped up to the plate to speak of the sexual violation of women and even young girls in the workplace. (To read more about some of the cases regarding sexual misconduct by powerful men in the media, feel free to follow the links at the bottom of the page.)
About three hundred feminists in Hollywood set the stage for women's rights just a few days before the Golden Globes by announcing the 'Time's Up' Campaign, an initiative to draw attention to sexual harassment in the industry and beyond. The campaign managers requested that all attendees of the red carpet event dress in black, which, according to colorpsychology.com, is associated with power and the desire to empower oneself.
The turnout was astonishing. According to the Los Angeles Times, Meryl Streep, who has actively spoken out against the crude behavior of President-elect Trump, described the wave of people as a "thick black line." Oprah Winfrey brought the crowd to cheers when about halfway through the ceremony, she accepted the Cecil B. DeMille Award, which is bestowed by the Hollywood Foreign Press Association for "outstanding contributions to the world of entertainment." The speech, in short, called for the day that no woman would have to say the two dreaded words, "Me too," referring to their roles as victims in a case of sexual misconduct. (The link to the full speech transcript can also be found below.)
In his opening monologue, host Seth Meyers addressed the elephant not in the room – Harvey Weinstein. His wife, Georgina Chapman, was an attendee of the event, but her fashion line, Marchesa, failed to make an appearance on the red carpet. Not a single actress decided to wear her brand since her husband's scandal broke the internet back in October and 84 accusers have spoken out against him since. It was also reported that Weinstein, who funded his wife's fashion line, pressured females such as Felicity Huffman into wearing her attire on the red carpet in previous years.
Meyers also took shots at Woody Allen, an alleged sexual predator, when no one else dared to do so. This further ignited the controversy of who deserved to be in black that night. One such individual demonized for wearing black was singer and songwriter, Justin Timberlake, who announced via Twitter that he was proud to be supporting the "Time's Up" campaign. At the same time, however, he said he is honored to be working with Allen on his new film, Wonder Wheel.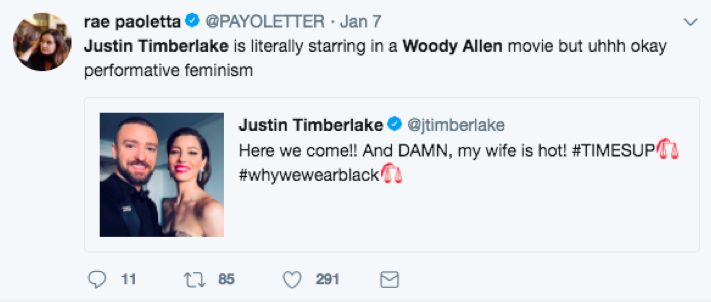 Screenshot by Avery Paulen
This greatly infuriated Dylan Farrow, daughter of Woody Allen, who back in 2014, spoke to People about an open letter she wrote detailing the alleged sexual abuse she endured at the hands of her father. At the time, Farrow spoke out in reaction to Allen being celebrated at that year's Golden Globe Awards, but now, she is once again speaking up about the sexual harassment scandals that have drawn negative attention to the entertainment industry and encouraged the resignation of powerful men like Harvey Weinstein.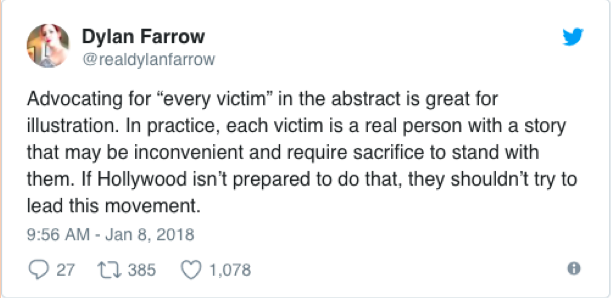 Screenshot by Avery Paulen
Like Farrow, I fully support women taking a stand and advocating for one another to spark change not only in the entertainment industry, but in the world at large. With that being said, however, I believe that the people who join in the "Time's Up" and "Me Too" movements without taking any personal accountability for the ways in which their words and actions have helped perpetuate the culture they claim to be fighting against is upsetting, and unfortunately, beyond anyone's control.
I struggle to understand how other female celebrities that have worked with Woody Allen in the past, like Blake Lively, for example, feels that Allen is "empowering to women," and can still claim the role as a woman suffering from sexual harassment. I fail to comprehend how a powerful influence like Justin Timberlake claims to be in awe of the strength of women and stands beside them at the "Me Too" Movement, yet still says that working with Woody Allen is a "dream come true."
I believe that a change in merely clothing color does not suffice for the millions of women that deserve to have their voices heard each day. But, it does begin to show our society taking a step in the right direction.
Inside the Fall of Today's Matt Lauer
Gymnast Aly Raisman Opens Up on Alleged Abuse by USA Gymnastics Doctor
Olympic Gymnast McKayla Maroney Says Team Doctor Molested Her as a Teen