How feminism sprouted at the 60th Annual Grammys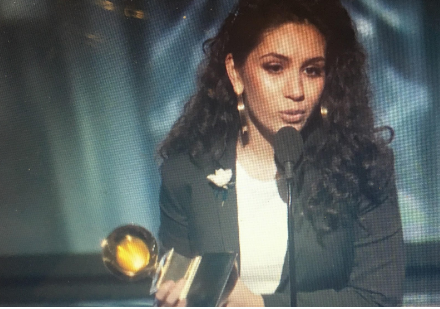 On Sunday, Jan. 28, James Corden hosted the 60th annual Grammy Awards at Madison Square Garden, which streamed live on CBS. While the night was filled with performances from singers such as Lady Gaga, Kesha, Pink, Bruno Mars, and many other talented artists, the most prominent aspect of the night was more than just the performers and presenters themselves, but instead, a simple, symbolic white rose displayed on their outfits.
         The roses were more than just an accessory – the wearing of the rose was due to the group "Voices in Entertainment," founded by fifteen females in the industry. They wrote a letter to their colleagues which read:
        "As we are inspired by the #timesup campaign, we are encouraging the artists that we work with and our colleagues attending the 60th Annual Grammy Awards in New York City to wear a white rose to the ceremony on Sunday, January 28th. We choose the white rose because historically it stands for hope, peace, sympathy and resistance."
The "Time's Up" campaign, a movement advocating for women's rights and equality that started in light of the sexual misconduct allegations in Hollywood, made its appearance at the Golden Globes in early 2018, where attendees dressed in black to acknowledge the movement; the wearing of the white rose at the Grammys has achieves the same goal, just with a different approach.
Both female and male stars wore roses; Miley Cyrus, Nick Jonas, Lana Del Rey, Cardi B, Anna Kendrick, Kelly Clarkson, Khalid, Sam Smith, Camila Cabello, were among the many who had a white rose in their outfit ensemble.
"The white rose for so many years has been such a peaceful symbol in so many different parts of the world and for me solidarity's so important now," stated singer Rita Ora to People's Magazine at Delta's pre-Grammys party Thursday night. "I thought that it was just a very graceful way of showing support to, I guess, everything that's going on in Hollywood and I really do believe that the more visibility it gets, the more I think we can help, so that's why I wanted to do it."
Originally, awards shows such as the Golden Globes or Grammys, were simply about having fun and acknowledging awards. However, recently these events are giving celebrities a chance to voice out their stance on important issues, and proving to their audiences that regardless of their authority, that they want to create change. This emerging idea that celebrities can voice their political opinions on nights dedicated to entertainment and other trivial manners is revolutionary.
        "I'm glad my favorite celebrities in Hollywood are taking part in such a great movement and trying to make a change," said Annika Patel, a sophomore at Pascack Hills. "Equality is an important issue and popular awards shows like the Grammys are effectively getting a great message across."